Pink Dove Rescued by Animal Charity Makes Goth Best Friend in Rehab
A pink dove and black pigeon have formed a close bond after being rescued by an animal charity—proof that opposites do attract.
The pink dove was taken into care after it fell into an industrial container of coloring pigment, leaving it a bright shade of pink.
The avian is alive and well and currently in the care of the Royal Society for Prevention of Cruelty to Animals (RSPCA) in the U.K. Naturally, the charity has nicknamed the bird Pinky.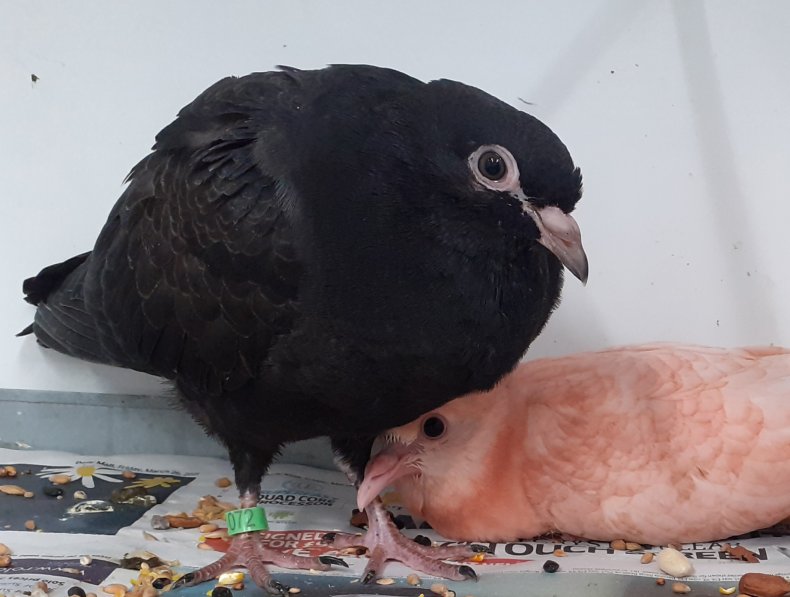 "It's always good to have a variety of colors of animal in," said RSPCA Oak and Furrows in Wiltshire, England, in a Facebook post.
They said Pinky, who is supposed to be white, "had an unfortunate tumble into a barrel of tile pigment powder so is going to be peachy pink until she's molted through!"
Thankfully, the charity researched the ingredients and found that they were non-toxic.
The charity shared a photo on Facebook of Pinky alongside another bird in their care—a "rather stunning" pigeon named Jet who contrasts with the pink dove by being a striking shade of black.
"Jet came to us a few days after Pinky and he is a fancy breed," Anj Saunders, Deputy Manager of RSPCA North Wiltshire Oak and Furrows Wildlife Rescue, told Newsweek.
Since Pinky and Jet both finished their monitoring periods at the same time, rescue staff decided to put them together since "pigeons do better with others," Saunders said.
"At first, they both sat at other ends of the pen, staring at each other, sussing each other out… by the end of the afternoon they were sitting huddled up together," Saunders added.
The two have now formed such a close bond that the charity will re-home them to a sanctuary together—at least until Pinky has molted through properly.
Saunders told Newsweek: "They seem pretty close now and it would be a shame to split them. Pink and black go so well together!"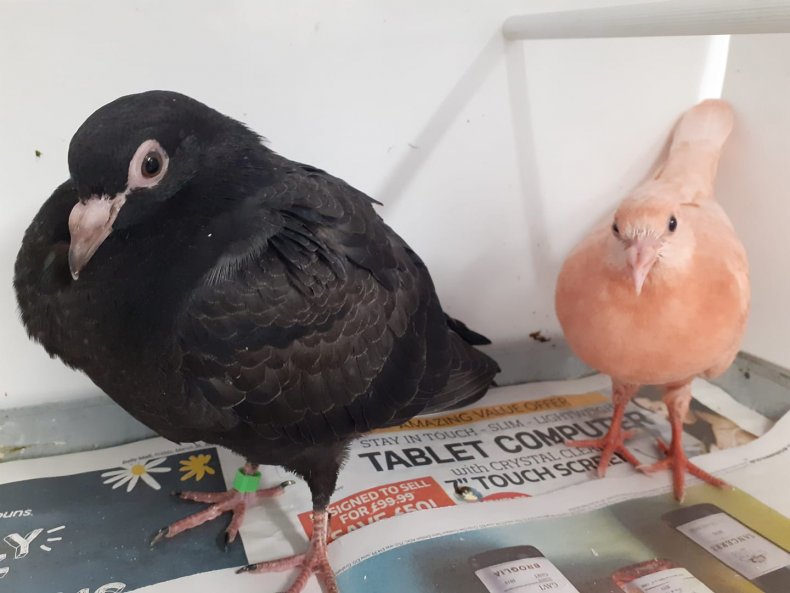 The speed of Pinky's molting process means he will probably be pink for the next few months.
Staff at the animal charity tried to speed up this process by giving Pinky a bath, but as Saunders told the BBC, "it just accentuated the color."
Saunders explained that the charity was alerted to the pink dove after it was found in a pigment shed at a tile factory by a worker.
The dove is apparently comfortable around humans. Saunders said the bird is so friendly that it jumped onto her shoulder and fell asleep after the RSPCA rescued it.
In fact, Pinky may be a little too friendly for the wild, so workers are trying to re-accustom the bird to nature. "He's a very lovely bird but is a little silly at the moment and will walk right up to people," Saunders told the BBC, "so it's going to take a while to wild him up before we can release him."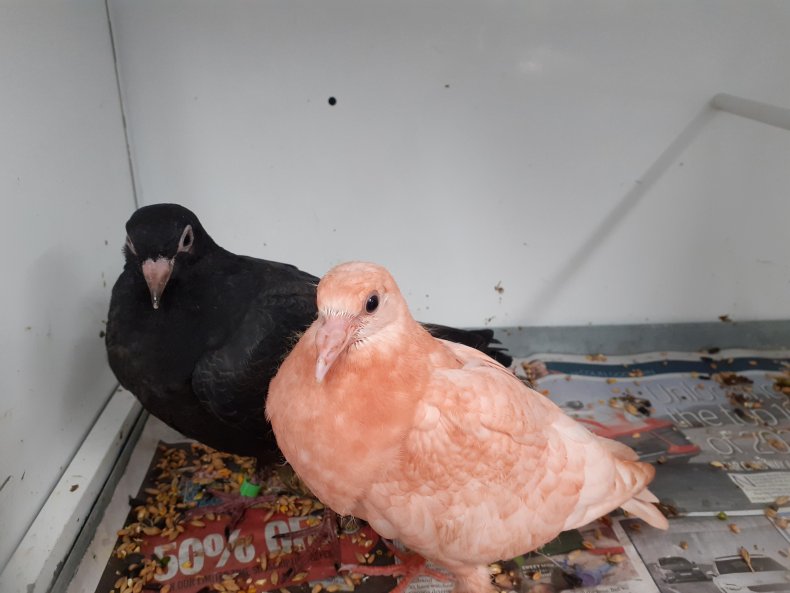 It's not the first time this year that a worker has ended up reporting a bird to wildlife officials.
Back in April, three owlet siblings were rescued from a construction site in Colorado after a worker discovered them in a tree that he was just about to cut down.
The worker said there was "no way" they were going to cut the tree down while the birds were in it, so they called Colorado Parks and Wildlife (CPW) to handle the situation.
It turned out the three birds were great horned owl siblings, which were taken into the CPW's care.
After a period of rehabilitation, the three birds were released back into the wild in August once wildlife officers had made sure that they were able to fly and hunt.