'Overwatch' New Pink Mercy Skin: Support Breast Cancer Research Foundation and Earn Loot
To raise money for the Breast Cancer Research Foundation, Blizzard is selling an exclusive Pink Mercy skin for the next few weeks. There's also a fly real-world cosmetic (called a shirt) for those of that want to donate even more to a good cause. One hundred percent of all proceeds go to the BCRF, with Blizzard promising at least $25,000 to show additional support for the charity.The BCRF is a renowned research organization with high ratings on Charity Navigator, a site that tracks how charities spend their money.
How To Unlock Pink Mercy
From May 8 - 21, fans can purchase Pink Mercy for $14.99 on the Blizzard website. Unlike other cosmetics, this can't be purchased with in-game currency so you have to buy her straight from the Blizzard site. If you play Overwatch on more than one platform, you'll have to buy the skin for each one, even if you have your Battle.net account linked.
Here's a more somber than usual Jeff Kaplan explaining the details of the event.
JVZ5kALxX5k
How To Unlock Pink Mercy In-Game Rewards
On top of the skin, players will be able to earn icons and sprays by watching Twitch charity streams. You'll have to link your Twitch account with your Blizzard account in order to get the rewards. If you haven't already, log-in to your Twitch account and head to the connections page. If you have any trouble, check Blizzards FAQ.
Tier 1: Just log in.
Tier 2: Watch two hours of participating charity streams
Tier 3: Watch four hours participating charity streams
Tier 4: Watch six hours participating charity streams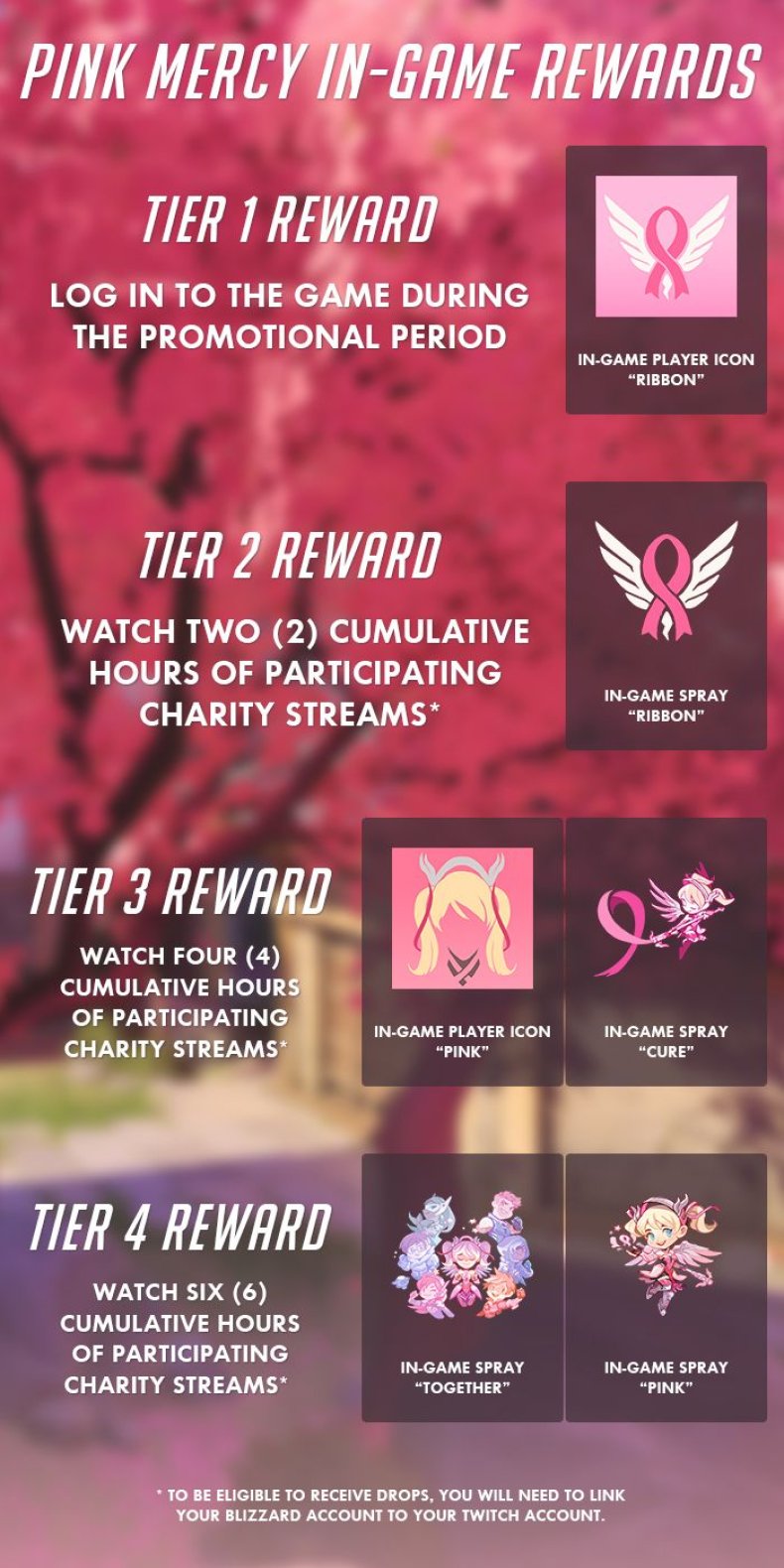 Here's the full schedule of participating streamers from Blizzard's website: