This Is Pink's Net Worth After She Announces 2020 Break From Music to Focus on Family
If you were hoping to get some new tunes from Pink next year, you'll have to wait. The award-winning singer and songwriter announced plans to take a break from music in 2020 to focus on family.
Pink, who joined country musician Chris Stapleton onstage at the 2019 Country Music Association Awards on Wednesday, said she will be taking next year off as her 8-year-old daughter Willow Hart returns to school while son Jameson Hart, 2, gears up to start preschool.
"We did two-and-a-half years [recording and on tour] and Willow is back in school now and Jameson's gonna start preschool soon, so it's kind of the year of the family," the 40-year-old star told Entertainment Weekly during a red carpet interview on Wednesday.
The career of Carey Hart, Pink's husband, also played a factor in her decision to temporarily step back from music. The "So What" singer said Hart, who is a motocross competitor, has a busy schedule coming up in the new year. "Carey has a lot going on as well," Pink said.
Pink and Hart tied the knot with an intimate wedding ceremony in Costa Rica back in 2006 and have continued to support each other's careers and passions every step of the way. She added: "He is super supportive. He follows me around the world, and now it's his turn."
Her continued success landed the mother-of-two at the number 43 spot on Forbes' Celebrity 100 list for 2019. In 2017, she was estimated to be worth some $110 million, according to a Business Insider report.
And although the Pennsylvania native—whose birth name is Alecia Beth Moore—is taking a hiatus from touring and performing in 2020, it's unlikely that will stop any cash flow for her. She is still raking in the dough from her latest album, 2018's Hurts 2B Human, not to mention her Beautiful Trauma world tour, which ran from March 2018 to November 2019.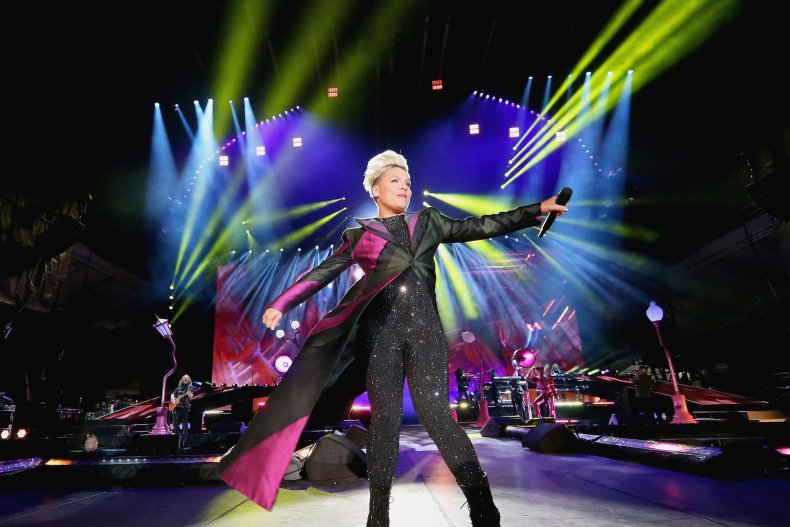 Pink, who performed in 81 shows during the tour, made about $3 million per stop, Forbes reported, while the overall tour banked more than $397 million, according to Billboard. The award-winner earned about $57 million over the course of the last year thanks to her ticket and album sales.
Considered one of the world's best-selling artists, Pink has multiple platinum-selling albums under her belt, including 2017's Beautiful Trauma and the single from the album, "What About Us." That album, in addition to two others by Pink, also peaked at number one on Billboard's 100 chart. Pink's four other studio albums all placed within the top 10.