Pink on New Album 'Beautiful Trauma,' Trump and Music Industry Sexual Harassment: Trump Is 'Rock Bottom, I'm Sad and Heartbroken'
Pink has never been short of words. In her music, in interviews and on Twitter, the veteran music star's refreshing honesty has made her one of pop's most powerful voices. With America more fractured than ever, Pink is putting that voice to use with a conscious pop record for our Trumpian times: Beautiful Trauma.
"I'm just trying to understand the world that we're faced with now," Pink tells me over the phone. Her seventh album, released Friday, is preceded by the single "What About Us," an aching midtempo song in which the singer laments the political cataclysm in the U.S. since the 2016 presidential election. "What about us? What about all the times you said you had the answers?" she sings. Pink explains that "for me, it was about how disappointed I am in our government and how our government has failed its people."
Since Donald Trump took office in January, the rights of minorities have been consistently under attack, from the immigration ban, to the repeal of the Deferred Action for Childhood Arrivals (DACA) program, to the transgender ban from military service. For Pink, whose career-long mantra has been espousing equality and love, seeing this unfold has been traumatic. "I'm sad and heartbroken. I'm heartbroken about the world that I'm handing on to my kids," she says.
Though Trump's legacy in office is still being written, Pink has surely written her place in pop music history. Beautiful Trauma is her seventh album; her previous six have sold 42 million copies across the globe, and she's received three Grammy Awards. Go see her live, and Pink's set list is brimming with certifiable hits spanning 17 years: "Get the Party Started," "So What" and "Trouble" among them. In August, MTV awarded her the Michael Jackson Video Vanguard award at the Video Music Awards, recognizing her influence on popular music over the last two decades. Yet, surprisingly, Pink still considers herself an underdog—though she ranks with Beyoncé and Adele as the defining female artists of the noughties generation.
Here, Pink talks to Newsweek about her new record, Trump and why she feels she's been more misunderstood recently than ever before.
This is album number seven. Does it get easier?
I don't think so. It's always my favorite part because I love the creative process—I love walking into a room with nothing and walking out with something that makes your soul feel good. But I always want to do better. I want to be a better songwriter, I want to sing better. My dad's really fun: He's like, "Babe, I can't wait until you write that signature song." I'm like, "Thanks, Dad."
I think you've got plenty of signature songs already...
Well, he doesn't think so. Not yet. I haven't made it yet. No, he's very proud but he likes to egg me on.
I strive to be better, and I'm proud of this record especially because I had a lot of time to write a lot of different material and I worked with a lot of different people. And vocally I've never been in a better place. That feels good. It's been a while, but it's exciting.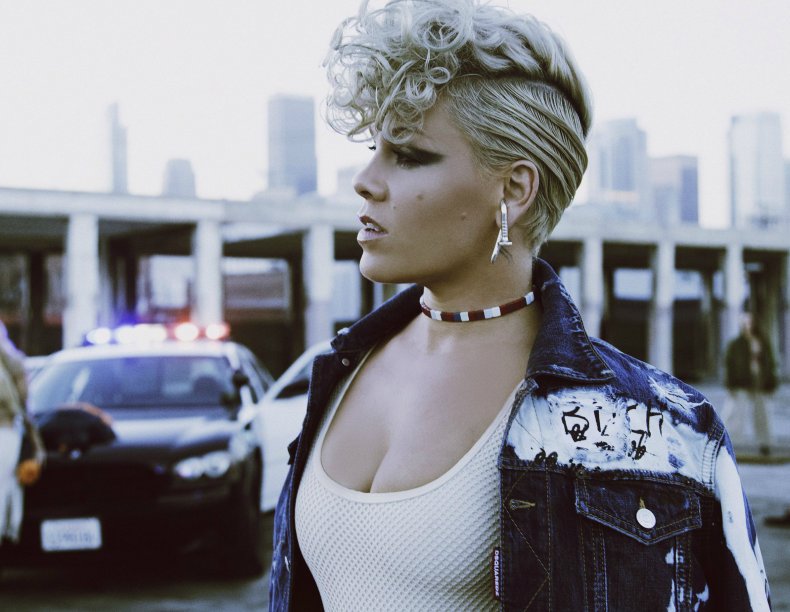 You tweeted this week a heartfelt plea for change from the president. Some people thought you were saying you voted for him...
This is pretty much the first time I've been misunderstood in a really big way. If anybody knows anything about me, they know who I am and what my values are. I've never been subtle and I've never faltered.
I have a 6-year-old daughter, and for her I want to try to retain some hope for humanity. I think that's where that particular tweet came from. I've seen people come back from heroin, I've seen people come back from cancer, from alcohol. I've seen real change happen at rock bottom. And I think this is rock bottom—Trump is rock bottom. But that is where change happens, and that's the silver lining I keep holding on to. I believe if you're alive, you're above ground, you have a chance to redeem yourself. I don't hold out much hope, but that [tweet] was one of my rare naive moments. I'm sad and heartbroken. I'm heartbroken about the world that I'm handing on to my kids.
What makes you retain a sense of hope when it is easier to feel hopeless?
I don't know what I'm doing. I'm just emoting from moment to moment. I'm just trying to understand the world that we're faced with now. Every generation thinks the world is going to shit, but maybe that's what starts to make us sound old. At times I feel really depleted.
One thing I miss about [President] Obama is how he really could inspire us to be better. I want us to inspire each other and be better. I think this presidency has inspired the worst in us. I want us to continue to be the beautiful people that we are regardless of the people in power.
Do you think Hillary Clinton would have been a better president for America?
Oh, I say that 100 percent, absolutely. I said that before any of this shit happened. I've always been Team Hillary.
Look, politics are politics. There's a bunch of bullshit involved. It doesn't just fall on the president—it's Congress, too. The entire system is broken. This country was built on a lot of broken ideals.
Maybe I live in a bubble of people that love each other—we come from all walks of life. Diversity and inclusiveness work. There's nothing wrong with being gay, there's nothing wrong with being a Jew, there's nothing wrong with being a woman, there's nothing wrong with being black. The minute we stop fighting these things, we'll start to see beauty again in the world. Until then, it's going to be awful. And, so, yeah, I go on fucking Twitter [and rant], and sometimes I need to just stop. [Laughs]
You have a collaboration with Eminem on this album. Did you see his freestyle about Trump?
I did, and I thought it was amazing. He was absolutely spot-on. And I love that he's not afraid. He's so talented. I thought that was awesome.
Do you fear backlash toward artists like yourself and Eminem, similar to the way the Dixie Chicks were chastised during the Bush era?
No. I put out "Dear Mr. President" around the same time when all of that was happening. I was booed onstage in Orange County. They did everything but throw tomatoes at me. I was raised in a military family. My mom was a nurse. I come from a family of service and [that] believes in fighting for your freedom and standing for what you believe in no matter the cost. No, I don't think about that. I understand a lot of people take the middle ground because it's the most lucrative place to be, but there's no honor in that. I have my opinions and I'm polarizing—and I understand that. I don't even expect anybody else to agree with me. My dad's favorite saying is "Dissent is the cornerstone of democracy," and I believe that. I wish we could still disagree and coexist peacefully. But we've lost the art of communication.
Hollywood is currently coming to grips with the extent of Harvey Weinstein's alleged sexual harassment, and some people have said this is a systemic issue. Does this type of behavior exist in the music industry?
I'm sure it happens. It's never happened to me. I don't know, maybe men think I'll bite their face off or something. You hear about it. I have friends who have been through it. I think it probably happens more in the movie business because of the way the system is set up for actresses—there's always a bunch of men in suits. For music, everybody finds a different road to get there, so there aren't usually all these...I don't know. But then there's also Kesha, with Dr. Luke, and all of that.
Related: Camila Cabello Talks Debut Solo Album, Life After Fifth Harmony
So, where do you feel like Pink fits into the current pop music landscape?
When it comes to being a touring artist, I'm proud about the road we've gone down. I love touring and performing and being up close and personal with my audience and having these group therapy experiences.
As far as where I belong in the landscape of popular music, I don't know. I always feel like a little bit of an outsider, like I'm having to prove myself, but I kind of like that. It starts with myself—I have to prove myself to myself. I never phone it in, and I want to make sure I'm the best that I can be. I like the ride I've been on and the way it's gone down. I like underdogs and the motivation it gives you when people don't really accept you.
Which of your songs are you most proud of?
I think "Family Portrait." It's the first time I really bared my soul. It was a poem that I wrote when I was 8, when my dad left. It brought about a very honest and grown-up conversation with my family—we picked up the rug and took everything from under it. There was a lot of crying, and it healed some of the hurt in me as well.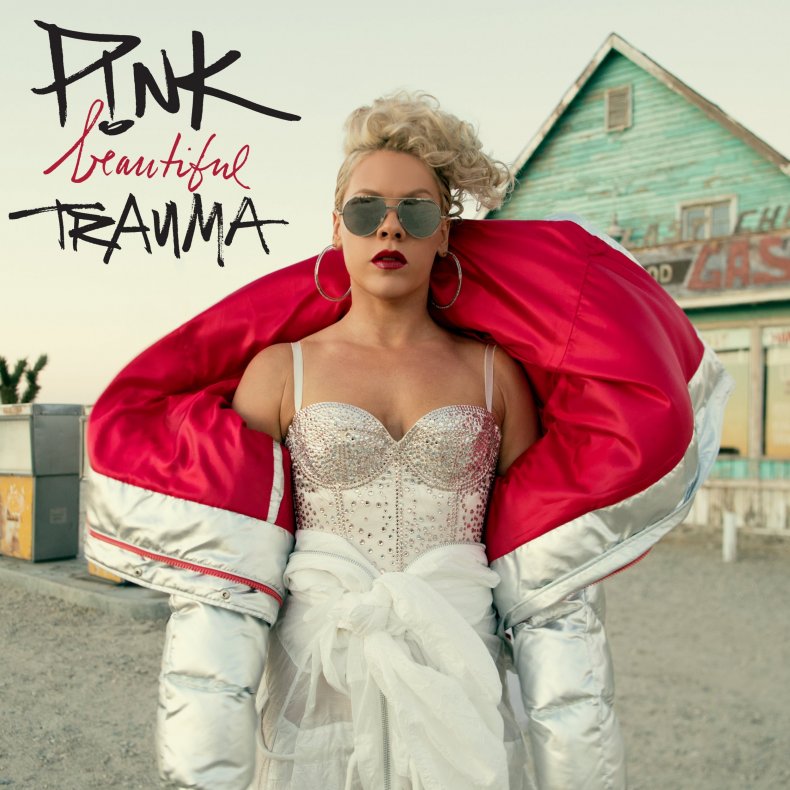 Are there any songs you don't like performing anymore?
I go back and forth with songs. I've been off "Don't Let Me Get Me" for a long time, but then I just heard this guy named James Gillespie do it on Spotify—a really stripped-back, singer-songwriter, sexy version. So I invited him to come onstage with me in Europe and we did it together, and now I love it again. "Get the Party Started" I've been sick of—I feel like Kool and the Gang with "Celebration."
Maybe you could let Shirley Bassey have that one for a little while and come back to it...
I love that. It's so good. It's like the rock opera I always wanted to be.
Finally, as an inspirational pop star, what would you say to people traumatized by the world right now?
I would say to all of those people: We're not going anywhere. We have to remain ourselves, we have to stay true to who we are, and we have to get together and fight this together. Because there are a lot of beautiful people in the world and we all look different from each other. There are some assholes in the world, and there are always going to be assholes, but the majority of us lead with love, kindness, inclusiveness. I really believe the majority of the people need to get together and say no.
Pink's Beautiful Trauma is out now.