Minnesota Attorney General Keith Ellison and New York Congresswoman Alexandria Ocasio-Cortez went on the offensive against a state "pink tax" targeting women's products and services.
Ocasio-Cortez responded to a recent article in The Washington Times that disparaged her for getting a "high-dollar hairdo" by bringing attention to a so-called "pink tax" on a wide range of hygiene products such as tampons, hair care products or body sprays.
Ellison, the former DNC deputy chairman, defended her and highlighted how haircuts, health care and car repair prices for women are higher than their male equivalents, according to consumer studies. Their criticism of "the cost of simply being female" occurred as the Ohio state House unanimously passed a bill this week repealing the "pink tax."
"Haircuts for women cost more than those for men. Also health care, car repairs, etc. That's reality for the awesome AOC and every other woman. It's morally wrong and it threatens the economic security of women and everyone who depends on her income. It's the 'pink tax,'" Ellison remarked Friday in a post retweeted by Ocasio-Cortez.
In at least 34 states, feminine hygiene products such as tampons are not exempt from sales tax because they are not classified as a health care necessity. But bipartisan lawmakers in Ohio Thursday passed House Bill 19 in a 91-0 vote and will soon vote on corresponding Senate Bill 26, to effectively repeal the so-called "pink tax" or "tampon tax" as its been dubbed in other state assemblies.
Responding to conservative outrage over the cost of her recent haircut, Ocasio-Cortez tweeted a comparison of how Vice President Mike Pence has spent "several thousand haircuts' worth" of taxpayer funds on visits to Trump-owned golf courses. "I wonder if Republicans care about corruption as much as they care about a woman's cut & color," she remarked Thursday.
Ellison also went to bat against gender-based pricing, replying Friday to a snarky tweet claiming the "economy would drop if women had any self-esteem," remarking, "Friend, it's not self esteem. It's price-gouging. It's discrimination."
The Ohio repeal of the "pink tax" is far from the first state legislative effort to curb what the Brennan Center's Jennifer Weiss-Wolf described in Newsweek Friday as "a popular euphemism for gender-based pricing" in which the cost of products or services for women are higher than their corresponding male equivalents.
In April, California Democratic Congresswoman Jackie Speier introduced the latest iteration of the "Pink Tax Repeal Act," H.R. 2048, which only garnered the support of two Republicans versus 49 Democrats. Republicans never allowed two similar prior bills from Speier to come to votes of in 2018 and 2016. Speier's bill questioned, "should women be allowed to be charged more than men for similar products or services?" The legislation cites a New York City Department of Consumer Affairs study which found women's products cost an average of 7 percent more than those same products targeting men.
"This is a victory for all women in Ohio who have unfairly been paying a tax on tampons and other feminine hygiene products," GOP lawmaker Rep. Niraj Antani, one of the joint sponsors of the successful Ohio "pink tax" repeal wrote on Facebook. "Proud to have sponsored HB 19, which was included in SB 26 today. This is a victory for all Ohio women in reducing their tax burden & being treated more equally under the law!"
Ellison continued pushing back against right-wing mockery sparked by the Washington Times article, highlighting several women's comments arguing most people "have no idea" how much black women specifically spend on hair care products. He shared another reply which labeled the "pink tax" as simply "the cost of being a woman."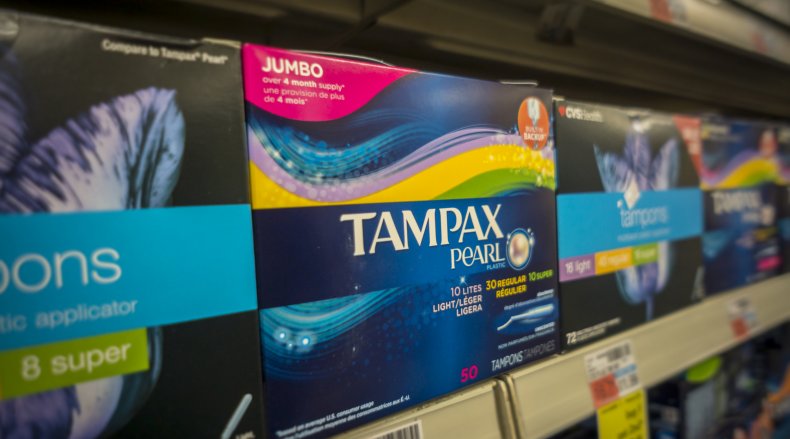 About the writer
Benjamin Fearnow is a reporter based out of Newsweek's New York City offices. He was previously at CBS and Mediaite after working as a news curator at Facebook. Fearnow has pieces published in The Atlantic as well as stories published about him in Wired and The New York Times. He attended the Columbia University School of Journalism after graduating from Indiana University-Bloomington. Email: b.fearnow @ newsweek [dot] com.