People Are Looking for 'Natural' Homemade Sunscreen Recipes on Pinterest. Scientists Explain Why That's a Terrible Idea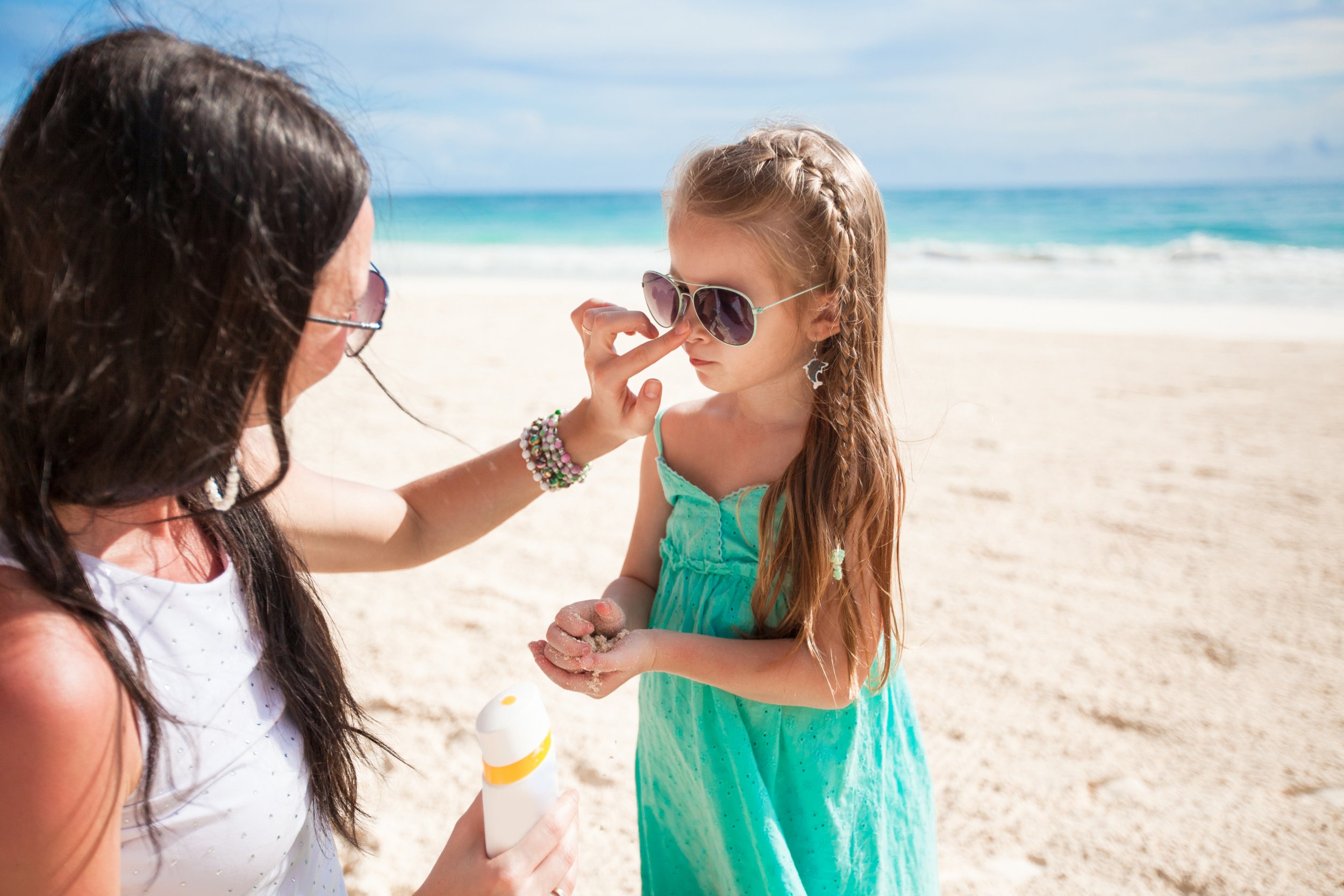 Scientists have warned the public against using homemade sunscreen recipes from websites such as Pinterest that do not protect against skin cancer.
Lara B. McKenzie of the Center for Injury Research and Policy at Nationwide Children's Hospital, told Newsweek: "Resist the urge to DIY when it comes to sunscreen."
The public "can use the internet for recipes for food; not for products intended to protect them," she added.
Homemade sunscreen is not safe to use because natural oils are unable to block harmful ultraviolet (UV) rays like commercially manufactured products can. For instance, coconut oil, which was a common base for the Pinterest sunblocks, provides a sun protection factor (SPF) of between one to seven; while shea butter and lavender oil have SPFs of around 6. This is much lower than the SPF30 recommended by The American Academy of Dermatology to protect the skin and prevent cancer.
McKenzie's team looked at results for the search terms "homemade sunscreen" and "natural sunscreen" on the social media platform. Such recipes have emerged as part of recent consumer interest in products sold as "natural" or in line with "clean living," the researchers behind the study published in the journal Health Communication said.
Of the 189 Pinterest posts, or "pins," studied, 95 percent presented the mixtures as effective, while 68 percent featured homemade sunscreen recipes that didn't offer sufficient protection against UV radiation. In 33 percent of pins, users claimed their concoctions could offer between factor 2 and factor 50 protection. On average, the pins were saved 808 times, with one as many as 21,700.
The recipes were accompanied by language like "healthy," "non-toxic," and "good for you," while some featured images of children.
One example made false claims about sunscreen ingredients causing cancer and getting baked into the skin and entering the bloodstream. Of the total, only three warned against the potential harms of relying on homemade sunscreen.
McKenzie told Newsweek: "This is concerning because the ingredients recommended in homemade sunscreen pins offer minimal scientifically proven broad-spectrum protection from UV radiation yet are widely shared and promoted as safe alternatives to commercial sunscreens on Pinterest."
She argued social media and other online tools have changed how people seek and share information about health.
Ditching sunblock can have serious health consequences for an individual's health. Skin cancer is the most common form of the disease in the U.S., and will affect at a fifth of the U.S. population. Exposure to UV radiation is the biggest risk factor for skin cancer, but is avoidable by staying out of the sun, using sunscreen and not using sunbeds. Each year, 10,000 people in the U.S. die of malignant melanoma: the most deadly form of skin cancer.
As with any study, the research was somewhat limited. Pointing out the limitations of the work, McKenzie said few studies have been published using Pinterest as a tool, meaning there is a lack of consensus on how to sample from the source. It is also unclear whether people act on what they pin, and there is no demographic information linked to each pin or like, meaning the impact of such posts is unclear.
Citing The American Academy of Dermatology, McKenzie recommended that those aged six months and older should wear FDA-approved sunscreen with an SPF of 30 or higher that protects against both UVA and UVB sun rays and is water resistant. Sunblock should be applied often in a thick lacker (around one-quarter of a teaspoon for a toddler's face) 30 minutes before heading outside, and put on again once every two hours.
"When reading health advice online, use your best judgment," said McKenzie. "Healthcare organizations and government agencies like the CDC are generally regarded as credible, trusted sources. When in doubt, ask your family doctor or child's pediatrician."
"For a week-long beach vacation, a school-aged child should go through an entire 8 ounce bottle of sunscreen, applying it twice a day," she said. Be sure to check the expiration date on sunscreen; three years after opening; or if it looks or feels different in texture or color, said McKenzie.
Earlier this month, a separate team of scientists urged the public to continue using sunscreen after a study found the body can absorb ingredients found in common sunblock products.
Professor Brian Diffey, a British Association of Dermatologists spokesperson who was not involved in the research, told Newsweek: "This is helpful research, which will hopefully highlight how poor most homemade sunscreen recipes are. There is an increasing trend of people looking for alternatives, specifically 'natural' alternatives, to commercial products.
"I think it is important to make it very clear that 'natural' does not necessarily mean effective and neither does it mean safe. There are plenty of ingredients from the natural world that are harmful, not to mention the dangers of a sunscreen product that does not work. Getting this message out there is not straight forward though, as the mindset that natural is better is quite entrenched in some people. And don't forget that the sun is the most natural thing in our environment but is responsible for skin cancer, the most common human cancer."