Pioneer DJ HDJ-X5BT Headphones Review: You Don't Need to Be a DJ to Enjoy These Cans
Having never been a professional DJ, I was a bit intimidated by the Pioneer DJ HDJ-X5BT headset. Would I be able to fully appreciate all the headset had to offer if I wasn't on stage in front of a crowd? Despite some minor issues, it turns out anyone can enjoy the HDJ-X5BT, even if you aren't blasting hits at a club.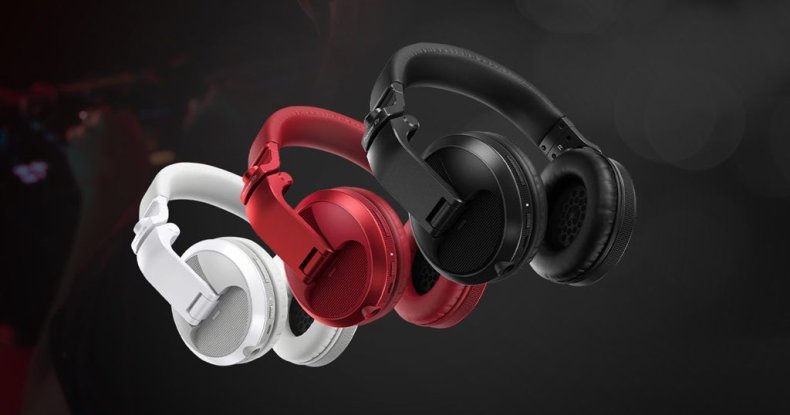 The HDJ-X5BT is lightweight, but doesn't compromise on quality. The headset meets military-grade tests for durability, but I didn't try testing out my headphones by bashing them against a wall. I'll take Pioneer's word on this one. The headset can also fold up into itself for easy storage.
While the headset is comfortable enough to wear multiple hours at a time, it does clamp down on your head a little too tightly. Those wearing glasses might have some issues adjusting to this headset. Additionally, probably because these headphones are made for DJs, the ear cups swivel out instead of in, so if you drape the headset around your neck, the ear cups point outward instead of in towards your chest. This felt a little awkward, and I found myself taking off the headphones instead of dropping them to my neck if I needed to talk to someone.
Once you get the HDJ-X5BT hooked up, the audio sounds great, and the bass sounds particularly nice and clear. The audio does not feel colored at all, which means music sounds like it was intended to, without the headphones warping anything. This is probably among the more attractive features for DJs, so they can know precisely what their music will sound like while performing.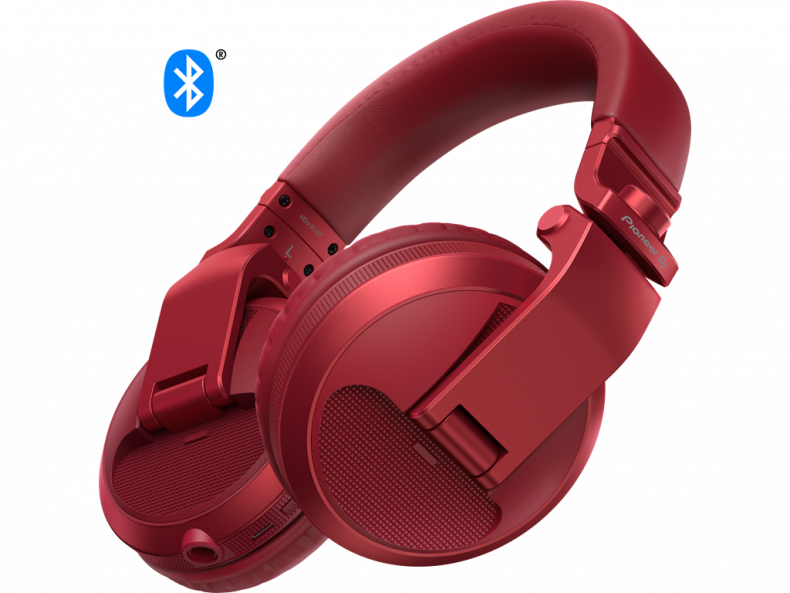 The Bluetooth features on the HDJ-X5BT work just fine. I experienced a handful of small skips and other interruptions while using the headphones, but most resolved themselves within a second or two, and were never a major problem. Pairing the headset to a number of devices was as simple as any other Bluetooth device. The battery life is also impressive, with the box claiming one charge lasts 20 hours. I didn't wear down my headphones until they were dead, so I can't confirm the battery lasts the full 20 hours, but can say I never had to charge the headphones once while I used them.
A built-in microphone allows you to make hands-free phone calls without having a goofy mic arm attached to your headset or a fuzzy microphone in front of your face. I was told I sounded a little far away when using it, but was still perfectly coherent. I'm a big fan of the hands-free phone call so this is a nice inclusion for me.
As a huge added benefit, the HDJ-X5BT can also be used while turned off with an included audio cable. This means if the headphones battery dies, all you have to do is plug in the cable and you're back in action. This feature seems like it would be great for DJs, and the included ¼ inch adapter will probably come in handy for all the pros out there. This also allows the headset to be a little more versatile, as the HDJ-X5BT can be used with anything that accepts a 3.5mm headphone jack, such as video game consoles.
My biggest issue with the HDJ-X5BT lies with the controls. To keep things simple, the HDJ-X5BT has one main button and a volume rocker. All headset functions are mapped to this one button, including power and Bluetooth pairing. Turning off the headset requires holding the button for five seconds, while entering pairing mode involves holding the button for six seconds. If you try to turn off your headset without paying attention, you could very easily leave it on by accident. That's pretty annoying. Thankfully the battery life lasts long enough that it isn't too much of an issue, but be sure to watch out for that.
At $149, the HDJ-X5BT isn't the cheapest pair of headphones available, but the added Bluetooth support, built-in microphone and long battery life all help it stand out above the competition. Add excellent audio quality to all that and you have a pretty attractive offering, even if you aren't a DJ.
So what do you think? Have you tried out the HDJ-X5BT headphones for yourself? Are you in the market for a new pair of Bluetooth headphones? Let us know your thoughts in the comments section below.