In something straight out of a childhood nightmare, a swarm of piranhas has been caught on camera munching on a caiman carcass.
The video, posted to Instagram by the @natureismetal account, shows several of the fish in a feeding frenzy around the body of the dead caiman—an alligator-like reptile—in a river in the Amazon rainforest.
"Piranhas are often depicted in films as man-eating fish, but the truth is they are more scavengers than hunters," @natureismetal captioned the post. "Their diet consists mostly of insects, fish, crustaceans, worms and the occasional caiman carcass. They are only dangerous to humans if they are provoked or if they are starving."
The video has garnered nearly 160,000 likes so far.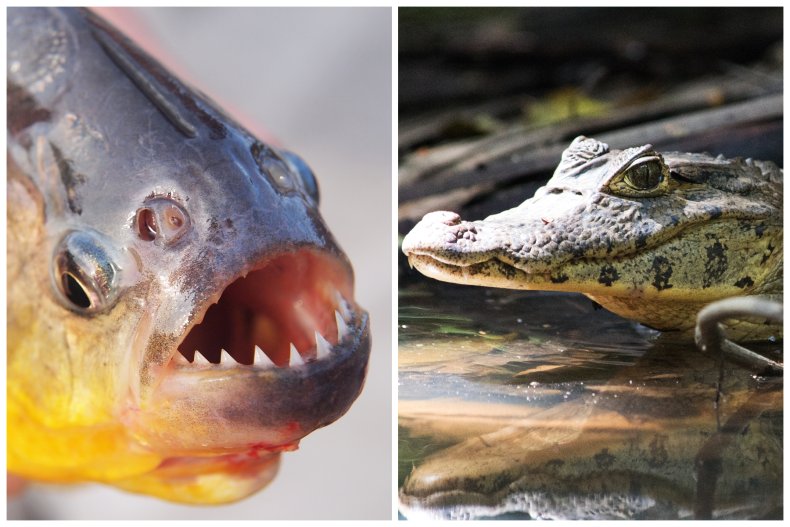 Piranhas are freshwater fish native to South America. There are thought to between 30 and 60 species of piranha, the largest of which, the red-bellied piranha, can grow to up to about 20 inches long. They travel in groups of around 20 individuals, and are known for their razor-sharp teeth and their depiction in film of being able to shred flesh from bone.
In reality, piranhas mostly only eat other fish and aquatic reptiles, as well as plants, as part of their diet. Their bites are powerful. One 2012 study in the journal Scientific Reports finding that black piranhas have a bite force of 72 pounds, three times their own body weight.
They are eaten by a variety of predators, including caimans, alligator-like aquatic reptiles native to Central and South America that grow on average between 6.5 and 8 feet long.
"Piranhas are an important part of the Amazonian ecosystem and help to keep the populations of other animals in check. They are a natural form of pest control, helping to keep the numbers of smaller fish and insects in check," @natureismetal said in the caption of the video.
"So if you ever find yourself swimming in the Amazon, don't worry about these bitey guys—they're more likely to be afraid of you!"
Despite their reputation, piranhas rarely attack humans, and when they do, injuries are usually minor: of the 190 reported piranha attacks in an artificial lake near the city of Palmas in Brazil in the first half of 2007, all injuries were single bites to the feet.
In May, eight people were attacked by piranhas at a Brazil beach resort, leaving them with bite wounds.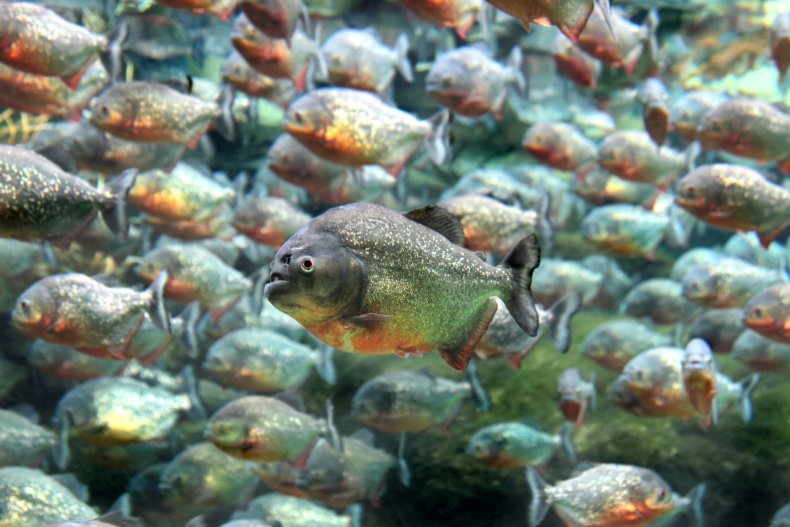 "Piranhas do not exhibit unprovoked attacks on humans," Steve Huskey, a professor of biology at Western Kentucky University, told Live Science in May. "The situation described is one of piranhas becoming acclimated to free food and those bites were just another example of mistaken identity, just like shark attacks."
Attacks on humans are occasionally more brutal, with a handful of deaths being recorded as a result of piranha attacks. In 2021, a man reportedly died after being attacked by piranhas as he attempted to hide from a swarm of bees in a lake, while in 2015, a 6-year-old girl died after a canoe capsized and piranhas ate the flesh on her legs.
Do you have an animal or nature story to share with Newsweek? Do you have a question about piranhas? Let us know via science@newsweek.com.