Jeanine Pirro Says Whoopi Goldberg Treated Her Like a 'Dog' and Told Her 'F*** You'
Fox News host and former judge Jeanine Pirro accused The View host Whoopi Goldberg on Thursday of cursing at her and treating her like a "dog" after the pair had a heated exchange on-air about President Donald Trump.
Pirro made her claims about what happened after cameras stopped rolling while appearing on Fox host Sean Hannity's radio program, just hours after the on-air incident with Goldberg.
"When I went off the stage, Sean, I'm walking downstairs and I said something like, 'Whoopi I fought for victims my whole life,' and she came at me as I was leaving and she said 'F you' in my face — literally spitting at me, 'F you, get the F out of this building,'" Pirro said according to The Hill.
Pirro continued: "And I said to her, 'did you just say that?' She said that's what I said, 'get the F out of this building' and she was screaming at me and I'm walking out of the building like a dog who was just kicked off."
Pirro's accusation stemmed from a wild appearance on the ABC panel show Thursday when she was promoting her new book Liars, Leakers and Liberals.
Pirro's segment immediately pivoted to the state of the Republican Party under Trump, and while Pirro was defending Trump she accused Goldberg of having "Trump Derangement Syndrome."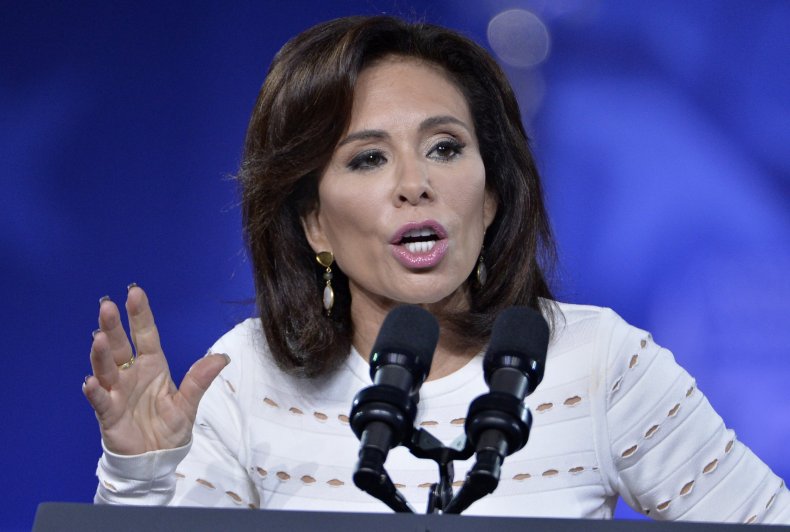 But Goldberg shot back that she took umbrage with Trump's words about immigrants and wanted to know "how to fix this," in reference to Trump's presidency.
"Listen, I don't have Trump Derangement," Whoopi said. "Let me tell you what I have. I'm tired of people starting a conversation with Mexicans are liars and rapists."
"What I suffer from is the inability to figure out how to fix this. That's my issue," Goldberg added.
Heated crosstalk followed until Goldberg said "goodbye" and ended the segment before the show cut to commercial.
Pirro has long been a proponent and supporter of Trump, often using her Fox News program to rail against the president's critics.
She defended Trump's performance during his press conference with Russian President Vladimir Putin on Monday, suggesting the president had very options at the moment when she said: "What was he supposed to do, take a gun out and shoot Putin?"
The president even called into Pirro's show in February to rail against Democrats over immigration and the release of documents involving the investigations into Russia's meddling in the 2016 election.