Pit Bull Viciously Attacks Owners Leaving Serious Injuries
A couple in New Jersey were left with injuries after they were attacked in their home by their family pit bull dog, police have said.
Officers from South Brunswick Police, emergency medical workers and animal control officers were called to the property on New Road at 1.35 p.m. on Tuesday following the incident.
They found a man aged 63 with bite marks on his limbs and a 65-year-old woman with bite marks on her wrist.
Police said according to the victims, the pit bull had attacked the man while he was in his bedroom. The woman then ran into the room after she heard his screaming and was herself attacked by the dog.
Another resident at the house, a man in his 30's, managed to wrestle the dog and pinned it down, Patch.com reported. The couple was taken to Robert Wood Johnson University Hospital and the man's injuries were said to be serious.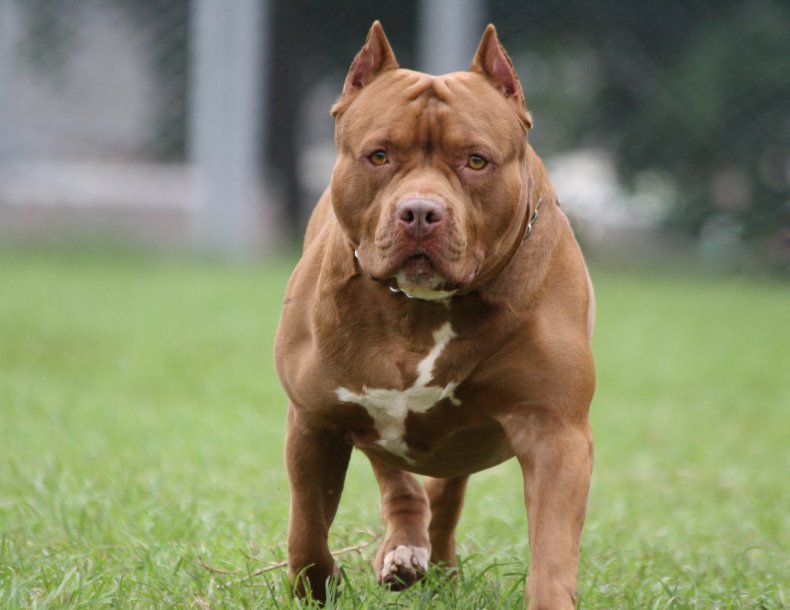 Police said that the South Brunswick Animal Control, which Newsweek has contacted for comment, has taken control of the dog.
Police have not released any information on the status of the animal or the conditions of the victims, NJ.com reported.
In July, three pit bull terriers were put down after they mauled a 60-year-old woman to death in Miller Township, Pennsylvania.
Rhoda Wagner was found dead on the lawn outside her house by people walking past after the attack by the animals she had been minding for her roommate.
That month, a 59-year-old Texas woman was mauled to death by her family's two pit bulls which were impounded by Animal Control officers.
The National Pit Bull Victim Awareness (NPBVA) says on its website there are more than 1000 media reports of severe pit bull attacks on people every year and that there is one human death by pit bull every 13 days.
However, The American Society for the Prevention of Cruelty to Animals (ASPCA) says that just because some pit bulls are bred for their fighting ability, that does not mean they were "unpredictably aggressive."
Pit bulls consist of four separate breeds and are descendants of the original English bull-baiting dog bred to "bite and hold bulls, bears and other large animals around the face and head," according to the ASPCA.
But it said other pit bulls bred for work and companionship are popular pets "noted for their gentleness" and that "even those pit bulls bred to fight other animals were not prone to aggressiveness toward people."