Pit Bull Gives Toddler Kiss and Cuddle in Heartwarming Video: 'So Cute'
The moment when a pit bull shared an affectionate embrace with its owner's young daughter has been captured on camera.
Footage of the pet pooch kissing and cuddling the small child was uploaded to TikTok by the young girl's mom, Emily Green, posting under the handle @downwiththegreens, and has already been viewed 6 million times.
For many of those commenting on the clip, the video served as the perfect showcase of the softer side of pit bulls that's often overlooked.
The idea of a small child playing at close quarters with a pit bull might be a little unsettling to some given the breed's reputation. In a 2021 analysis of recorded pediatric dog bite injuries sustained in the United States, pit bulls or pit bull mixes were the offenders in 53 percent of cases.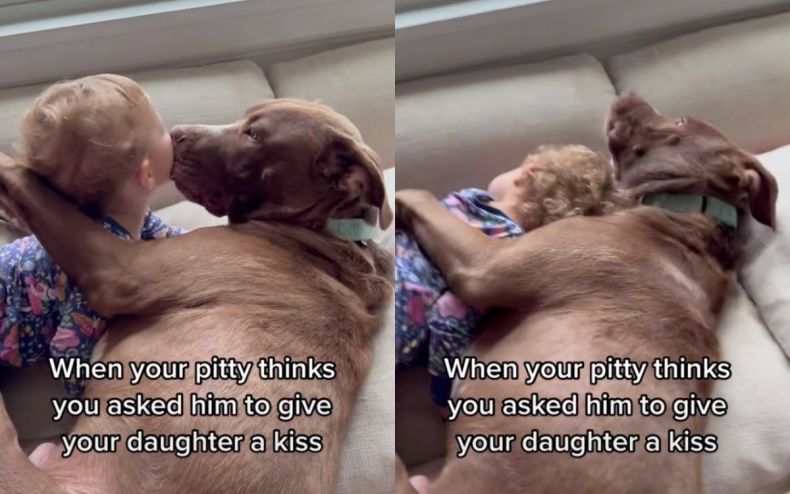 To give that figure some perspective, the second most commonly identified breed group was the Labrador or Labrador mix, which was linked to 10 percent of cases. However, dog behaviorist Louise Glazebrook thinks it would be wrong to dismiss pit bulls as a breed to be wary of.
"Judging anything purely on how it looks isn't advisable," she told the BBC. "What we should be looking for is where that dog has come from (its breeding), the experiences it has had and its actual behavior."
Glazebrook said that when it comes to dog bites and attacks, rather than simply focusing on the breed, closer scrutiny should be placed on the dog's home life.
"Look at the owners and the people who created that individual dog," she said.
"When we look at the cases of dog attacks on humans, the reality is that the early warning signals were missed well before that dog did attack and injure."
Green, the mom who posted the viral video of her pit bull and daughter cuddling, explained in the caption of another video that she has been sharing clips showcasing his affectionate side to "help break stereotypes" around the breed.
That sentiment was echoed by those watching the clip of the dog and toddler cuddling on social media. "People talk so badly about pit bulls," TikToker Mackenzie Brown said. "It's not the breed." Debix71 agreed, writing: "This is a wonderful example of a pit bulls true nature."
Anxiousgaygirl commented: "This is literally the cutest thing I've ever seen" with thetruthwillsetyoufree7 adding: "aww that's his baby."
Elsewhere, angiswtv said: "so sad this breed is badly spoken about. I had a pit bull as a kid who was the same way with me" while misshavennichole wrote: "The way pits cuddle people like they are human is so cute."
According to Green's account, her husband discovered the pit bull abandoned under a bridge and decided to take him home in an effort to try and locate his family. But despite the dog being microchipped, their efforts to get him home proved fruitless.
However, by then, something extraordinary had happened: the Greens' kids had developed an emotional connection with the lost canine. As well as enjoying snuggles with the Greens' toddler, the pit bull is also best friends with their young son, who has Down syndrome.
Newsweek reached out to Green for comment.
Update 8/15/22, 10:45 a.m. ET: This article was updated with a new video and image.
Do you have funny and adorable videos or pictures of your pet you want to share? We want to see the best ones! Send them in to life@newsweek.com and they could appear on our site.