Pit Bull Puppy Breaks Hearts Hiding On First Night In New Home: 'So Afraid'
A viral video that showed a puppy hiding after being brought to a new home has melted hearts online.
In the viral TikTok video, user kinggdracoo explained that the puppy pitbull hid in the laundry room after being brought home for the first time.
Captions in the clip read: "This was the first night I met my family. I was so afraid. I didn't want to come out. My mom eventually got me out with food."
In the video, a woman could be seen entering the laundry room where the puppy was hiding in the corner between the wall and a top-loader washing machine.
The poor puppy appeared to be scared and did not respond when the new owner tried to get the pooch out with a fly swatter and encouraging sounds.
According to the American Kennel Club, puppies can be scared and confused when they come to a new home as they have been taken away from their mother, siblings, and other people they might know.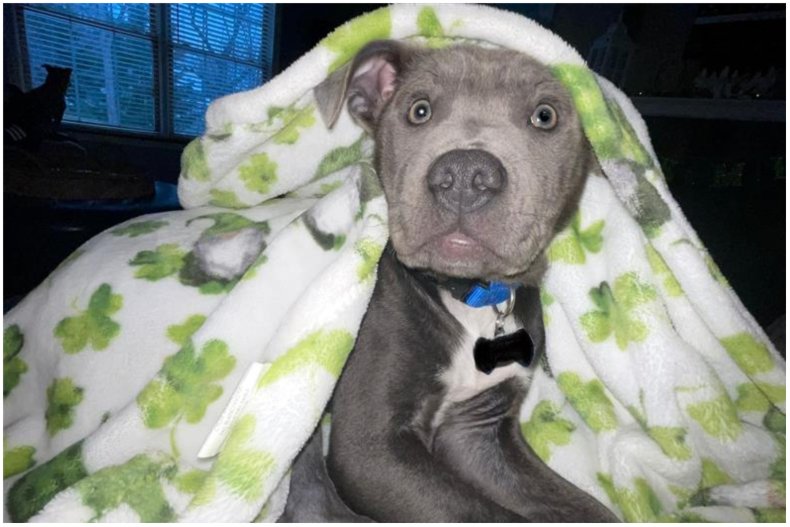 Online Reaction
Since being shared on February 7, the post has been viewed more than 3.3 million times and was liked on some 178,900 occasions.
TikTok user Helen Hernandez Figu said: "When my cat was little she would sleep behind the fridge and we would spend hours trying to find her."
Leecarter0269 added: "Ball or toy would have gotten him. He's too young to understand 'hey, come here. Poor baby."
Snickers2020 commented: "Mine hid under the couch. I felt so bad for him. Slept on the floor next to him under the couch for a week."
But others felt that the techniques used in a bid to get the puppy out from the hiding place were not suitable.
Stef posted: "Because there's a stranger swatting at him with a fly swatter, whilst he sleeps alone in a laundry room."
How To Introduce A Puppy To A New Home
The AKC said there are several things people can do when introducing their new puppy to their home, which include:
Choose a potty spot. This can be done by taking the dog to an outside area to relieve himself and using a command that you'll stick to and praise them to reinforce the behavior.
Introduce the puppy to the new home. Slowly introduce different areas of the home and get them used to one area before introducing it to another, one room at a time and skip areas that you decide are off-limits.
Give appropriate and safe chew toys as puppies enjoy chewing.
Introduce the puppy to family members one at a time. This could be difficult with a new puppy, but give them a chance to meet them in a quiet setting.
Show the puppy their new sleeping place. Puppies can sleep between 15 and 20 hours a dog and will often drop in their tracks. Make sure to bring them to their dog bed or crate when they seem to be ready for a nab.
Newsweek has contacted kinggdracoo for comment.
Do you have funny and adorable videos or pictures of your pet you want to share? We want to see the best ones! Send them in to life@newsweek.com and they could appear on our site.