Pit Bull Puppy's Reaction to TV at 7 Weeks Old Melts Hearts: 'The Tail'
A video of a pit bull puppy "discovering" television has gone viral on TikTok, where it has received 4 million views.
The clip, shared from the TikTok account @phantomthepitty, showed the puppy sitting on a bed while staring up at a television. The dog appeared to be transfixed by whatever was on the TV, with its ears relaxed and drooping downward and its tail wagging.
The post was shared with a caption that said: "Discovering Tv at 7 weeks lol [laugh out loud]."
A message overlaid on the video read: "He was watching for about 5 minutes before I started recording [teary-eyed face, crying/laughing face and blue heart emojis]."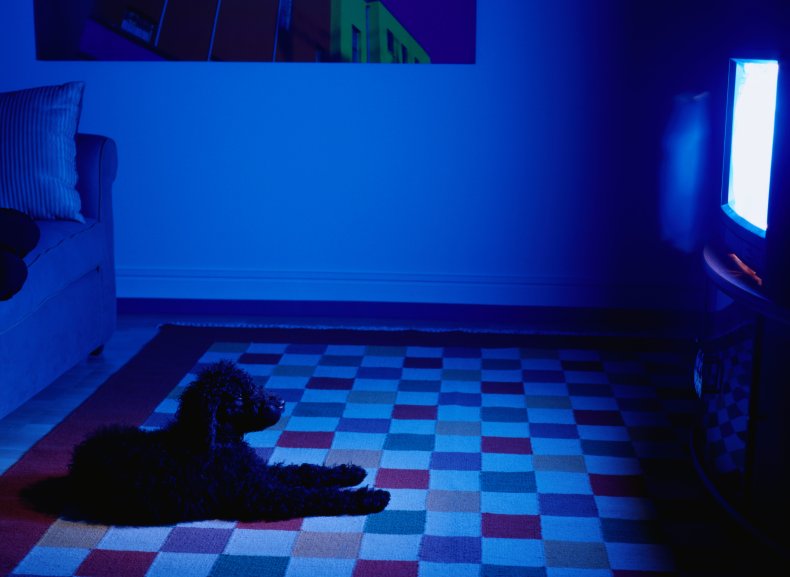 It's not surprising that the pup appeared to be mesmerized by the television footage, as our canine friends have a heightened sense of visual perception.
In a February 2013 study in the peer-reviewed journal Animal Cognition, dogs were able to differentiate dogs from other species, including humans. They were able to "group all the images of dogs within the same category," based only on visual cues.
The way a dog responds to what's on TV can also vary, depending on its personality and breed characteristics, says the American Kennel Club (AKC), the world's largest purebred dog registry.
For example, dogs from the terrier group, which were bred to hunt vermin, may react to movements or squeaky noises. But bloodhounds, known for their scent-trailing abilities, may not be as responsive to television because there are no odors, according to the AKC.
The pup in the video has warmed the hearts of users on TikTok, with several swooning over that wagging tail.
User Mumzie wrote: "The little tail going [dog and red heart emojis]," while user yarellls simply said: "His little tail!"
AutiXO said: "The constant tail wag so precious so cute."
Carleeee Hale said: "My puppy watches tv too but I've never seen her wag her tail. That is adorable [teary-eyed face emoji]."
Krystal said: "[Floating hearts smiley face emojis] how adorable is he [floating hearts smiley face and smiling with teeth showing emojis]."
Leenagurl wrote: "Omg super adorable [floating hearts, smiley face emoji]."
Newsweek has contacted the original poster via TikTok.
Do you have funny and adorable videos or pictures of your pet you want to share? Send them to life@newsweek.com with some details about your best friend and they could appear in our Pet of the Week lineup.