Video: Pita Pit Employee Spits Into Customer's Food During Late-Night Fight
The owners of a Pita Pit restaurant in Missoula, Montana, apologized after a video surfaced of an employee spitting in a customer's food during an argument.
The video, first posted to Facebook on Saturday by user ShaeLynn MadPlume, begins with a woman off-screen challenging the female employee standing behind the counter to spit in her pita. The video poster claims that she and friends entered the downtown Missoula Pita Pit around 2 a.m. Saturday, but the employee said the store was closed and repeatedly told them to leave. According to the Pita Pit franchise's website and Facebook page, the store doesn't close until 3 a.m.
ShaeLynn MadPlume described her version of the scene on Facebook: "Just a few customers trying to give them business!!! PITA PIT (downtown Missoula doesn't close until 3am)...we come in at approximately 2:00am trying to order food and this racist woman spit in our food because apparently "she was having a bad day and didn't wanna be at work!".......mind you, she argues with us a few seconds before we were actually able to capture this on video!!"
After the employee is seen spitting into the pita, one of the women tosses her purse and then hops over the counter attempting to strike the female employee. The Pita Pit employee screams at the women filming the video to leave the store as her co-worker on the pita-making line continues working as if nothing occurred.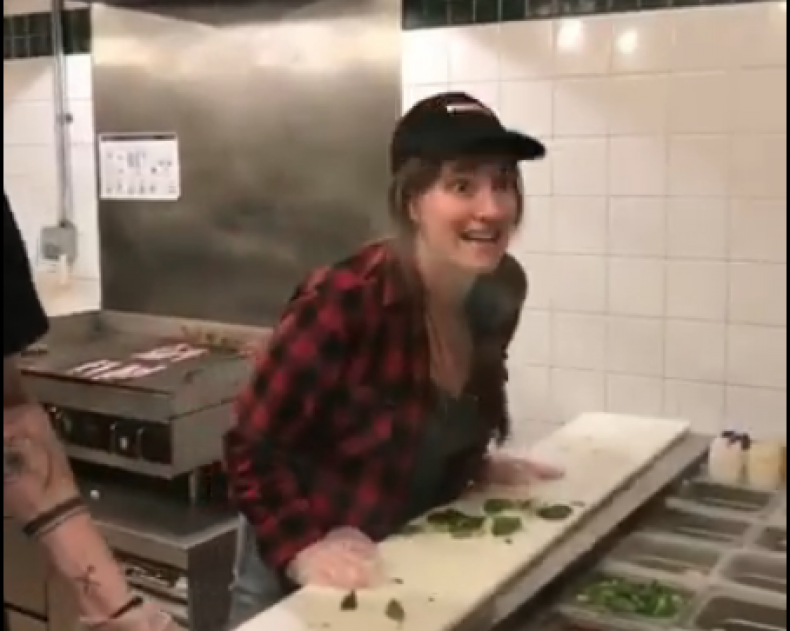 Since being posted to Facebook on Saturday, the Pita Pit spit video has amassed nearly a half-million views and more than 6,000 shares on that social network alone.
The Pita Pit co-owner posted a public Facebook apology addressed to ShaeLynn MadPlume Saturday afternoon, KTMF-TV first reported. She said the employee seen spitting into the food was fired after the incident.
"My name is Nancy. My husband and I have owned Pita Pit Missoula for over 14 years. I have seen your Facebook post and I am mortified that this happened to you and your friends in our establishment," she writes.
"I don't know what happened before or after this video was taken but please don't listen to those who speculate. I can see what happened during the video and there is no excuse whatsoever for the type of behavior shown by an employee that I can assure you is no longer working for us," reads the Pita Pit Missoula Facebook page post.
Missoula police told WFTV-TV that they are looking into the incident due to the physical altercation and potential city health code violations.