Pit Bull Filmed Being Spoiled Thanks to TikTok 'Index Card Challenge'
One lucky grey-and-white pit bull from Rotterdam in the Netherlands named Chapoo has had the best time playing the Index Card Challenge, tapping the pieces of paper.
In the TikTok video posted to @i.am.chapoo, the 4-year-old dog can be seen taking a trip to the beach, enjoying treats, napping, and having a back scratch.
The video has received more than 5.3 million views, and one TikToker commented, "All fur babies deserve a day like this."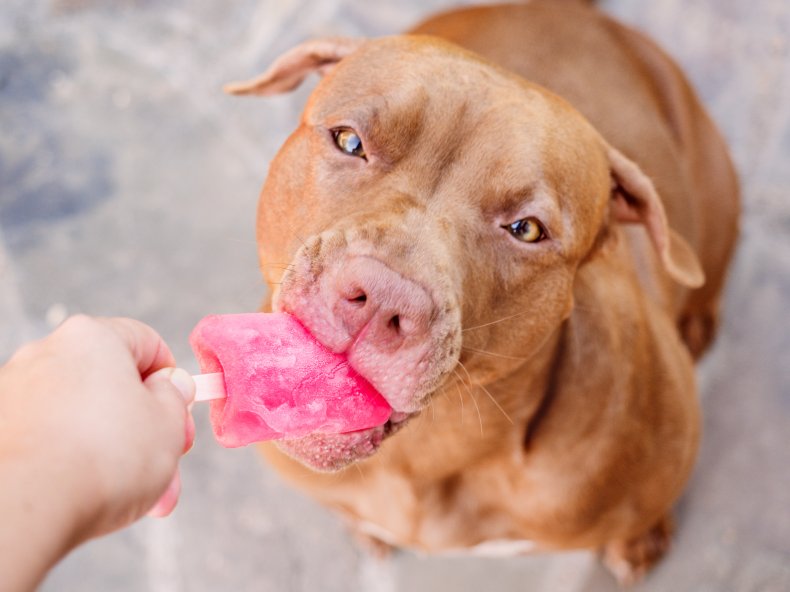 Pets bring us a huge amount of joy. According to The American Heart Association. "Studies show that dogs reduce stress, anxiety and depression; ease loneliness; encourage exercise and improve your overall health. For example, people with dogs tend to have lower blood pressure and are less likely to develop heart disease."
It's no reason then that people love to spoil their pets, and the American Pets Product Association estimated that Americans spent $109.6 billion on their pets in 2021, up by $6 billion from 2020.
The American Kennel Club has compiled a list of ways to safely spoil your pup.
Frozen Treats
A frozen treat on a hot day is a great way to keep your dog cool and happy. "Short-nosed pups, such as Pugs and French Bulldogs, have an even harder time with hot weather," say the AKC. "A frozen treat can help them cool off and is fun for them to eat. Consider stuffing a Kong or other hollow toy with peanut butter and putting it in the freezer for a few hours before giving it to your dog. You can even plug the tiny hole at the small end of the Kong and fill it with broth before freezing."
Give Your Dog a Massage
If your dog loves to spend the majority of its day running and leaping around, the chances are they will appreciate a massage for their overworked muscles. The AKC recommends: "Use soft, sweeping motions along your dog's body, avoiding any areas he doesn't like to have touched. While your dog is getting spoiled with a spa session, you will be doing some important training. Getting your dog comfortable with being handled will make it easier to groom him, trim his nails, and brush his teeth."
Dogs Love to Swim
Some dogs such as Labrador retrievers are genetically drawn to water, and a dip in the water is a great way to spoil them. "Find a safe body of water, free of strong currents, and let your dog jump in, " says the AKC, "You can also toss a stick or ball into the water, so he can play fetch. If your dog has never been swimming before, go slowly, stay positive, and fit him with a life jacket so that he can perfect his doggy paddle."
What Did TikTok Think?
Keeeey wrote, "This is too cute," while Diva4jch posted, "Best one I've seen."
I love animals commented, "Oh cute idea."
Newsweek has reached out to @i.am.chapoo for comment.
Do you have funny and adorable videos or pictures of your pet you want to share? We want to see the best ones! Send them in to life@newsweek.com and they could appear on our site.