If you know what the ICCA Finals are, it's a safe bet you're either an a cappella superfan or you've watched, re-watched and obsessed over Pitch Perfect as often as I have. The sleeper hit, which had its premiere in 2012 and eventually raked in more than $100 million, catapulted collegiate a cappella into a pop culture sensation. The movie led to a top 10 Billboard hit with "Cups (Pitch Perfect's When I'm Gone)"; launched breakout star Rebel Wilson; created one painfully adorable couple in actors Anna Camp and Skylar Astin; and gave social media plenty of GIFs and catchphrases (Aca-scuse me? Aca-believe it!) to obsess over during the long wait for the sequel, which hits theaters May 15. If you're unfamiliar with Pitch Perfect, think of it as Grease meets Glee meets Bridesmaids—a raucous, musical love letter to underdogs, best friends and "organized nerd singing," as one character says in the film.
All of that brings us to the ICCA Finals, otherwise known as the Super Bowl of a cappella. The International Championship of Collegiate A Cappella is not just the setting for the climax of Pitch Perfect; it's also an annual competition in New York City where the top eight collegiate a cappella groups compete. Since launching in 1996, the tournament has grown from around 30 groups to over 300 this year. Tickets for the 2015 ICCA Finals—held in mid-April at the 2,800-seat Beacon Theater—sold out in a few hours.
This year, the team to beat was the SoCal VoCals, the University of Southern California's camera-ready co-ed group that has won four times since 2008. Northeastern University's Nor'easters were another draw, partly because they took first place in 2013, just five days after the Boston Marathon bombing, and partly because they are starring in a new reality docu-series called Sing It On, which follows five collegiate a cappella groups on the road to the ICCA Finals. Its debut is May 13 on Pop TV.
"Having been there, I know how hard these groups have worked and how much time and effort they've put into creating these sets," says Shams Ahmed, an investment banker in Boston who was the musical director of the Nor'easters in 2013, the year they won. "Even to get to this stage, it takes a lot.... This is the cream of the crop."
In the past two years, more than half of the singers on the Nor'easters' championship team graduated, so the group had to audition and train a lot of new members for this year's season. As one Nor'easter puts it in the first episode of Sing It On, "It's up to us to really mold them into the new ICCA champions—and I fucking want that title."
'Might Be Cool'
Collegiate a cappella dates back to 1909, when the Yale Whiffenpoofs were founded, but it wasn't until the 1990s that the genre went mainstream. Around the same time that Rockapella starred in Where in the World Is Carmen Sandiego?, collegiate groups began shifting away from the barbershop quartet style in favor of more modern performances. The huge success of American Idol (a reality-TV singing competition) in 2003 paved the way for Glee (a musical-drama TV series) in 2009. Later that year, the reality-TV show The Sing-Off arrived, featuring boy band throwback Nick Lachey as host and the country's top a cappella groups vying for a recording contract with Epic Records/Sony Music. The third-season winners, the Pentatonix, from Arlington, Texas, went on to win a 2015 Grammy for their medley "Daft Punk."
"Suddenly, a cappella is more charming than embarrassing," says Amanda Newman, executive director of Varsity Vocals, which puts on the ICCA each year. These days, it's not unusual for college a cappella groups to teeter between singing as art and singing as a Hollywood pursuit. The Tufts Beelzebubs, who took second place in the first season of The Sing-Off, appeared on Glee. The Florida State University AcaBelles' 2013 video of Lorde's "Royals" has been viewed 8.5 million times on YouTube, and they're one of the five teams profiled on Sing It On.
According to a cappella lore, the ICCA tournament was conceived in a college dorm room as an antidote to March Madness. The event, called the National Championship of Collegiate A Cappella (NCCA), took place at the same time as the NCAA basketball tournament and even used a bracket system. While the name was later changed to the ICCA when Canadian groups joined the competition, the bracket system remains. There are six regions across the North America, each with 50 a cappella groups competing for one of eight spots at the finals. Joining those six teams is the U.K. champion as well as one wild card.
"In 2003 we probably sold 250 seats, mainly to parents of the groups coming," Newman says of the early ICCA Finals. "And now someone is filming them because they want to put [a group] on TV!" As one of the emcees says at the start of this year's three-hour ICCA Finals, "You guys, do you see where you are right now? You're in the Beacon Theater! A cappella might be cool!"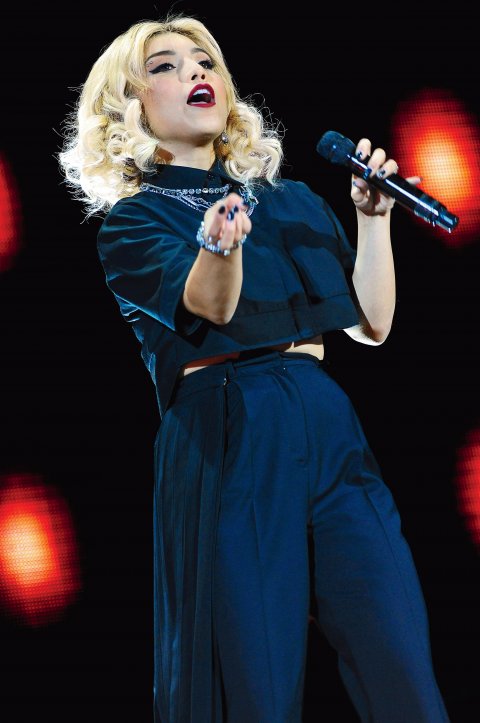 Voices in Your Head
People start lining up outside the theater an hour before the show. Occasionally performers walk by, inciting whispers and outbursts from fans. Even I feel goosebumps when I recognize Isaac Willnow and Sam Creighton from the Nor'easters. I'd gotten to know them in the same way most of you are about to get to know them: by way of Sing It On, which is executive-produced by Grammy and Academy Award winner John Legend, who sang in an a cappella group at the University of Pennsylvania. (Newsweek's executive editor of TV, film and digital, Teri Katherine Flynn, is also an executive producer.) This year, the Nor'easters earned the wild card to the ICCA Finals, a fortunate plot point for Sing It On, as the other four groups on the show don't make it to the Beacon.
"I have worked and drilled the group to a point where everything now is muscle memory," says Willnow, the Nor'easters' musical director, who looks just as polished and manicured as he does in the first two episodes of Sing It On—bleach-blond hair, dark tan, Hollywood-ready features. "There are times we spend 30-40 hours in rehearsal each week."
When the lights dim inside the Beacon and the roaring audience quiets down, the University of Maryland Faux Paz bursts onstage wearing all black. "I love you!" yells someone in the audience. Each group's set can last up to 12 minutes, and theirs includes "La La La" by Naughty Boy featuring Sam Smith and Hozier's "Take Me to Church." When they finish, a 10-year-old girl sitting near me leans over and says, "They were great! But the soloist missed one note." A cappella isn't a contact sport, but competitors and fans alike are out for blood.
The next group, USC's SoCal VoCals, is so slick and energetic that it's like watching Pitch Perfect on Broadway—which isn't surprising to a cappella insiders. USC has a popular music major, and a few singers in the group have professional experience. Malia Civetz has performed in Las Vegas with Barry Manilow. "She'll probably go on to sing professionally," Newman says. "We didn't always used to see that." Another member, Juliette Goglia, has appeared on The Michael J. Fox Show and That's So Raven. The ICCA boasts a handful of breakout stars—John Legend, Sara Bareilles, Ed Helms—but the vast majority of competitors go on to careers outside of Hollywood. "I don't think people get involved because they think their college group will get a record deal," Newman says, "but a cappella isn't a joke anymore."
For a group to win the ICCA Finals, everything has to go right: song selection, a strong opener and closer, endless energy, perfectly coordinated dance moves. "Even if just one thing goes wrong, it could ruin everything," says Faux Paz's Frankie Spano. Another important factor: costumes. With coiffed hair and chic, skintight outfits, the SoCal VoCals embodied the Hollywoodization of a cappella. The Vassar Devils looked like East Coast hipsters in their whites, grays, blacks and skinny jeans.
My pick for first place goes to Baylor University's VirtuOSO, not because they have the best costumes (their black outfits and green ties and hair bows are so 1982) but because they are authentic. Professional but not produced. "They're amazing singers and so sharp, but the look and feel of their performance was what would have totally won five years ago," Newman says. "Now groups are going beyond that—less polished-show-choir and more rock star."
The rock stars of the night, the SoCal VoCals, take first place. The University of Chicago's Voices in Your Head come in second, followed by the University of Michigan's G-Men, an all-male group that wears blue and white sports jerseys and sings cryptic, guttural Alt-J songs as part of their performance.
The Nor'easters, who don't place, perform last, which is fitting for a group that's about to invade Americans' living rooms. Sing It On is billed as the real-life Pitch Perfect, and the first two episodes support that claim. In the show, we learn that riff-offs (improvised-singing battles) are real, a cappella is filled with divas and open auditions are likened to "cattle calls." As Jessie Litwin, president of the Nor'easters, says in the first episode, "Our audition process is pretty much 24 hours of sitting there listening to people who can sing, who think they can sing and who don't sing at all."
Their auditions will remind you of a scene in Pitch Perfect, only it's often worse in real life. Sing It On is also filled with one-liners that the screenwriters of Pitch Perfect could have written. "We want to see who fits in with our sound, and it really doesn't hurt if they're beautiful," says Andie Gilroy, president of Florida State's All-Night Yahtzee.
At the finals, the Nor'easters' performance has an extra weight. "A couple weeks ago, we lost a member of our group," Willnow says before the show. "He was battling depression for a year, and so we have gone through hell and back these last few weeks. Tonight, we are so excited to be able to perform the music that we created with him. We'll be leaving a space for him in our performance, and we're dedicating the entirety of our performance to Kevin Mayer."
When the emcees introduce the Nor'easters, they tell the same story to the audience. Silence grips the theater. Pop TV's enormous camera, suspended above the orchestra seats, sways dramatically to one side, then the other, a visual reminder that every moment of the next 12 minutes is being filmed. As Brad Schwartz, president of Pop TV, puts it, "There are so many fake singing shows out there. We wanted to make sure the audience knows this is real life, this is happening."
While we know that the Nor'easters made it to the finals, how exactly did they get there and how did that journey unravel with their teammate's sudden death? Sing It On may give us some insight later in the season. For now, Willnow has this to say: "Just being able to sing this music that we made with Kevin, and just doing so on such a big stage that Kevin wanted to get to, it was really cathartic."
Willnow points out that while the Nor'easters didn't win, they did raise more than $30,000 for the American Foundation for Suicide Prevention. "The performance was really emotional," he adds. "We got there [the ICCA Finals], but we got there without one of our family members."