Pennsylvania Christopher Columbus Statue Wrapped in Plastic Ahead of Planned Removal
Pittsburgh's Schenley Park Christopher Columbus statue was covered in plastic on the eve of Columbus Day, due to ongoing controversy surrounding the historic explorer.
The Pittsburgh Art Commission and Mayor Bill Peduto voted to remove the statue and find another place for it. Some believe Columbus is a barbaric figure, who should not be honored in a public place.
Schenley Park's Columbus effigy has been vandalized on numerous occasions, and has recently been wrapped up in anticipation of its removal. More than 15,000 people have signed a petition to have the monument torn down. However, the Italian Sons and Daughters of America (ISDA) has other ideas, filing a complaint to stop the removal. A judge recently granted a temporary injunction to stop it being moved.
"The Italian American community saved for decades to collect the $65,000 needed to build the 50-foot bronze and marble monument," states the ISDA on its website.
"The Christopher Columbus statue in Schenley Park is safe for now, but the fight isn't over."
Genoa-born explorer Christopher Columbus, while working for Spain, arrived in the Americas on October 12, 1492. Some view him as a fearless pioneer, others see him as a violent and cruel invader. At least seven Columbus statues in the U.S. have been removed in 2020.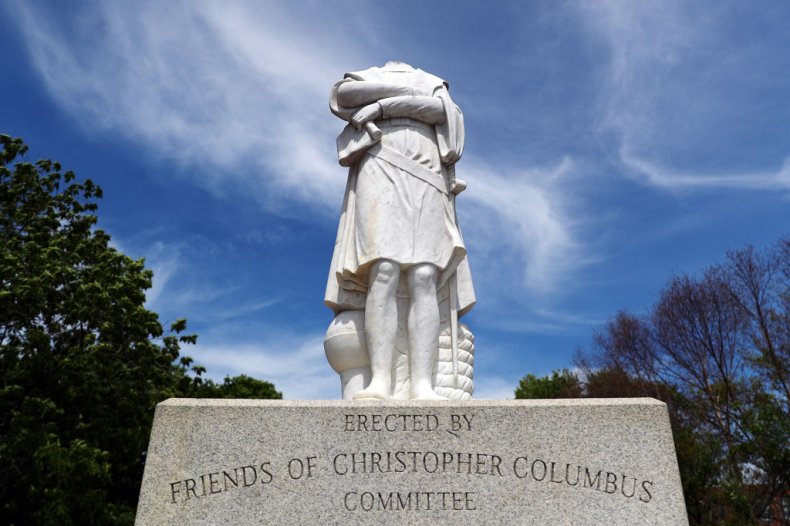 Columbus led four dangerous voyages across the Atlantic in wooden sailing ships. When he encountered an indigenous population, he enslaved its people.
"All four of my grandparents were Italian and personally experienced discrimination, yet learned to love their new country," Mayor Peduto wrote in a letter to the Pittsburgh Art Commission. "I am tremendously proud to be part of the Italian-American community in Pittsburgh, just as I am proud to be mayor of the city of Pittsburgh and to represent all people of our city.
"After much thought and prayer I believe it is now time for us to return the Columbus statue to the Italian-American community that brought it into existence. They can preserve it in a manner than celebrates Italian-American culture, while acknowledging the wreckage that slavery and racism has done to America."
President Franklin D. Roosevelt made Columbus Day a national holiday in 1937. It remains a federal holiday, meaning government offices are closed, plus the postal service and some banks, but many believe it's time to change this holiday.
Some states have chosen to celebrate Indigenous Peoples' Day on October 12 instead, and remember Native American history and culture, instead of that of their European invaders.
States including, Alabama, Alaska, Hawai'i, Idaho, Maine, Michigan, Minnesota, New Mexico, North Carolina, Oklahoma, Oregon, South Dakota, Vermont, Virginia and Wisconsin all now celebrate Indigenous Peoples' Day on October 12.
"The Italian-American community has always supported the designation of an Indigenous Peoples Day as it is most rightly and most justly deserved," said the Italian Sons and Daughters of America.
"What we don't support is the agenda of those who want to rewrite our history, and in the process, diminish our traditions by targeting the 15th-century explorer."
Columbus never actually landed in mainland North America, but first discovered the Bahamas on October 12. In some Latin American nations they celebrate Columbus Day as Día de la Raza or Day of the Race.