Synagogue Security May Increase After Pittsburgh Shooting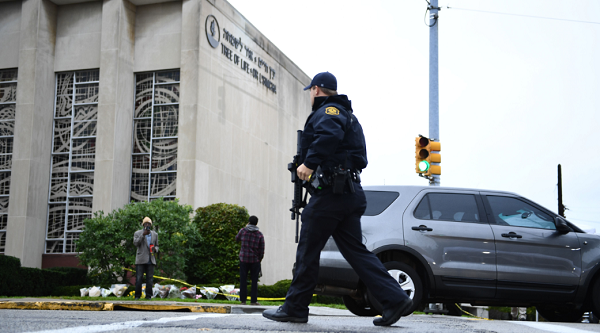 Jewissh places of worship are considering ramping up security after the deadly shooting at a Pittsburgh synagogue, amid a growing atmosphere of hatred and intolerance encouraged by Donald Trump.
Eleven people were killed and six others were injured in the shooting at the Tree of Life synagogue in Pittsburgh on Saturday. Following the massacre, Eric Robbins, president and CEO of the Jewish Federation in Atlanta, told CNN placing armed guards in holy places was a tough decision to make. "Trying to find a balance between being welcoming to a community and security is a difficult balance to find," Robbins said, noting that the synagogue he runs does have security teams.
The Federation tweeted security "has already been heightened in the Atlanta community" just hours after the Pittsburgh attack.
Government officials in various states also said they were adding more security to help keep places of worship safe. "There is no place in America for intolerance and violence, and we will do everything in our power to protect Floridians who are peacefully gathered to worship," Flordia's Governor Rick Scott said in a statement on Saturday.
He continued: "As governor, I will take any action necessary to protect our communities. Everyone deserves to be able to express their religious freedom safely and peacefully."
New York Governor Andrew Cuomo similarly increased police units around synagogues throughout the state. "We, as a nation, must stand together against the corrosive and destructive forces of hate in all its forms," he said.
Trump, widely blamed for stoking those forces of hatred for his own political ends, suggested strengthening death penalty laws instead. "When people do this, they should get the death penalty," he said. "Anybody that does a thing like this to innocent people that are in temple or in church… they should be suffering the ultimate price, they should pay the ultimate price."
Pennsylvania resident Robert Bowers, 46, was apprehended and charged in connection to the shooting on Saturday.