Pittsburgh Steelers Fan Caught on Video Choking Pregnant Los Angeles Chargers Fan During Game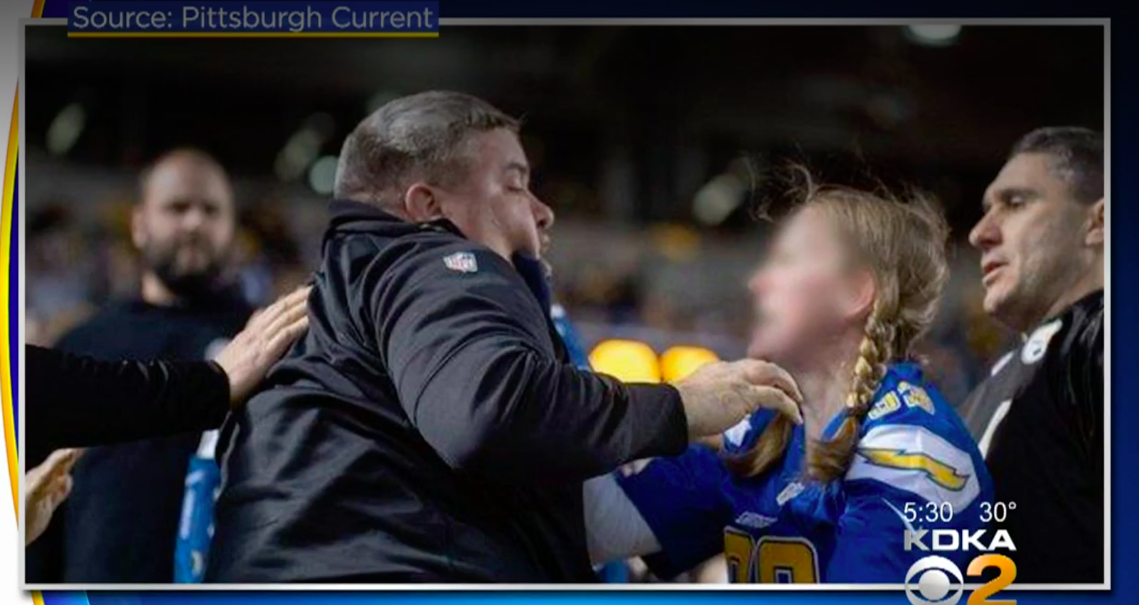 A violent Pittsburgh Steelers fan was caught on video choking a pregnant Los Angeles Chargers fan at Heinz Field during Sunday night's NFL game.
In the footage, shared by KDKA-TV, two men can be seen brawling in the stands when a blond woman, wearing a blue Chargers jersey, intervened. One of the men, wearing a Steelers jersey, then grabs the woman by her throat before releasing her.
On Tuesday morning, The Pittsburgh Current shared images of the incident and revealed that the woman pictured was just over 26-weeks pregnant. The video emerged later that afternoon.
Daniel Minshew, the Chargers fan from San Diego, told the Current that he plans on filing criminal charges with police on behalf of himself and his wife.
"My wife and I attend several road games annually and I myself have been to approximately a dozen away games and have never experienced anything like we did Sunday night," he said. "I plan on calling police officials today about filing criminal charges."
"[I get] heckled and yelled at prior to the attack, but for the most part it was nothing abnormal that I wouldn't consider uncustomary for an NFL game," Minshew continued. "Not only was there an assault, but my wife is also 26-and-a-half weeks pregnant and I legitimately feared for both our safety."
The Chargers fan then went on to explain that he was disappointed that "no security or presence of law enforcement was visible in the actual section."
"The only way we felt [we could] safely exit the stadium was with a large group of Charger fans" Minshew continued. "This was one of the worst experiences I have ever encountered and I am astonished that this was captured with visual evidence and a third-party [corroborating] statement, yet no security member would take my statement, let alone attend to my pregnant wife and I after the incident to see if we were OK."
In a statement, a Heinz Field spokesperson condemned the behavior of the Steelers fan and revealed they were in contact with authorities to ensure accountability.
"We strive to make events at Heinz Field safe for our guests," the statement read. "This type of behavior seen in the photo is unacceptable and something we do not condone on our property. We are working with Heinz Field security as well as local authorities to gather more information on this particular incident as the Pittsburgh Police determines whether or not to press charges, and we will ensure those involved as the aggressors will not be permitted back into our stadium."
Watch the footage on KDKA-TV below: