Pittsburgh Steelers Wide Receiver Hops on Twitch Stream, Makes $100K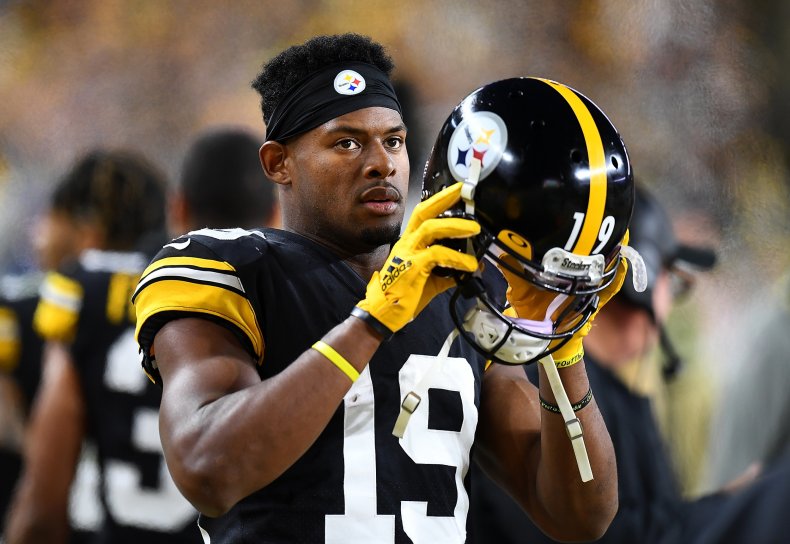 Pittsburgh Steelers' JuJu Smith-Schuster may have missed the past three games with a knee injury, but that has not stopped him from making money.
Smith-Schuster recently revealed that he earned $100,000 while participating in a Thursday Night Football Twitch stream.
While playing Fortnite with Twitch streamer THump, Smith-Schuster talked about the money he made during the Thursday Night Football show where he accompanied another popular streamer, TimTheTatMan.
"I did a stream yesterday, with TimTheTatMan, or like two days ago, we watched the [Dallas] Cowboys game and I got paid $100k for that," Smith-Schuster said.
Twitch, the popular streaming platform for video gamers that is owned by Amazon, is in a partnership with the NFL, allowing them to stream Thursday Night Football games. Twitch first started streaming the Thursday night games in 2017 but has added a new way to watch the games this year with the introduction of the co-stream feature. Co-stream allows fans to watch a stream of the game with popular Twitch streamers like TimTheTatMan.
"If you're looking for a more unique spin on the broadcasts, we've got all sorts of co-streams lined up," Twitch writes on their website.
This is not the first time Smith-Schuster has appeared on the streaming platform. Not only is the pro-bowl wide receiver popular across the NFL, but he also has a very large following on Twitch, and previously appeared on a Fortnite stream with rapper Drake and the streamer Ninja.
Following Smith-Schuster's comments about the payment, his playing partner THump stated his concern regarding the confidentiality of it.
"Oh, I don't know if you're supposed to say that but it's all good, it's all good," Thump said.
Twitch and other similar ventures, including YouTube, can net thousands if not millions in revenue for popular streamers. Streamers on these platforms make a large portion of their money from paid subscribers, which costs $4.99 a month but could go up to $24.99 a month. They also generate revenue from views on their videos/streams as well as receiving additional payment through donations from their viewers. For reference, in an interview with CNBC and CNN, Ninja stated that he generated more than $500,000 per month via his Twitch subscribers. Ninja also told ESPN that he once received a donation of $40,000.
According to Mediakix.com, another popular streamer, Shroud, earns an estimated amount of $3,193,097 annually, which includes subscription fees from his 55,263 followers, as well as video views and donations.
This is the third year that Thursday Night Football games are featured on Twitch and Amazon Video, and its popularity has continued to grow. According to Amazon, in 2018 the company saw a 33 percent increase in viewership from the year prior on Twitch and Amazon Video Thursday Night Football streams.
Since the NFL season is nearing its end, there is only one remaining game that will be streamed on Twitch. According to Twitch's website, the Week 15 game between the New York Jets and Baltimore Ravens will be shown on the streaming platform, with the option of watching a co-stream that includes popular streamers.