Pittsburgh Synagogue Shooting Updates: Robert Bowers Pleaded Not Guilty, Everything Else We Know About Case
Robert Bowers, the alleged gunman who burst into a Pittsburgh synagogue on Saturday and killed 11 people, pleaded not guilty to his crimes, USA Today reported.
Bowers, 46, requested a jury trial on Thursday, according to USA Today. He is currently facing 46 counts of murder, hate crimes, obstructing religious practices and other crimes. Prosecutors are seeking the death penalty.
Here's what we know about the shooting so far:
What Happened?
Newsweek subscription offers >
Authorities said Bowers walked into the Tree of Life synagogue in the Squirrel Hill neighborhood of Pittsburgh during Saturday morning services. He allegedly shouted anti-Semitic epithets before he started shooting, killing 11 people and injuring two, in addition to four officers. Bowers also sustained injuries during a confrontation with police.
The suspect was heavily armed and reportedly shouted, "All Jews must die!" while firing, CBS News reported. The gunman surrendered to authorities shortly after 11 a.m. following an exchange of gunfire, according to CBS News. Community members and mourners gathered together on Tuesday for the beginning of the funeral processions of the victims, The New York Times reported.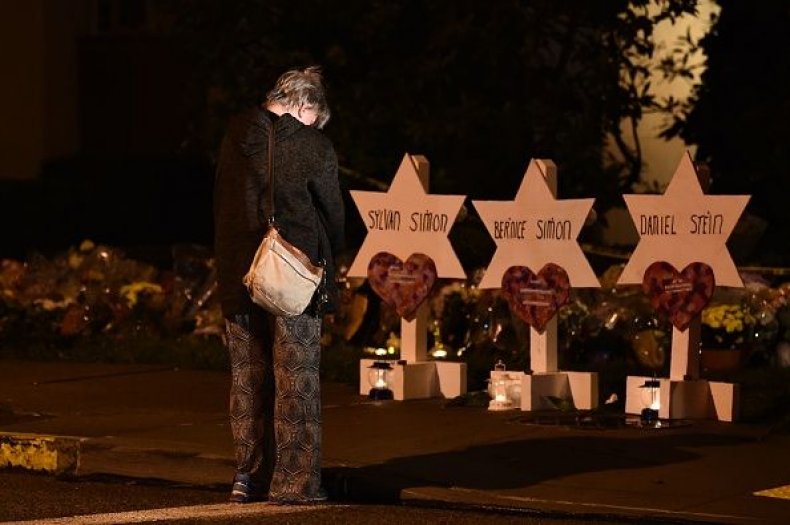 The Victims
Newsweek subscription offers >
The victims of the attack were read on Sunday, a day after the shooting. The oldest victim was Rose Mallinger, 97, and the youngest was David Rosenthal, 54, the Associated Press reported. A married couple, Bernice and Sylvan Simon, and Cecil Rosenthal, David Rosenthal's brother, were also killed during the attack. Joyce Fienberg, Richard Gottfried, Jerry Rabinowitz, Daniel Stein, Melvin Wax and Irving Younger were among the others who died, according to the AP.
Authorities have called the attack the deadliest anti-Semitic incident in U.S. history, the AP reported.
The Suspect
Bowers is reportedly a known anti-Semite and had made anti-Semitic remarks prior to the shooting. An hour before the shooting, Bowers wrote an anti-Semitic comment about the Hebrew Immigrant Aid Society (HIAS) on the social media site Gab.
"HIAS likes to bring invaders in that kill our people. I can't sit by and watch my people get slaughtered. Screw your optics. I'm going in," Bowers reportedly wrote.
His profile on Gab also read, "Jews are the children of Satan. (John 8:44) — the lord Jesus Christ is come in the flesh."
Bowers also showed his dislike for President Donald Trump along with his anti-Semitic remarks on Gab.
"Trump is a globalist, not a nationalist," Bowers had previously written on the social media website. "There is no #MAGA as long as there is a kike infestation."
President Donald Trump's Response
Following the attack, President Donald Trump praised law enforcement officers for their response, but he said the synagogue should have had better protection.
"If they had protection inside, the results would have been far better," Trump told reporters before boarding Air Force One on Saturday. "If they had some kind of protection inside the temple, maybe it could have been a much different situation. But they didn't."
Trump, first lady Melania Trump, his daughter Ivanka Trump and son-in-law Jared Kushner traveled to Pittsburgh on Tuesday to pay their respects for the victims at the Tree of Life synagogue despite some residents disapproving the visit. At least 2,000 protesters, marched against the president with signs that read, "We build bridges not walls," Reuters reported.
Pittsburgh Synagogue Shooting Updates: Robert Bowers Pleaded Not Guilty, Everything Else We Know About Case | U.S.