Pittsburgh Synagogue Shooting Victim's Family Rejects Donald Trump Meeting: 'He Was Blaming the Community'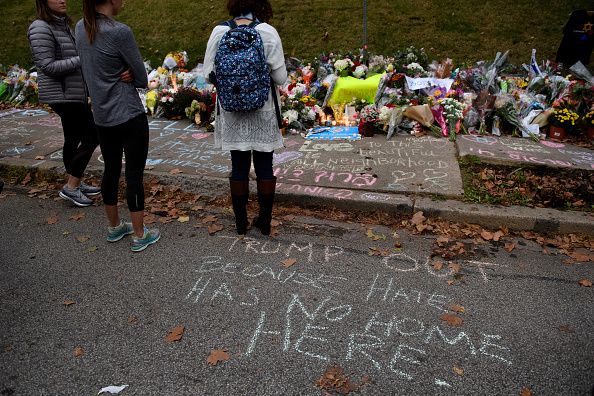 As Donald Trump was scheduled to arrive in Pittsburgh on Tuesday for the first time since the mass shooting at a synagogue that left 11 people dead, one of the victims' families has rejected the president's presence.
Trump, who will be making the trip with first lady Melania Trump, reportedly offered to visit the family of Daniel Stein, a 71-year-old grandfather who was shot and killed in Saturday's tragedy. But Stein's nephew, Stephen Hall, told The Washington Post that the family declined the president's offer because of his controversial remarks about the security of the synagogue.
"Everybody feels that they were inappropriate," Halle said. "He was blaming the community."
In his first response to reporters about the incident, Trump called the shooting an "absolute shame." But he then went on to say that gun laws had "little to do" with the shooting, and instead called for stricter enforcement of the death penalty.
The president also criticized the Tree of Life synagogue for its lack of security.
"If they had protection inside, the results would have been far better," Trump told reporters before boarding Air Force One on Saturday shortly after the shooting took place. "If they had some kind of protection inside the temple, maybe it could have been a much different situation. But they didn't."
Trump then hypothesized that if there had been an armed guard inside the temple that maybe "no one would have been killed."
The comments were met with backlash by faith leaders and organizations, who said that an armed presence inside went against the open-door, welcoming climate of many places of worship.
"A church, a synagogue, should not be a fortress. It should be an open welcoming place to feel safe," Halle added.
The president and first lady were scheduled to arrive in Pennsylvania in the late afternoon on Tuesday, the very same day many of the funerals of the 11 victims would take place. Those who were killed on Saturday ranged in age from 54 to 97.
Pittsburgh Mayor Bill Peduto suggested that Trump should wait to visit the city until after the funerals had taken place. More than 1,000 residents have signed up for a demonstration at the same time as the president's visit, stating that Trump was "unwelcome in our city and in our country."
The president toldFox Newsin an interview on Monday that he was going to Pittsburgh to pay his respects and visit those who had been injured.
"I really look forward to going," Trump said. "I would have done it even sooner, but I didn't want to disrupt anymore than they already had disruption."