Pittsburgh War Statue Defaced with Communist Symbolism on Memorial Day
The First World War Memorial named The Doughboy in Lawrenceville, Pittsburgh, was vandalized on Monday before most of nation woke on Memorial Day to honor the men and women of the armed forces who have died while serving their country.
The unwanted markings included the phrase, "June 19, 1986. Glory To The Day Of Heroism" and were accompanied by a number of hammer and sickle symbols, often used in communist ideology, notably the emblem on the Flag of the Soviet Union, and a symbol first adapted during the Russian Revolution.
The phrase used in the graffiti appears to reference a battle that took place between the People's Guerrilla Army and the Peruvian state on the same date. But so far it is unclear as to what is meant by the act of defiance on this public landmark.
Residents were alarmed by the vandalism on Memorial Day morning. Ken Diulus served in the U.S. Navy during the 1980s and spotted the graffiti, "I've lived my whole life here, with the exception of when I was in the service," said Diulus to the Pittsburgh Post Gazette, "and I have never seen anything like this."
Pittsburgh Police Tweeted that they were investigating the crime and reviewing video footage in the area.
Arrangements are underway to have the red paint cleaned off the memorial as soon as possible.
It's not the first time this year that American landmarks have been covered in red paint on notable anniversaries. In February, Plymouth Rock, in Massachusetts, was defaced. The monument marks the landing site of the Mayflower, the boat that first transported pilgrims to America, this year marks the 400th anniversary of the event.
A pilgrim monument was also graffitied in the historic community of Plymouth in February.
Situated on Penn and Butler Streets in Lawrenceville, Pittsburgh's Doughboy is a locally well-known emblem of the neighborhood. It portrays an American infantryman during World War I wearing a Brodie-style helmet carrying ammunition and a rifle on his back.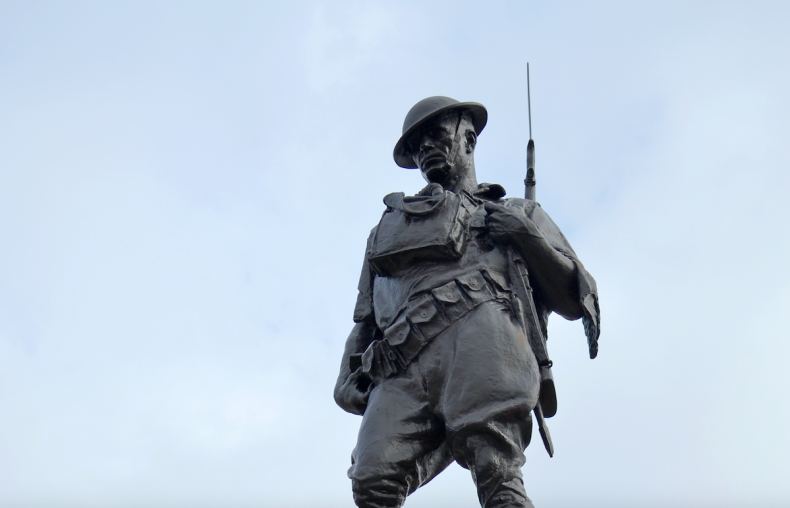 The statue was created by sculpted by Allen George Newman out of bronze, and unveiled on Memorial Day in 1921. In 1947, after World War II, the monument was updated with marble and limestone and plaques with the names of 3,100 Pittsburgh's Sixth Ward residents who served in the war. In 1984, those who fought in the Korean War and Vietnam War on plaques around the monument's railings.