Pixar's 'Soul' Gives Shoutouts to Prince, Johnny Cash, Gandhi, Stephen Hawking and More
What do Martin Luther King, Jr., Marie Curie and Queen Elizabeth have in common? While this sounds like the set-up for a bad joke, it's actually that their names are among the many featured in a particularly striking scene in Pixar's new feature Soul, which debuted on Christmas Day on Disney+.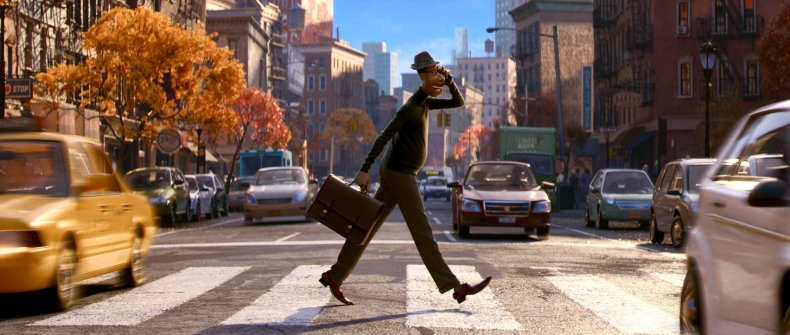 The collection of names is seen about a third of the way into Soul, when Tina Fey's character, simply named 22, shows Joe Gardner (Jamie Foxx) the names of some of the mentors who have failed over the decades and centuries to spark her creativity. (If you've seen Soul, then you know what we're talking about; if you haven't seen Soul yet, what's your excuse? It's a new Pixar film and it's available to everyone who has a Disney+ subscription!)
And that scene is precisely when names of artists (Vincent Van Gogh), scientists (Albert Einstein) and musicians (Aretha Franklin) appear on name tags that crowd a message board. (Country music fans will appreciate the "Hello My Name Is...Johnny Cash" tag, as this was Cash's standard greeting when he took the stage.) It's a cute moment that serves to demonstrate to Joe just how impossible it will be for him to help 22 find a spark for herself.
One name in particular has drawn a particularly large amount of attention on Twitter and Reddit—that of Prince Rogers Nelson. Obviously, Prince was much better known by just his first name. Below is a screen grab of Soul's message board posted on a Prince Twitter fan account, with additional highlighting placed around his name tag.
The funky pop star, who died tragically in 2016, is in good company. Newsweek tried to compile a list of all the historical figures included on the board. (Just bear with us, because there are some names we couldn't read or translate from their original language.)
We spotted name tags for: Nellie Bly, Copernicus, Vincent Van Gogh, Marvin Gaye, Leonardo da Vinci, George Orwell, Joe Grant, Eleanor Roosevelt, Babe Ruth, Jack Kirby, Harvey Milk, Marie Černá, Archimedes, Maya Tsosie, Stephen Hawking, Herman Jakobs, Nelson Mandela, Johannes Gutenberg, Confucius, Jan Kowalski, Abraham Lincoln, Catherine the Great, Joan of Arc, Thomas Edison, Amelia Earhart, Ts'ai Lun, Marie Antoinette, Mahatma Gandhi, Johnny Cash, Harriet Tubman, Grace O'Malley, Anna Kowalczyk, Pawet Jankowski, Queen Elizabeth, Balogh Tamás, Marie Curie, Aretha Franklin, Petar Jankovic, Prince Rogers Nelson, Muhammad Ali, Albert Einstein, María Izquierdo, Jiří Svobada, Martin Luther King Jr., Pablo Picasso, William Taylor, John Wilson, Emine Demir, Mary Johnson, Mike Oznowicz and Joe Ranft.
If those last two names on the list don't jump out at you, Joe Ranft wrote the original Toy Story before dying in a car accident in 2005 at age 45. Isidore "Mike" Oznowicz was a legendary puppeteer and the father of Frank Oz, who is also a puppeteer and of course the voice of many Muppets characters, as well as Yoda.
Pixar has long made a habit of planting Easter eggs like these name tags in all of their films, including such easy-to-miss references as the lamp from Pixar's logo being used in a statue WALL-E made of EVE, and the bully Sid from Toy Story making a cameo in Toy Story 3 as a garbage collector, among many, many other instances.
Soul also has its fair share of Easter eggs. Eagle-eyed fans may have noticed the appearance of "2319" on the side of a New York City subway car—the same code shouted when a human sock was found on a monster in Monsters, Inc. And the ubiquitous Pizza Planet truck also turns up in the new film.
The truck first appeared, of course, in Toy Story, when the characters actually went to the Pizza Planet restaurant. That iconic delivery truck has appeared in every Pixar film since, even in the Medieval setting of Brave. In Soul, a Pizza Planet truck can be spotted in The Hall of Everything. You'll may also find Axiom from WALL-E, and Willy's Butte from Cars in the same scene.
But the best Easter eggs require the most hunting, and Soul will likely have fans combing every frame of the movie in the coming weeks.