'Pizza to the Polls' Delivers Thousands of Pizzas to Waiting Voters
As Americans stood in long lines to cast a ballot on Tuesday, a nonprofit organization supplied thousands of pizzas to hungry citizens waiting to vote across the country.
The donation-based nonprofit Pizza to the Polls had sent 3,050 pizzas to 221 polling places in 34 states as of 2:30 p.m. Eastern time, according to its website. At that point, the organization said it had raised $140,132 so far in 2018 and had $73,950 remaining.
So how does someone get some free pizza?
"Voters simply need to take a picture or video of themselves standing in line at a polling location and upload it to the nonprofit's website," The Hill reported. "From there, Pizza to the Polls will order pizzas from the nearest pizza place and have them delivered to anyone in line."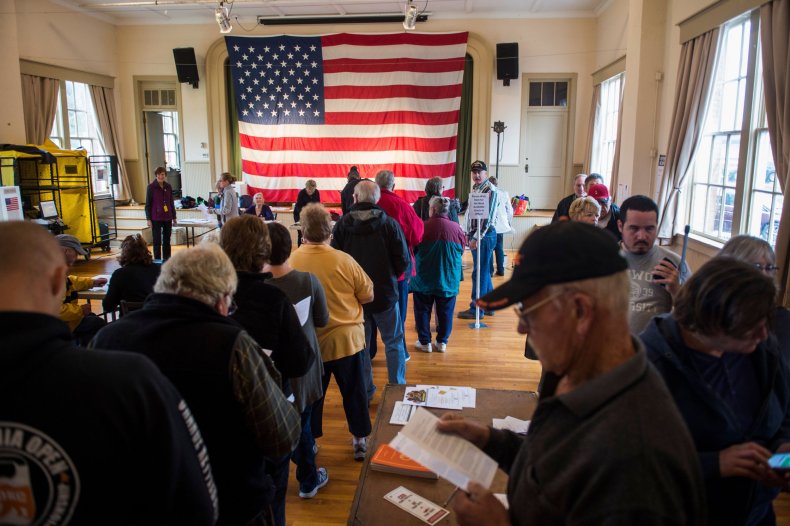 The organization is nonpartisan and sends pizzas around the country to polling places. Any leftover money will be saved for future "voters and/or marchers," according to the website. Each pizza costs $20, but those donating can pay any amount of money.
"Americans are hungry for democracy and are turning out in record numbers to vote. But that means long lines and sometimes empty stomachs, which might discourage these brave patriots from performing their civic duty," the website reads
"Fortunately Pizza to the Polls is here to deliver the one thing that pairs so perfectly with freedom: piping hot 'za. We take reports of long lines from folks around the country and then find local pizza places to deliver the goods."
On Tuesday, long poll lines were reported in multiple states, including Georgia, where Democrat Stacey Abrams is facing Republican Brian Kemp in a contentious and potentially historic gubernatorial contest.
Polling locations in the state's Gwinnett County were experiencing technical problems that forced hundreds of voters to wait to cast their ballot according to The Atlanta Journal-Constitution.
Reports of broken scanners, poll places opening late and long lines also emerged in the tri-state area. A voter tweeted a video of firefighters opening the door of a Brooklyn, New York, polling place because election workers didn't have the building key, according to WPIX.
Mahen Gunaratna, the New Jersey governor's communications director, posted a video of an extensive line of voters in Jersey City.
Some voters in the St. Louis region also reported extensive waits, according to the St. Louis Post-Dispatch. "I waited close to 45 minutes just to get a electronic ballot. Some left because there was no time frame given for the paper ballot option," said Michael Kelly, who was voting in Ferguson, Missouri.
This story was updated with more recent information from the Pizza to the Polls website.