Pizza Worker Whose 'Lie' Triggered Major COVID Lockdown Won't Be Charged, Say Police
A teenager who lied to contact tracers sparking an unprecedented lockdown in South Australia will not be charged, authorities said.
The unnamed individual contracted coronavirus and told health authorities that he had purchased a meal from the Woodville Pizza Bar restaurant in Adelaide shortly before the illness developed.
The state then entered a strict, six-day shutdown, starting last Wednesday, amid fears a highly contagious strain of COVID had been passed to him following a brief encounter with the restaurant's staff. Additionally, there were concerns the virus could be spread around the city on takeaway pizza boxes.
However an investigation by health officials revealed that the individual had not bought a pizza and instead was working at the restaurant.
Authorities now believe he contracted the virus after coming into close contact with another member of staff, a standard route of transmission, reducing the risk of COVID being passed to people through their takeaway deliveries.
South Australia Police Commissioner Grant Stevens said there were no means to charge the teenager for his actions as there was "no penalty associated with telling lies."
He said: "That is my understanding at this stage. It's stating the obvious to say that this has had an unbelievable impact on South Australians."
Steven Marshall, premier of South Australia, said: "Their story didn't add up. We pursued them. We now know that they lied.
"The selfish actions of this individual have put our whole state in a very difficult situation.
"To say that I am fuming about the actions of this individual is an absolute understatement."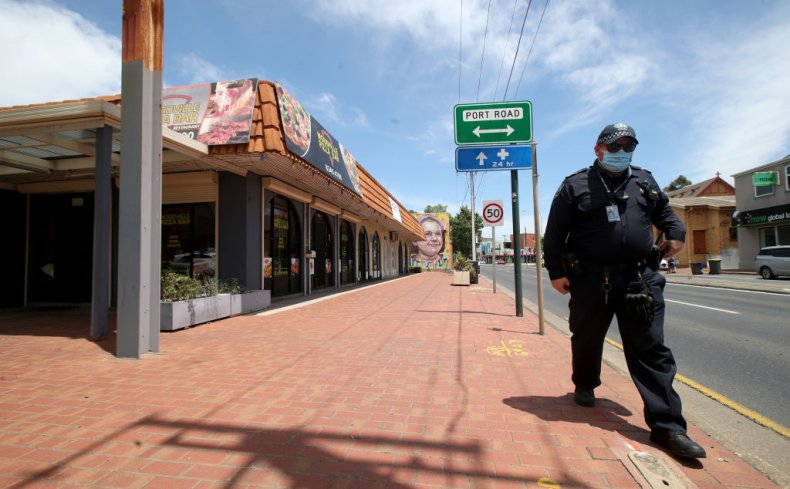 Martin Haese, CEO of Business SA, said this week's shutdown had cost businesses "many millions of dollars."
He called for compensation to be provided by the government, arguing that businesses had "worn the cost of this lockdown."
As of midnight on Saturday, the state's restrictions will ease, meaning groups of up to 10 people can meet in people's homes, and up to 100 people can go to a pub or restaurant. Rules around exercise are being relaxed immediately.
On Friday, the South Australia recorded three new coronavirus cases, all of which were already in quarantine.
Professor Nicola Spurrier, South Australia's public health officer, warned that the state was "not out of the woods yet."
She said: "We still have a significant number of close contacts and contacts of close contacts, because we are doing that double ring-fencing, or sandbagging, as it were, around everybody who is a case. And we have had a focus on the Woodville Pizza Bar."