In response to a Freedom of Information Act request, Washington, D.C., police have released body camera footage from the arrest of a man who opened fire in a D.C.-area pizza restaurant because he believed it to be part of an elite pedophile ring run by influential members of the Democratic Party, including Hillary Clinton, as part of a false right-wing conspiracy theory known as "Pizzagate."
Reveal, a publication from the Center for Investigative Reporting, released a portion of the footage last Friday.
The video depicts the initial arrest of Edgar Maddison Welch, 28, a conspiracy theorist who fired three shots inside of pizza restaurant Comet Ping Pong on December 4, 2016.
"What were you doing in the location?" one officer can be heard asking Welch in the newly released footage.
"Making sure there's nothing there," Welch responds.
"Regarding what?" the officer asks him.
"Pedophile ring," Welch says.
While the questioning officer is taken aback by Welch's response, the officer wearing the body camera can be heard explaining, "Pizzagate, he's talking about Pizzagate."
Welch, a self-described listener of radio host Alex Jones, drove 350 miles from North Carolina to Comet Ping Pong with plans to investigate the restaurant as a purported locus of child sex trafficking. But Welch changed his plans once he arrived at the restaurant. Describing to The New York Times his "heart breaking over the thought of innocent people suffering," Welch instead decided upon a rescue mission. Carrying a .38 revolver and an AR-15 semi-automatic rifle, Welch entered the restaurant and opened fire at the back wall. After police surrounded the restaurant—and finding no evidence of the child sex dungeon claimed by conspiracy theorists—Welch surrendered.
In the new body camera footage published by Reveal, police can be seen removing a pocket knife from Welch's pocket and questioning him about the additional weapons in his car. Officers also discuss how ineffective their helmets and ballistic shields would have been against Welch's AR-15.
In another clip from the body camera footage, Welch can be seen calmly talking with an officer beside the open door of a departmental SUV. The officers on the scene had removed Welch's handcuffs and he stands with his hands on his hips in a casual pose. The Metropolitan Police Department's General Orders state that officers are not to remove handcuffs on arrested persons "until the prisoner is in a secure area."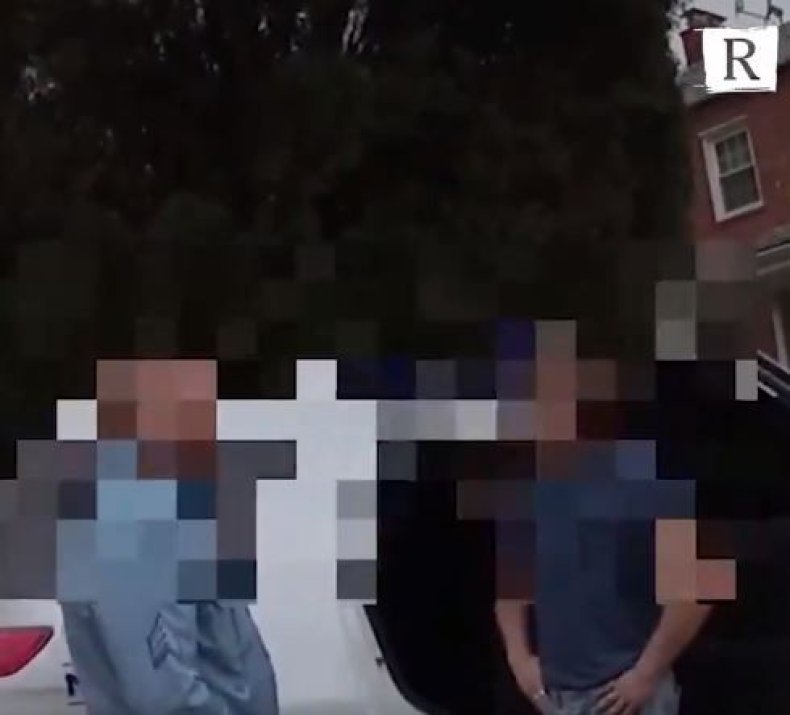 "M.P.D. removed the suspect's handcuffs in order to conduct a show-up identification to a witness. This process allows a witness to positively identify a suspect without the presumption of guilt if a suspect is in handcuffs," a Public Affairs Specialist for the Metropolitan Police Department told Newsweek on Wednesday.
After his arrest, Welch admitted "the intel on this wasn't 100 percent," to the Times, but wouldn't fully disclaim the Pizzagate conspiracy theory. In 2017, Welch was sentenced to four years in prison.
The Pizzagate theory continues to be propagated by far-right outlets online, premised on the idea that references to pizza in the leaked emails of Clinton campaign manager John Podesta are actually coded references to child sex slaves. Pizzagate has since morphed into the QAnon conspiracy theory, which holds that president Donald Trump is working in secret to overthrow a Satanic pedophile elite.
In 2019, Comet Ping Pong was again attacked by a proponent of the Pizzagate conspiracy theory, when a 22-year-old California man allegedly attempted to set fire to the restaurant.
Updated February 27 with comment from the Metropolitan Police Department.