Pizzeria Owner Faces Backlash Over Trump Support
A number of Connecticut residents took to Facebook on Wednesday to announce their plan to boycott a regional pizza joint, Frank Pepe Pizzeria Napoletana, over a co-owner's apparent support for President Donald Trump.
Lorna Steele, in a Facebook post Wednesday morning, asked New Haven residents to consider joining her "in no longer funding his hate" by boycotting the restaurant. She included a picture of the restaurant's apparent co-owner, Gary Bimonte, holding a "Deplorables for Trump" sign, as well as a post Bimonte shared in August 2018 that ostensibly thanked Trump for the use of American steel piping in construction jobs.
Steele said she "personally will not be purchasing goods and services from establishments that are owned by people or companies that promote the worst of Trump's agenda and/or extremist second amendment views."
By Wednesday evening local time, the post had been shared more than 180 times and had garnered over 160 comments, with some area residents agreeing with Steele's idea and others arguing that people should not boycott individual businesses based on the political views of an owner.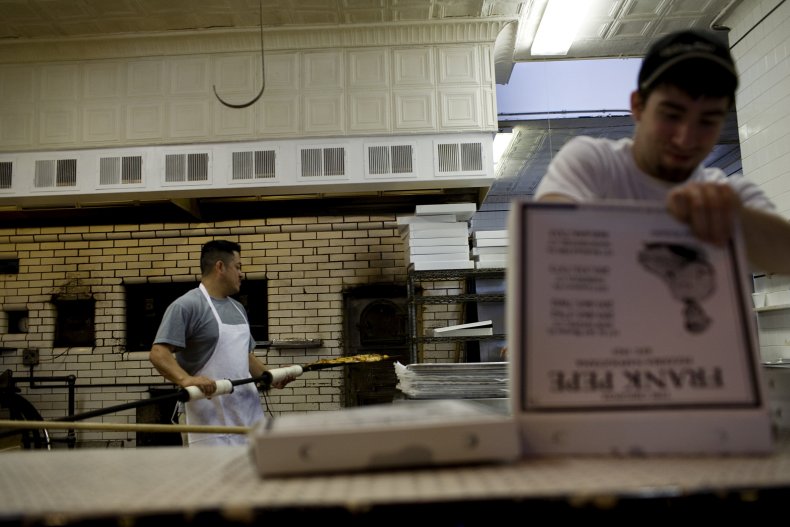 "Look. If we start boycotting individuals for their political views it's just as bad as a pharmacist who won't give contraception because of their 'principles,'" one Facebook user wrote.
He added that he finds boycotting establishments with unethical business practices is more acceptable, and he even provided an example for such a case.
"If Pepe's was treating their workers unfairly, yes boycott. Or, If Pepe's as s business hired a lobbyist to push for lax food safety laws, yes, boycott," the user wrote.
Another user took issue with Steele's strategy to boycott small businesses, pointing out that Bimonte is allegedly one of "at least 9 co-owners" and that generally, Steele will be "hard pressed to find businesses without at least some Trump supporting investors and owners."
But some, including Steele, largely disagreed with the points of those users and argued that supporting a business or business owner who backs Trump—and who specifically backs certain "extremist" views—just isn't something they could stomach.
"In a society where government is controlled by money and corporate influence, it is the right of every citizen to eliminate their support of businesses who do not hold their best interests," one person wrote.
According to Frank Pepe Pizzeria Napoletana's corporate website, Bimonte is the grandson of restaurant founder Frank Pepe and Director of Quality Assurance & Training.
The New Haven Register reported on Wednesday that Bimonte in 2018 gave $100 to former gubernatorial candidate Joe Visconti, who in 2018 made headlines for his support of Trump and apparently received the endorsement of Trump's former campaign manager Corey Lewandowski.