Pizzeria Puts Lost Pet Fliers On Pizza Boxes To Find Missing Animals
A New Jersey pizzeria has a unique way of helping the community—every pizza box that leaves the restaurant has a lost pet flyer attached to the lid.
On July 11, Angelo's Pizza in Matawan posted on Facebook, calling for anyone who is missing their cat or dog to bring in a stack of flyers. For no charge, the pizzeria will distribute them with every pie they deliver.
Owner John Sanfratello was inspired by a flyer he saw for a lost cat. Hazel, the missing kitty, resembled Sanfratello's own 12-year-old pet Max, who went missing once for a week.
After remembering how bad his family felt when Max was on the run, Sanfratello was moved to make the post.
Sanfratello's post was shared over 1,500 times, and Angelo's Pizza went viral for the offer. The post was so wide-reaching that the pizzeria got calls and messages from around the world—even from Australia—all praising the idea.
"I'm going to drive all the way to Matawan to eat just because of this post and my husband owns a pizzeria," one user commented.
"Growing up, we used to have missing children on milk cartons," Sanfratello told Good Morning America. "Why can't the pizza box be the milk carton of today, but for animals?"
Hazel was the first pet to be featured on pizza boxes, and since the Facebook post, there have been three more lost pets featured. One of them is Ondrea, a German shepherd puppy being trained as a seeing-eye dog.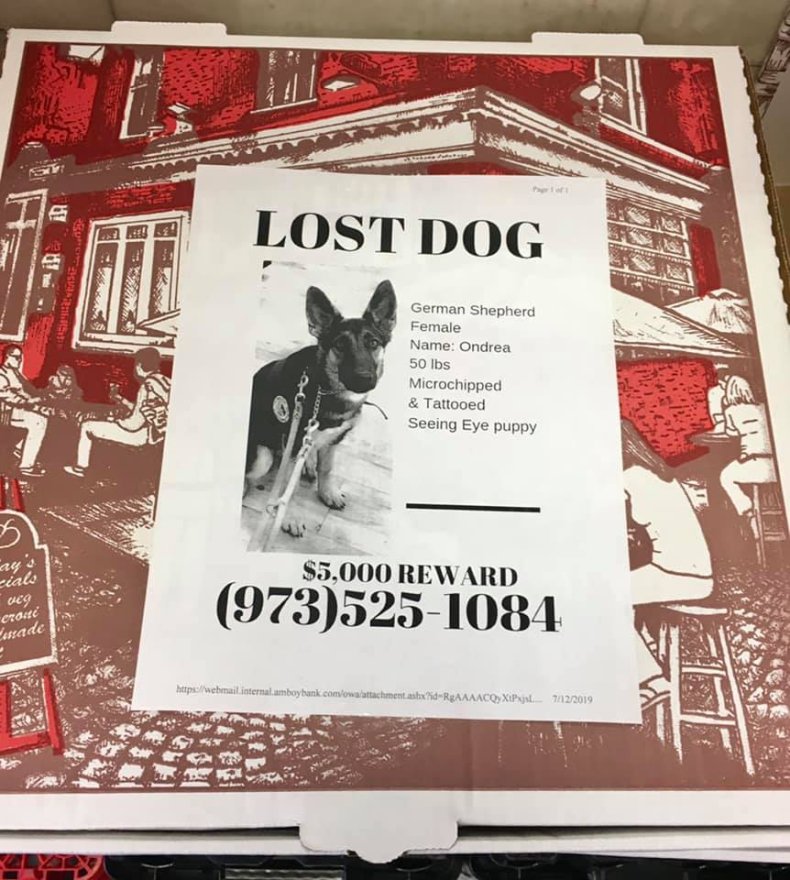 Ondrea has been missing for three and a half weeks. According to Peggy Gibbon of Seeing Eye, Ondrea ran away from her yard in chase of another animal.
"We have been scouring the woods, posting flyers, she's up on Facebook," Gibbon told CBS.
Sanfratello's idea is spreading—and he couldn't be happier. His two sisters, who each own La Forchetta Ristorante locations in Stuart, Florida, made a similar post calling for lost pet fliers. And his cousin Salvatore Lobuglio, who owns the Little Cupcake Bakeshop in New York City is attaching lost pet flyers to cake boxes.
"We're big pet people, and we thought it's a great idea for the community," Lobuglio told Today.
The Abruzzi Italian Market in Mt. Laurel, New Jersey even stepped forward when a woman outside of the delivery area for Angelo's Pizza lost her pet.
Sanfratello says his only regret is that he didn't launch his program sooner. It's not likely to be over anytime soon—he says he'll only stop once every lost pet in New Jersey has been found.