Placenta-Eating Mothers Face 'Witch Hunt' as Trend Takes Off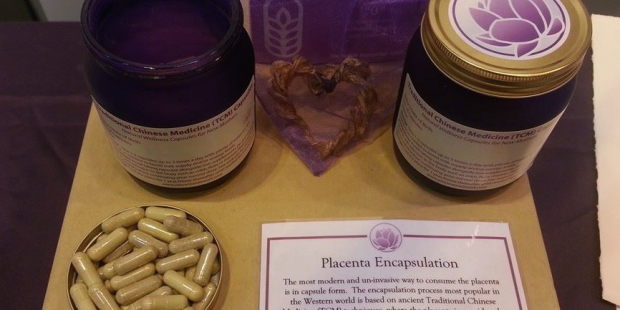 The number of UK mothers opting to consume their placenta after giving birth is higher than ever, according to one specialist organisation, at the same time that a crackdown by health officials is putting the practice in jeopardy.
The news comes in the same week that a self-described "licensed placenta encapsulation specialist" in Swindon was investigated by public health officials for making smoothies from raw human placenta for new mothers.
Kathryn Beale, 41, makes the drinks by blending fruit and juices with the placentas provided by her customers. As well as producing smoothies, the service also includes dehydrating placenta and grinding it into powder capsules. The encapsulation service costs £150, and the smoothie is £20 extra.
Swindon Borough Council is currently investigating Beale, concerned about her health and safety standards, but has been unable to secure a court order to halt her business. Instead, Beale has decided to voluntarily close her practice until health inspectors are able to meet her.
However, according to Lynnea Shrief, company director of the Independent Placenta Encapsulation Network (Ipen) which trained Beale, the number of UK mothers choosing to opt for the practice is higher than ever. There are currently over 100 specialist consultants working for Ipen, including "midwives, doulas, birth support workers, holistic therapists and mothers" whose aim is to train and teach people about placenta encapsulation remedies.
Shrief estimates that more than a 1,000 British mothers a year choose to eat their placenta, a huge increase from 2010, when she estimates just a couple of hundred women were interested.
"It's definitely growing in popularity," she says. "Without a doubt. More and more women are contacting us all the time."
She attributes the rise in popularity of the controversial practice to word of mouth, with many women claiming they sleep better and have better skin and more breast milk as a result of the iron and nutrients found in the placenta. "It works. If there was a new baby toy, or dummy, that made every baby quiet, it would be the newest thing and every mum would be talking about it," she says. "That's the case here."
Shrief also claims that her specialists, of which Beale is one of 72, are facing a "crack down" from "over-zealous" health officials. She says there was nothing wrong with Beale's hygiene standards, and accuses the environment health officials of a lack of medical knowledge.
"They believe that the vagina is highly contaminated with bacteria at birth," she says, "and that no one could possibly eat their own placenta. But if that were the case, men would be dropping dead after having sex with their partners left right and centre. To say that the vagina is teeming is bacteria may be true, but it's the good bacteria, the same stuff we eat in a yoghurt."
"They don't know anything about birth. They know nothing about the microbiology of the vagina," she concludes.
However, not everyone agrees with Shrief's view. The Royal College of Obstetricians and Gynaecologists told the Telegraph last year that "There is currently no evidence to recommend that women consume their placentas after childbirth. Women who swear by the benefits of the practice may just be experiencing the placebo effect. If a woman is convinced that eating her placenta will do her good by increasing her iron levels or alleviating postnatal depression, she should speak to her GP or midwife for further advice." Despite this, many mothers and midwives continue to extol the virtues of the practice.
Shrief is fearful that the practices of her mentors are facing closure, as her specialists are increasingly hounded by health officials. "It's becoming a nightmare for us. I feel like I'm back in the 1950s. Mothers are calling us and panicking, afraid that the service will be taken away. We feel witch-hunted." Shrief says that two of her other specialists voluntarily closed after also facing inspections from public health officials.
Swindon Borough Council could not be reached for comment, but in a statement to the BBC it defended its actions, explaining that its officers attended court on 10 March "seeking a hygiene emergency prohibition order in respect of raw human placenta practices" but the order was not granted.
"Our investigations continue and we are therefore unable to comment further at this stage. While the health benefits of this activity are not clear, the processes involved in the production of human placenta for human consumption present a number of potentially serious health risks, which explains this action."