Wedge Tornadoes, Hail, Severe Weather Slamming Central United States, Oklahoma, Kansas
Updated | Severe weather hit the Central Plains on Tuesday and was on track to continue into Wednesday. The weather brought hail, thunderstorms and tornadoes to the area that included Kansas, Nebraska and Oklahoma.
One tornado caught on camera Tuesday in Tescott, Kansas, even turned into a "wedge tornado." This is the term onlookers frequently use to describe a tornado that appears to be wider than it is tall, according to the National Oceanic and Atmospheric Administration (NOAA). While describing a tornado as a "wedge" is fairly common, it really holds no scientific meaning. The width of a tornado is determined by a number of factors like the soil, the size of the storm and more.
There are a few things people in the areas where the storms are most likely can do to prepare. "First, it's critical to have a plan," Bill Bunting, the chief of forecast operations at the NOAA Storm Prediction Center, told Newsweek.
Those who don't yet have plans for where they would go if a tornado or severe weather warning or watch was issued for their area should formulate one. "The safest place to be when a severe storm approaches is in your storm shelter," Bunting said.
Those that don't have a storm shelter should go to the lowest level of the reinforced building they're in and avoid windows and doors. That plan should also include several ways of monitoring watches and warnings. The radio, apps and websites are all good options.
The National Weather Service was predicting that Wednesday would also see some thunderstorms. The NWS tweeted that there was a "moderate risk" of severe weather across the Great Plains that included the risk of strong storms that could also bring hail and more tornados. A severe storm typically brings strong winds that can cause significant damage to structures, hail and the chance of tornadoes. "The potential today is certainly as great as yesterday if not, in some locations, greater," Bunting told Newsweek.
That moderate risk was advised for the area covering central Kansas to northwest Montana, according to the Storm Prediction Center. The storms Tuesday brought tornados across the Plains, photos and videos posted to social media show.
A tornado is simply a column of air that grows out of the bottom of a thunderstorm and reaches the ground. Once the funnel, or the column of air, contains condensation or debris picked up along the way, it's easier to see and is what most people picture when they think of a typical tornado.
Tornadoes are most likely to occur during the tornado season that stretches from May to July. The Northern Plains and the upper Midwest area of the country experience tornado season during June and July, while the Southern Plains experience it between May and June usually. However, tornadoes can occur in those regions outside of the season, according to NOAA.
But Tuesday's and Wednesday's storm's weren't the end of the severe weather. "It doesn't end today. We have another round of storms expected tomorrow," Bunting told Newsweek.
This story has been updated to include information from NOAA.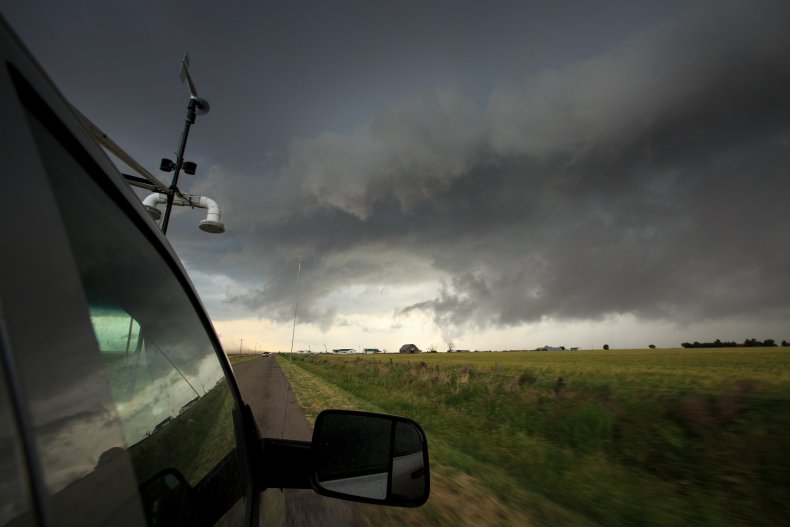 ​​