The Plan to Send Two Russian Bears to Rehab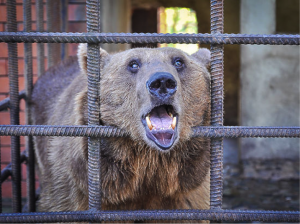 Two alcoholic bears may be given a new lease on life if animal rights groups succeed in their bid to have them moved from a cage outside a restaurant in Sochi, Russia, to a rehab facility in Romania.
As the Russian news agency Tass reports, the two male bears are being helped into recovery by a number of animal rights organizations, including World Animal Protection, the Brigitte Bardot Foundation and the Big Hearts Foundation, a U.K.-based organization dedicated to helping animals in Russia.
In February, a court ruling ordered that the two brown bears, which have been forced to live in filthy and cramped conditions outside a restaurant in Sochi, the site of the 2014 Winter Olympics, for more than 20 years since they were cubs, are to be removed from their owner. Until the order goes into effect March 3, the bears are stuck with the owner.
One of the bears has gone blind, and both became addicted to alcohol after years of being plied with drinks by tourists who visit the restaurant, according to the Big Hearts Foundation.
Anna Kogan, founder and director of the Big Hearts Foundation, said the group is still waiting for the Russian Ministry of Natural Resources and Environment to cooperate by sending a vet to look at the bears and provide documents that would allow them to travel internationally. Until then, they have to stay in Russia.
"He thinks they have a normal life being fed cookies and beer," said Kogan of the owner, who has said beer is good for the bears "because of the [warm] Sochi climate."
The ministry has suggested the animal rights groups work with the bears' owner, said Kogan, but he is reluctant to give up the animals, which he considers his private property. He has also said he has given the bears a good life by feeding them and giving them water. Drivers have been known to shine their lights inside the glass-strewn cage to disturb the animals, and the two distressed bears sometimes fight with each other, according to the Big Hearts Foundation.
A bear sanctuary in Romania, home to roughly 60 to 70 bears, has agreed to take the Sochi bears. Many of its current tenants were rescued when Romania banned bear dancing and keeping bears in restaurants.
It will cost between 7,000 and 30,000 euros to move the bears to Romania, said Kogan. The Big Hearts Foundation is looking into a cheaper option—transporting the bears by boat across the Black Sea from Sochi to Romania—but so far has been unsuccessful in finding an organization to help it.
Until the bears can be moved out of the country, another challenge is finding a place for them nearby. But without a zoo in Sochi or an animal sanctuary in Russia, Kogan and the bears are waiting.