A Plan to Unite North, South Korea: 'One People, Two Countries, Two Systems, One Market'
The South Korean official tasked with advancing efforts to unify his country with its northern neighbor has envisioned a new framework that would entail bringing the citizens and the economies of the two rival Koreas together while maintaining separate countries and political systems.
"Our approach now should aim more at the 'One people, two countries, two systems, and one market' model," South Korea Unification Minister Lee In-Young told the Seoul Shinmun newspaper in an interview published Thursday and featured on the official website of the government ministry.
He likened the strategy to that which established the European Union, an organization with a common currency and largely open borders yet with individual sovereignty among its 27 members. His model also echoed the "One country, two systems" approach followed by China in its reclamation of Portugal-colonized Macau and United Kingdom-colonized Hong Kong in the late 1990s.
Since being divided by rival Cold War powers the United States and the Soviet Union at the end of World War II and going to war themselves in the 1950s, Seoul and Pyongyang, remain worlds apart in their governance.
This is despite a recent historic push for peace.
Next week will mark the third anniversary of the first-ever summit between South Korean President Moon Jae-in and North Korean Supreme Leader Kim Jong Un. The two men signed a pledge to permanently end hostilities and pursue dialogue. But despite two more inter-Korean summits and a meeting alongside former U.S. President Donald Trump at the border, tensions have returned to the Korean Peninsula.
Lee wants to double down on parliamentary backing for Moon and Kim's 2018 declaration adopted during their meeting at the Panmunjom peace village, but noted issues that needed to be taken into account such as public support, the current state of inter-Korean relations and the views of opposition parties skeptical of the administration's strategy of pursuing diplomacy with North Korea.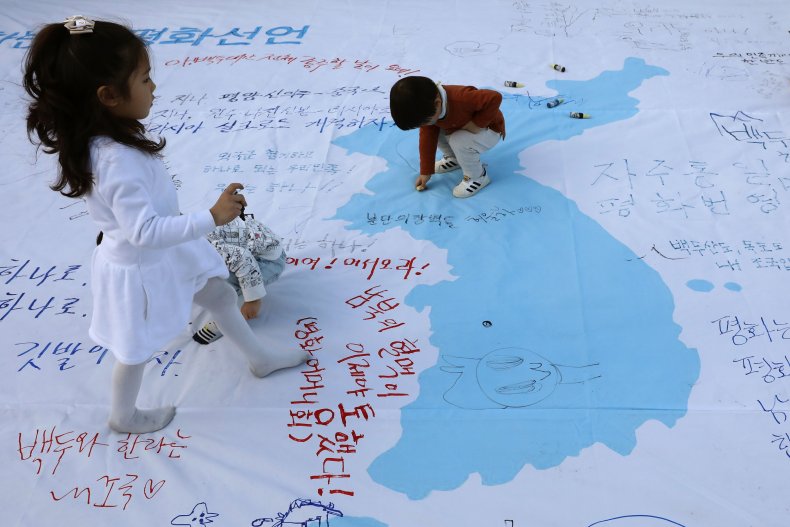 With hopes for reconciliation between the two Koreas tempered, as Pyongyang rescinded overtures to Seoul in the midst of an unraveling of talks with Washington, Lee acknowledged that the concept of unification "should not be forced."
The concept of reunifying the Korean Peninsula has been a central policy tenet for both sides since the first-ever inter-Korean summit in 2000. The principle of unification was reaffirmed in a 2007 follow-up summit between the two Koreas and three additional meetings held under Moon. It also featured in language that emerged from Trump's own landmark bilateral talks with Kim in 2018.
While both Seoul and Pyongyang have placed unification on the agenda, neither side has produced a plan to get the process going given the gargantuan disparities between the two.
Lee emphasized the need for a just joining of the two nation's economies, warning of the potential for South Korea's far larger economy to exploit that of North Korea if combined irresponsibly. Mutual cooperation, he argued, could serve to expand the economies of both countries, something he felt would resonate among South Korean citizens in their 20s and 30s.
The downturn in inter-Korean ties over the past two years has affected South Koreans' views toward unification, but a majority of 62.4% of schoolchildren ranging from elementary to high school in the country see this outcome as necessary, according to a poll published in February by the Unification Ministry and Education Ministry of South Korea.
This marked an increase of 6.9% from a similar poll conducted last year, South Korea's Yonhap News Agency reported.
The Moon administration also continues to campaign for improving inter-Korean relations. The South Korean president has expressed hopes that his upcoming summit with U.S. President Joe Biden next month would help give new life to the stalled peace process.
Biden, for his part, has ordered a comprehensive policy review regarding U.S. strategy on various foreign policy issues, including North Korea and its nuclear weapons. While this review was put in the spotlight after a series of North Korean missile tests last month, a finalized approach to the issue has yet to be outlined.
Lee has called on both the U.S. and South Korea to demonstrate flexibility in their application of sanctions against internationally isolated North Korea in hopes of providing more room for diplomacy.
Biden has said during his first press conference last month, which came in the wake of a series of short-range missile tests conducted by North Korea, that he would consider talks with Pyongyang, but would respond to any escalations by Kim.
"If they choose to escalate, we will respond accordingly," Biden said at the time. "I'm also prepared for some form of diplomacy, but it has to be conditioned upon the end result of denuclearization."