Plane Accidentally Dumps 40 Tons of Water On Police Patrol in Moscow
A Russian plane accidentally missed its target during fire-fighting exercises and dumped tons of water over a group of policemen parked underneath.
The Ilyushin 76 jet, operated by Russia's emergency services, flew outside Moscow in a practice forest fire run, carrying around 40 tons of water to pour over a nearby green area. As the plane flew over the suburban area of Noginsk, it began spraying the liquid cargo over a nearby highway instead, as police below captured it on video.
"Nightmare," the traffic police officer recording the incident on his phone, while hiding inside his car, is heard saying in between fits of laughter. After the plane has passed, the officer steps out and starts laughing even harder at the sight of his unlucky colleague, standing beside his own patrol car in a drenched uniform.
Related: Russian women told to refuse sex with foreigners during World Cup
The clip, which has already been broadcast on Russian national television, appears to show the men in good spirits. Two more officers and cars are visible at the scene.
Forest fires due to global warming have become a persistent threat in greener parts of Russia, albeit usually affecting areas away from Moscow such as Siberia, most severely. Russian forest authorities confirmed in 2016 that they were dealing with a serious fire problem in central and eastern Russia, as NASA satellite photos showed patches of smoke covering regions near the borders with Kazakhstan and Mongolia. Greenpeace and other environmentalist groups have warned that the Russian government may still be under-reporting how much of the country burns up in forest fires.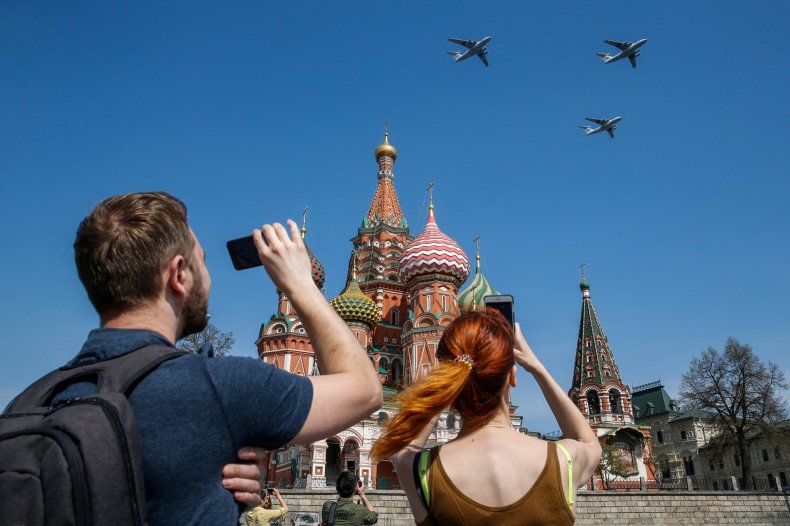 Although recent severe forest fires have affected the east, Moscow and other western Russian cities will host one of the biggest sporting events in the world—the soccer World Cup—between June and July, putting all authorities on alert.
Nine World Cup nations have based their teams different parts of Russia's federal Moscow region, though none are near the northwestern township of Noginsk. Portugal is the country training nearest to the site of the humorous incident, setting up camp in Ramenskoye, 28 miles away.
One of the regions hosting the tournament tested fire-fighting authorities last year when a blaze erupted in Rostov, burning around a hundred buildings, killing at least one person and injuring 58 people. The fire was believed to have been an accident, stemming from one property but spreading quickly due to high winds.