Plane Carries Confederate Flag Over Talladega With 'Defund NASCAR' Message
Eleven days after NASCAR announced it would ban Confederate flags from all of its properties and events, someone took the flag to another level: airborne.
A small plane flew above the Talladega Superspeedway in Alabama on Sunday with a large Confederate flag and the words "Defund NASCAR."
The aircraft flew over the speedway prior to Sunday's Geico 500, which is part of NASCAR's restart to the season because of the novel coronavirus.
Sunday's race is only the second to allow a limited number of fans in the stands, following the lead of the South Florida racetrack in Homestead, which hosted 1,000 local military members last weekend. Talladega was to allow 5,000 fans.
The Geico 500 race was delayed because of local lightning strikes. At 4:10 p.m., local time Sunday, the race was officially postponed until Monday when it will resume at 3 p.m.
NASCAR has already become a pioneer in sports getting started again after coronavirus brought the sports world to a screeching halt in March. NASCAR held races beginning in mid-May with events in Darlington and Charlotte, but with no fans in attendance. Then, the racing league relaxed its policy that required all teams and its members to stand for the national anthem.
Bubba Wallace, the only Black driver on the circuit, said NASCAR should ban Confederate flags from its venues. Then on June 10, NASCAR declared that all tracks would forbid the flag. NASCAR issued this message:
"The presence of the confederate flag at NASCAR events runs contrary to our commitment to providing a welcoming and inclusive environment for all fans, our competitors and our industry. Bringing people together around a love for racing and the community that it creates is what makes our fans and sport special. The display of the confederate flag will be prohibited from all NASCAR events and properties."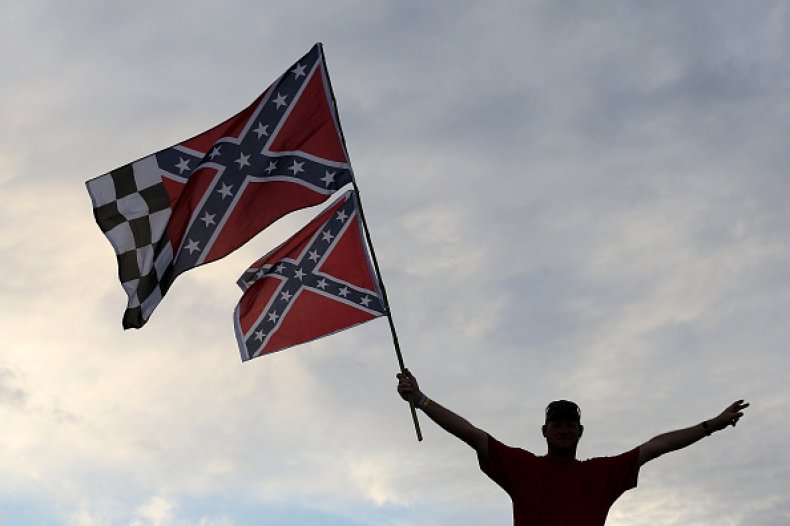 NASCAR's decision came following the police-involved death of George Floyd in Minneapolis on May 25. The incident sparked protests all over the country, and it forced sports leagues to reexamine their policies on protests during the national anthem as well as the Confederate flag at auto races.
Protests around the country have also led many people to call for a defunding of police departments.
There is signage outside the Talladega track that says Confederate flags are banned from the facility, according to AL.com.
However, outside of the speedway, there were still vehicles displaying the Confederate flag and driving up and down the nearby roads. One man had a tent that displayed the flag along with Trump 2020 banners, according to ESPN.
"People are disappointed that NASCAR has taken that stance," said Ed Sugg, an Alabama resident who has sold merchandise at races for 21 years. "It's been around for as long as all of us have been. I don't think anybody really connects it to any kind of racism or anything. It's just a Southern thing. It's transparent. It's just a heritage thing."