Plane Carrying Queen's Son Makes Emergency Landing After 'Technical Issue'
Prince Edward and Sophie, Countess of Wessex, were forced to delay a royal tour after their flight was "diverted safely back to the U.K. due to a technical issue," according to the Office of The Governor of Gibraltar.
Queen Elizabeth II's youngest child and his wife had to make "alternative arrangements" to visit the British Overseas territory following the hitch.
The couple had been expected to begin a visit to Gibraltar on June 7, with their first engagement in Main Street at 4 p.m.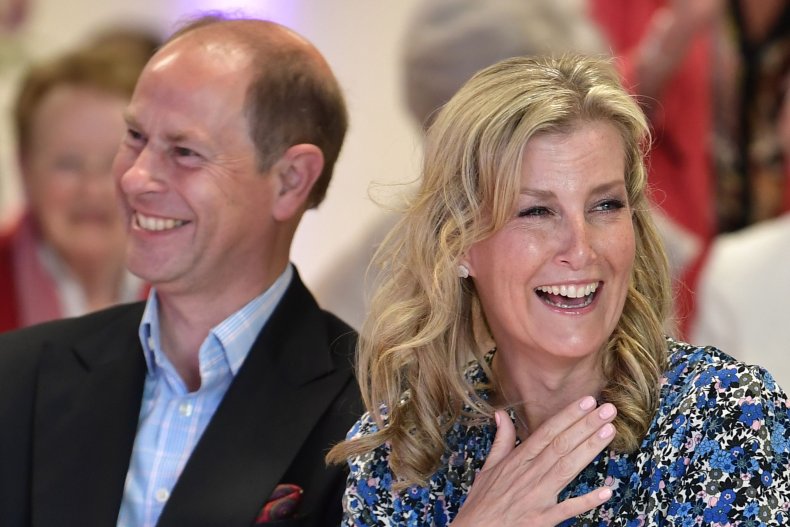 However, quoted by Metro, the Office of The Governor of Gibraltar confirmed the delay: "The Earl and Countess of Wessex's arrival in Gibraltar has been slightly delayed, after their flight was diverted safely back to the U.K. due to a technical issue.
"Alternative arrangements are being made for Their Royal Highnesses' arrival in Gibraltar later today and the programme will be adjusted accordingly."
It comes after a plane carrying the queen had to abort its landing due to a lightning storm while taking her to the Platinum Jubilee.
Elizabeth had been staying at Balmoral, her Scottish retreat, and was flying back to RAF Northolt, in North West London, when the electrical storm, rain, wind and hail made touching down on the runway difficult.
The private jet had to pull out of its initial attempt and circle until a break in the weather enabled a safe landing 15 minutes later.
Edward and Sophie's visit was steeped in controversy before they set off after Spain made an official complaint to Britain, The Daily Telegraph reported.
Gibraltar is contested territory between the two countries owing to history that dates back centuries.
On the eve of the visit, a press release from the Government of Gibraltar gave a glowing appraisal of the couple's expected arrival.
It read: "The Gibraltarians have been extremely proud to wave their Union Jacks and taken to the streets to 'wave and cheer' visiting Royals, not least on their Main Street walk from the Convent to City Hall at 4 p.m. tomorrow.
"This time, it will be no different and HMGoG [Her Majesty's Government of Gibraltar] is confident we will once again adorn our homes and properties with the traditional Red, White and Blue in a massive show of loyalty and affection to ensure the Royals feel the special warmth towards their presence here.
"Her Majesty the Queen has served on the Throne for a record seventy years, the longest serving Monarch in the world and it is right and fitting that we honor her with all our hearts on this historic and unique occasion.
"Her Majesty's Government of Gibraltar conveys its immense satisfaction over the Royal Visit, which will enable the Gibraltarians to celebrate this historic occasion and pay tribute to Her Majesty the Queen."