Video: Pilot Crashes Plane Into Ocean, Films Himself Stranded at Sea As Aircraft Sinks Beneath the Waves—'There She Goes'
A pilot has filmed the dramatic moment he and a passenger were rescued after the small plane he was flying lost power and had to make an emergency landing in the sea off the California coast.
David Lesh's single-engine Beechcraft Bonanza had taken off from Reid-Hillview Airport, San Jose, on Tuesday to do a mid-air photoshoot of his new plane, which was piloted by his friend Owen Leipelt.
Lesh's plane started to lose power around 6.15 p.m. and he landed it in water 10 miles off the coast of San Francisco, near Half Moon Bay.
Lesh, from Denver, took out his waterproof phone and filmed himself while he and his female passenger trod water for about half an hour, awaiting rescue.
Neither had a lifejacket and they held onto seat cushions and window shades to stay afloat, according to Today.com.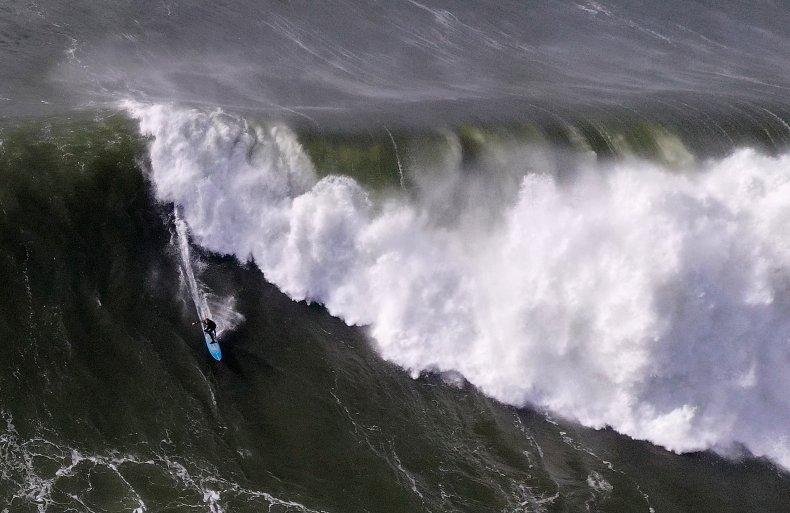 In the video, Lesh says: "There she goes" as he points the phone's camera towards the upturned plane tail bobbing up and down in the water.
Footage showed the female passenger waving to a rescue plane as it approached.
When Leipelt saw the plane go down, he circled the site and contacted air traffic control, unaware if the pair were OK.
"Your heart sinks when you hear, 'Mayday, I have no power.' It's something you don't want to hear, and it takes a second to kick in," Leipelt told NBC Bay Area.
When he heard from Lesh 10 minutes later, Leipelt added: "I have never been so relieved in my life to hear him on the phone."
The pair were rescued without any injuries, although they did suffer jellyfish stings.
Lesh said he did not know what happened with the plane, telling NBC: "I was probably 3,400 feet, did everything I could, couldn't get the motor running and put it into the Pacific," he said.
"The Coast Guard was awesome. We would have been dead for sure. If I was out there for another half an hour, I don't think my muscles would have been working."
Lt. Cmdr. Joshua Murphy, from the U.S. Coast Guard, said a rescue helicopter was already in the area on a training mission.
"We got the call, we responded immediately, headed directly out there and were able to find the orbiting aircraft and then find the people in the water."
The Federal Aviation Authority and the National Transportation Safety Board will investigate the crash.
Video: Pilot Crashes Plane Into Ocean, Films Himself Stranded at Sea As Aircraft Sinks Beneath the Waves—'There She Goes' | U.S.