Plane Crash Footage Filmed Inside Cabin Emerges: 'This Is Going to Be Really Bad'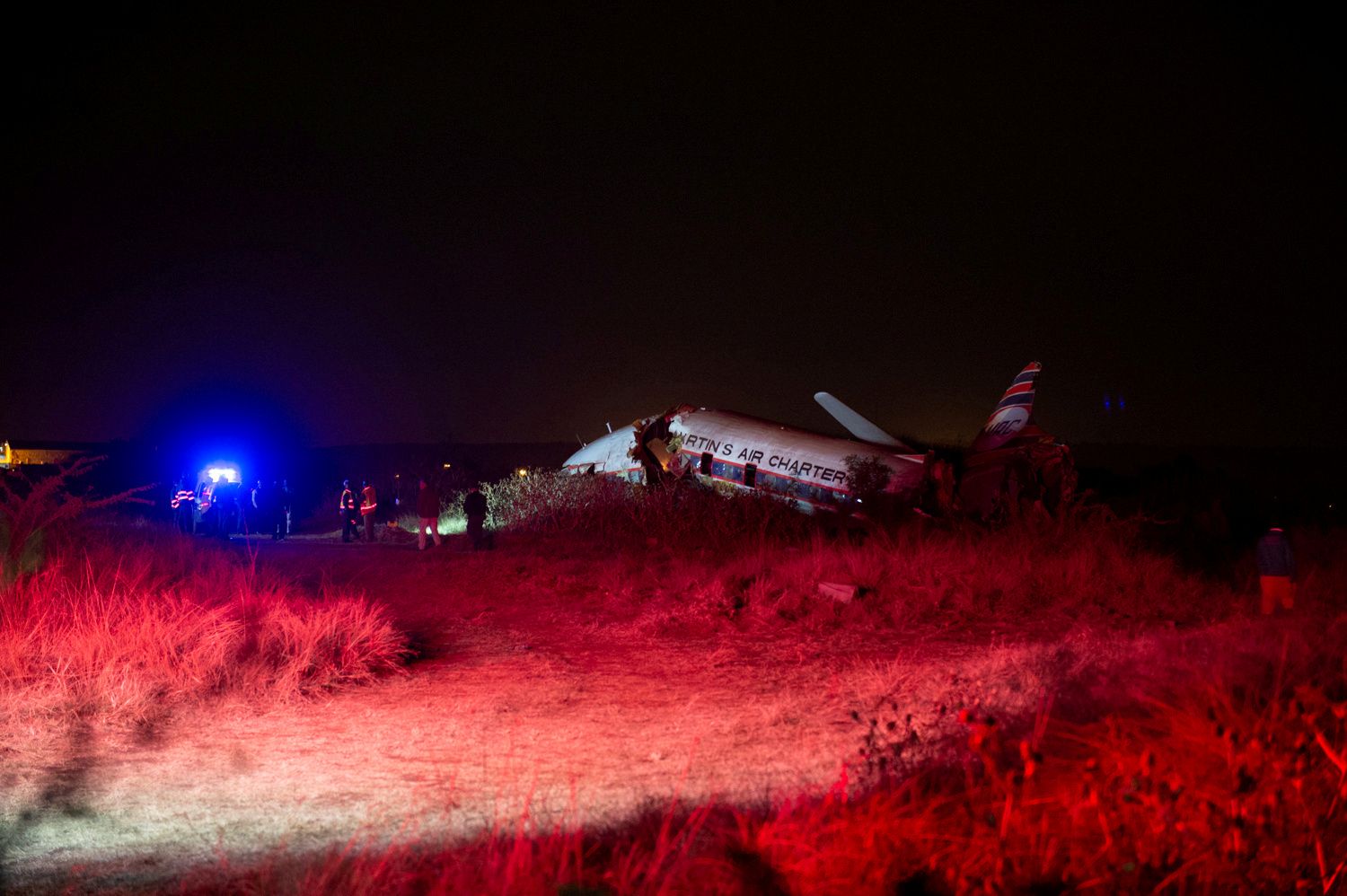 Dramatic cellphone footage has emerged from inside the cabin of a plane that crashed in South Africa's capital Pretoria last week. The accident killed two people and severely injured two Australian pilots.
The video, released by news.com.au, was filmed by a male passenger on the plane who was looking out a left wing window at the engine that had caught fire. "It's getting worse," the passenger can be heard saying as the plane plummets towards the ground. "It's getting bad. This is getting very bad."
A woman speaking Afrikaans then asks "Why are we shaking like this?"
"They've got to cut the engine, so we can reach the runway," the man responds.
Another person can be heard telling people to "make sure you're strapped in. Strap in."
As the plane nears the ground the passenger filming the video says, "Geez, this is going to be bad." Then the visuals turn black before a loud, violent crash can be heard. The audio runs for almost two more minutes, with people moaning from injuries and crying for help.
The Convair CV-340 plane, which left Wonderboom Airport in Pretoria, was carrying 19 people when it crashed last Tuesday. The incident occurred during a scenic luxury air safari tour.
The vintage aircraft, which first flew in 1954, had been owned by Rovos Rail, a charter airline based in Randpark Ridge in South Africa, reported Times Live. In a statement on Sunday, the company revealed that they had donated the plane to Dutch Aviation Museum Aviodrome in April.
Brenda Vos, Rovos Rail's communications manager, confirmed that Aviodrome had acquired the aircraft "a couple of months ago. We had tried to launch Rovos Air as an alternative product to our luxury trains but we did not have much success in that space'" she said. "We tried to sell the aircraft but there is not much interest in vintage aircraft anymore."
Vos claimed that the plane had not been subject to any safety concerns before the incident. "The plane' as far as I know' had passed all the tests'" she said.
According to witnesses, the plane began to emit smoke as soon as it took off from the runway, reported news.com.au. The engine failed soon after which resulted in the plane crashing into a dairy factory near the airport.
Chris Barnard, a South African flight engineer, died at the scene. Another unnamed victim, who was on the ground during the incident, later passed away in hospital from wounds sustained during the crash.
The two Australian pilots, Captain Ross Kelly and Doug Hayward, were both critically injured. Their condition remains unclear.
Rovos Rail did not immediately respond to Newsweek's request for comment.