Plane Crash in Palm Springs Mobile Home Park Kills Two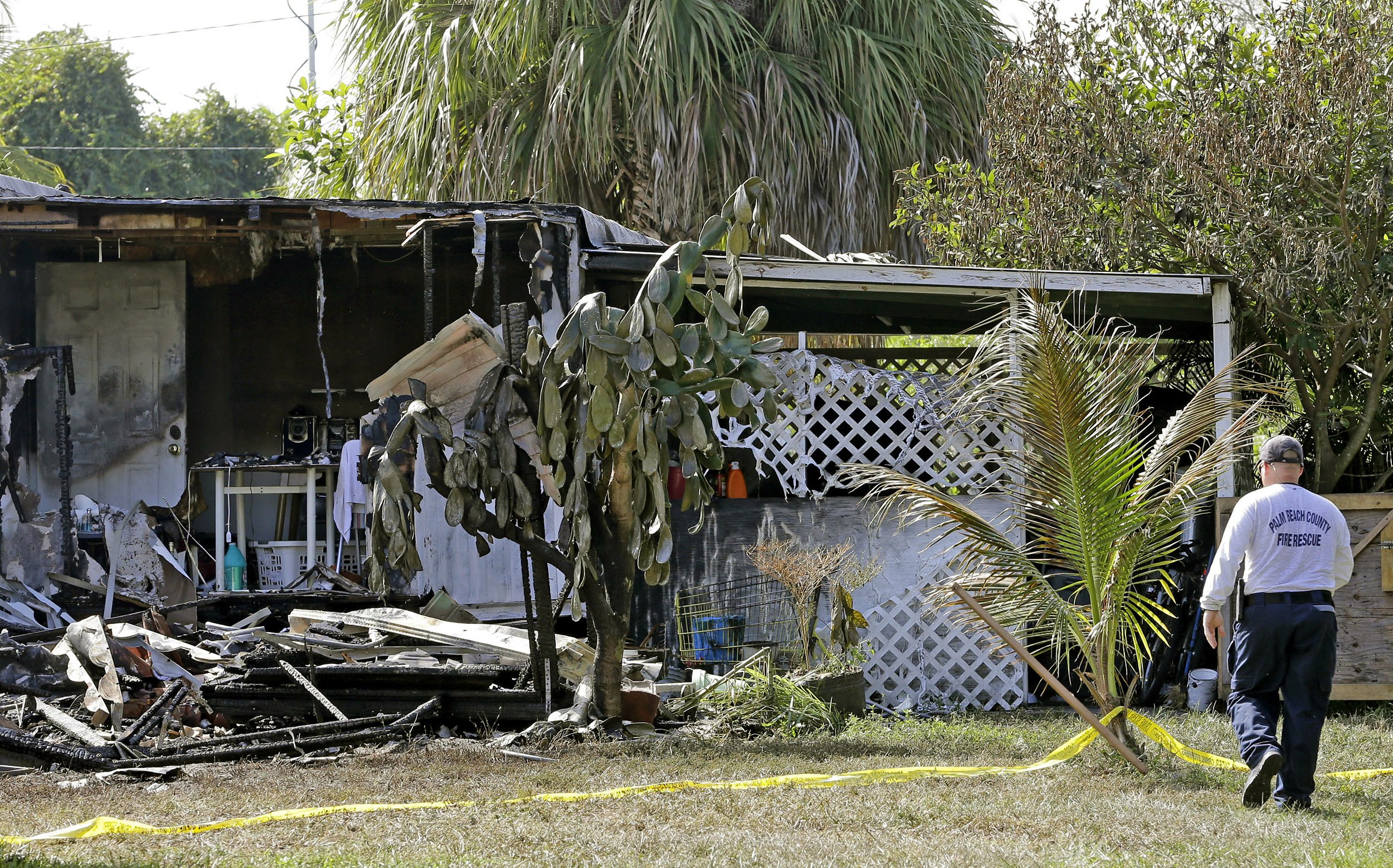 Updated | A small plane crashed into the Mar-Mak Colony Club, a mobile home park in Palm Springs, Florida, Tuesday evening, setting two homes on fire and killing the pilot and one person on the ground, the Associated Press reports.
The Palm Beach Sheriff's Office and Palm Beach County Fire Rescue (PBCFR) responded when the plane crashed into a trailer just after 5:30 p.m., the sheriff's office said on Tuesday. Roads and trailers in the vicinity were evacuated and closed, although by Tuesday night all but two trailers' residents were allowed back home. Some of the roads had reopened at that time as well.
"There was a big smoke cloud coming up into the sky," nearby resident Cliff Hubbard told the AP. "Just black, dark smoke."
Domingo Galicia, a resident of one of the trailers that went up in flames, told the Sun Sentinel and other news outlets that his 21-year-old daughter, Banny, had decided not to attend classes at Palm Beach State College Tuesday because she was not feeling well. She was inside the trailer at the time of the crash, he said. He told local station WPTV he believes she may have died when the plane crashed.
PBCFR Captain Alberto Borroto said firefighters brought the flames under control and kept exposure to a minimum so that the homes surrounding the two were not affected.
National Transportation Safety Board (NTSB) investigator Daniel Boggs identified the plane as a Piper Cherokee 180 flying from Orlando to Lantana, Reuters reports, and said no one else was on the plane besides the pilot. He did not yet identify the pilot or the other person killed.
"We're very fortunate it wasn't worse," Boggs said at a news conference.
A spokeswoman from the sheriff's office tells Newsweek that the NTSB is in the process of conducting its investigation and that it will release the names of the individuals once they are identified and the next of kin notified.
Terry Williams, a spokesman with NTSB, tells Newsweek the board is still in the on-scene phase of the investigation. The investigators have done a documentation of where the aircraft came to rest and an initial review. They are going to look at the plane's engine and maintenance records and the pilot's records, as well as checking to see whether there were any communications with the air traffic control tower and speaking with any witnesses.
This story has been updated to include comment from the NTSB.
Plane Crash in Palm Springs Mobile Home Park Kills Two | U.S.