Plane Crash Pilot Was Smoking and Crying in 'Emotional Breakdown' Before Landing Killed 51: Report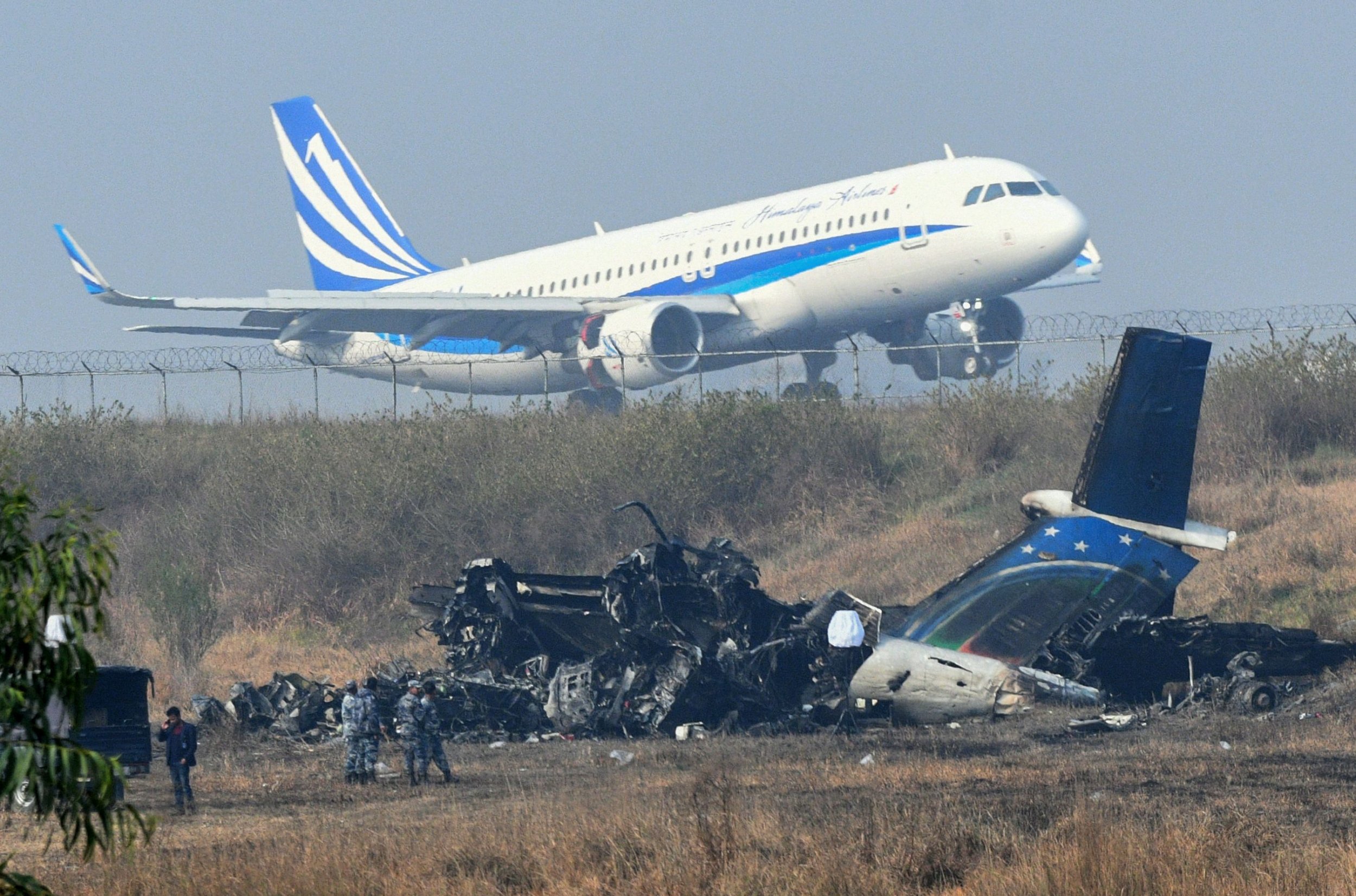 A plane crash that killed 51 people in Nepal occurred when its captain allegedly suffered an "emotional breakdown," according to a leaked draft of the official investigation.
The flight, which took off in March from Bangladesh, crash-landed at Nepal's Kathmandu Airport later in the day, drifting into a nearby football field and exploding into flames and killing 51 of the 71 people onboard. The incident became Nepal's deadliest aviation tragedy since 1992, and recent leaks from the investigation suggest the captain, Abid Sultan, was in some distress after a colleague had questioned his competence.
"This mistrust and stress led him to continuously smoke in the cockpit and also suffer an emotional breakdown several times during the flight," a report from the investigator said, according to Agence France Presse. The man was apparently "under stress and emotionally disturbed" onboard, following a colleague's decision to "[question] his reputation as a good instructor."
Sultan was not in control of the Bombardier Dash 8 Q400 turboprop aircraft when it crashed, the report stated, but was delivering a long monologue about his own competence, insisting to his co-pilot, Prithula Rashid, that he was in fact a good captain. Rashid, who was performing the landing during the captain's distress, according to the document, was in a state of "total disorientation" as a result, having never practiced landing on the notoriously difficult Himalayan runway.
The exact cause of the crash is still under investigation, though preliminary reports in March already suggested it came down to the maneuvering on the runway. In a recording of the interaction between the cockpit and air traffic control from minutes before the fateful crash, a frustrated controller could be heard telling the pilot: "I say again, turn!" BBC reported. The recording revealed some confusion about which end of the runway authorities had cleared the plane to land on.
At the time, the U.S.-Bangla Airlines denied the crash was due to crew errors, accusing Kathmandu air traffic control of misinforming the pilot. "There were wrong directions from the tower," Imran Asif, the company's chief executive said. "Our pilot was not at fault. Our pilot is an instructor of this Bombardier aircraft. His flight hours are over 5,000. There was a fumble from the control tower."
Sanjiv Gautam, director general of the Nepal's Civil Aviation Authority, told CNN that piling the blame on the control tower was "absolutely incorrect," blaming the "uncontrolled movement" of the plane on landing. "The weather was clear. The pilot had minimum five-kilometer visibility. The pilots confirmed that the runway was visible. We have proof of them confirming that. The pilots were not following our instructions," Gautam said. "The alignment wasn't right; it was tilted on one side."