Plane Crash Prompts China Eastern Airlines to Ground All Boeing 737-800 Aircraft
China Eastern Airlines will reportedly ground all Boeing 737-800 aircraft on Tuesday after one of its planes carrying 132 people crashed in the southwestern Chinese province of Guangxi.
The plane was traveling from the southwestern city of Kunming to Guangzhou on Monday when it descended rapidly and lost contact in a mountainous area near the city of Wuzhou. There were 123 passengers and nine crew members on board, according to China's Civil Aviation Administration.
The crash came nearly four years after Boeing received widespread criticism when two of its newer-model 737 MAX aircrafts crashed. One plane came down in Indonesia in late 2018 and a second crashed in Ethiopia, killing a total of 346 people.
The 737-800 aircraft is an older model than the 737 MAX, and has a strong safety record. Since 1997, the aircraft has had just 11 fatal accidents out of more than 7,000 planes delivered, Bloomberg reported.
An investigation is now underway to determine the cause of Monday's crash. According to Flightradar24, a global online flight tracking service, the plane descended at a pace of 31,000 feet per minute. The aircraft was delivered to China Eastern from Boeing in 2015 and had been in use for six years and 10 months, the Aviation Safety Network (ASN) reported.
A spokesperson for Boeing told Newsweek on Monday that the company is "aware of the initial media reports and are working to gather more information" on the crash.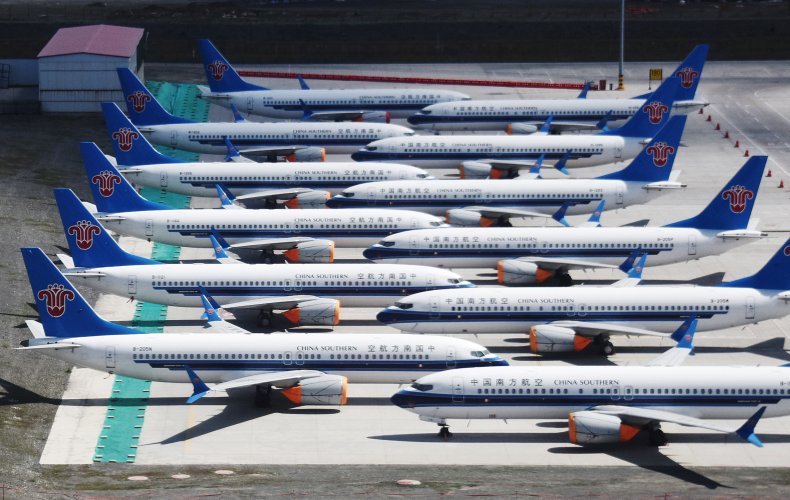 Chinese media reports have so far indicated that there are no signs of survivors, however an official death or injury toll has yet to be reported by authorities, Reuters reported. Rescue teams have been dispatched to the scene, and the airline has opened up a special telephone assistance line for family members.
Video footage of the crash site posted online appeared to show smoke billowing from a forested area, along with remains of the aircraft. Another video shared on the social media platform Weibo appeared to show the airline quickly plummeting to the ground.
Local officials reported that the crash initially caused a mountain fire, which has since been extinguished. Chinese President Xi Jinping has initiated large-scale rescue operations, involving nearly 1,000 firefighters and more than 100 other emergency workers, according to Guangxi's fire department.
"The cause of the plane crash is still under investigation, and the company will actively cooperate with relevant investigations," China Eastern said in a statement on Monday, The New York Times reported. "The company expresses its deep condolences to the passengers and crew members who died in the plane crash."