Dashcam Video Shows Plane Crash That Left Flight Instructor and Student in Critical Condition
A single-engine aircraft that crashed into a billboard and onto a freeway had made an emergency landing on the same road last year, it has been reported, as video footage emerged of the dramatic incident.
The Piper aircraft is thought to belong to a flight school and took off from Ogden-Hinckley airport in Weber County, Utah on Sunday at around 3.30 p.m.
It hit the billboard advertising Chick-Fil-A and landed on the shoulder of I-15, Deseret.com reported.
As authorities continue their investigation, footage uploaded onto YouTube shows the moment when the plane hit the billboard through the back and then landed onto the freeway.
Around a dozen bystanders and travelers on the road rushed to the accident scene to help before first responders arrived.
Scott Miller told KSL that he was in his house when he heard the plane hit and he saw the plane's wings were on fire.
His wife brought fire extinguishers from their home to help the plane's two occupants before officials arrived.
"I ran out, hopped the fence pretty dang quick and I was about the second or third person on scene," he said.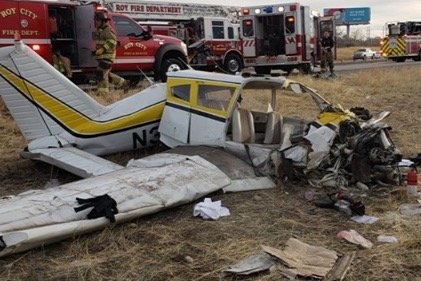 An image on GoFundMe of the single-engine plane that crashed into a billboard in Utah. Two men have been seriously injured in the crash but are expected to survive.
GoFundMe
"The weeds were on fire...we were able to put out the fire," adding, "I tried to help the best I can and I'm glad I was there to help out."
The pilot and the passenger were taken to hospital by ambulance and medical helicopter, while another bystander who also helped the occupants after the crash was hospitalized with smoke inhalation. All are expected to recover.
KSL named the pilot as Bryce Ransom, and his sister Aprill Wilcock told the network that he had suffered multiple broken bones, including both ankles, his sternum, ribs, nose, hand and knee, adding that "he's in bad shape."
A GoFundMe page set up to help pay for his treatment has raised more than $4,300. It said that Ransom had two children and his wife is due to give birth to their third child any day.
"Bryce is the provider of income for his family. If you can help in any way, your donation would help cover medical costs while Bryce is recovering.
"His recovery is expected to be several months," the page said.
The Federal Aviation Administration [FAA] and National Transportation Security Administration [TSA] will investigate the crash.
KSL pointed out that the tail number on the plane is the same as a plane that made an emergency landing on the same highway in May 2018.
No one was injured in that incident but a flight instructor and flight student landed on the freeway due to a mechanical fault.