Plane Crashed Onto Highway After Hitting Power Lines, Traffic Light
A video posted to the Chambers County Sheriff's Office Facebook page with more than 270,000 views shows a small plane taking off before crashing onto a Texas highway over the weekend Saturday following a parade.
The plane is seen getting as high as traffic lights before plummeting back down to the road, nicking the traffic lights and some power lines.
"Please avoid 124 and Broadway in Winnie until the incident clears," a caption on the first post about the incident published to the sheriff's office's Facebook page reads. "Fortunately there were no injuries other than equipment."
According to KPRC, the plane was being used as a float in the Rice Festival Parade. Rather than towing the plane back after the parade ended, the pilot decided to fly it back to the airport. Police are still investigating the incident, but the news outlet reported that authorities said they believe the weather, specifically strong winds, contributed to the plane crash.
The news outlet also reported that investigators said winds changed direction once the pilot got into the air.
Photos of the crash featured the plane being towed away from the scene. The wings were bent and crumpled. Despite how the plane looked after the crash, KPRC reported that the pilot was OK and went to the doctor as a precaution.
The crash reportedly occurred around 10:45 A.M., but officials were able to clear the roads and open them back up for drivers early that afternoon, per the Facebook post that was published.
Newsweek previously reported that a helicopter collided with a small airplane in the air over the Chandler Municipal Airport in Arizona airport on Friday. The Federal Aviation Administration sent a statement to Newsweek that explained the single-engine airplane "landed safely on the runway with a damaged landing gear."
Chandler Police Sergeant Jason McClimans confirmed that there were two deaths in the collision, and the airport was closed for takeoffs and landings. Officials continued to investigate the cause of the mid-air collision and urged anyone with information about the incident to share it with police.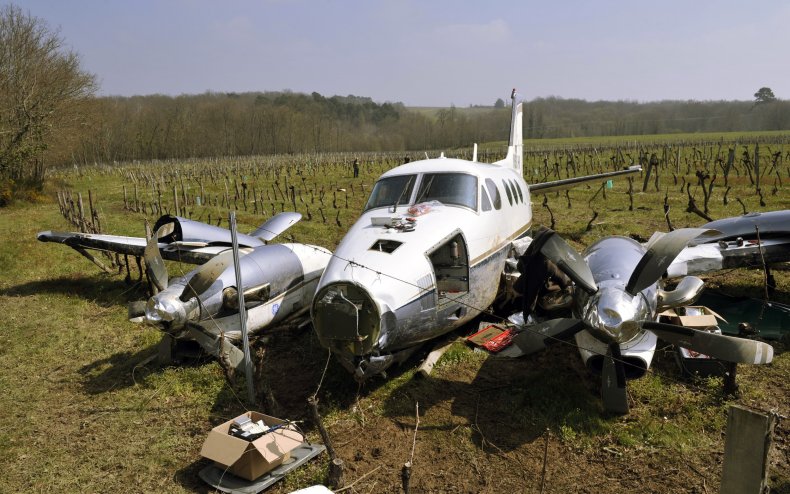 In July, a single-engine Beechcraft B36 airplane crashed shortly after taking off near the Chandler Municipal Airport. Fox10 News in Phoenix reported that officials with the Chandler Fire Department said the plane caught fire but they extinguished it. Three passengers on the plane had minor injuries. The fourth passenger was taken to a hospital with non-life-threatening injuries.
Newsweek reached out to the Chambers County Sheriff's Office but a representative was unavailable to speak at press time.