Passengers and crew had a miraculous escape when the private jet they were on crashed and split in half on one of the most difficult airport approaches in the world.
The plane was landing at Toncontin International Airport in Tegucigalpa, Honduras, around 11.15am on Tuesday, when it left the runway and veered into a ditch.
Emergency rescuers said that all were alive with reports that there had been between six and nine people on board, the Associated Press reported.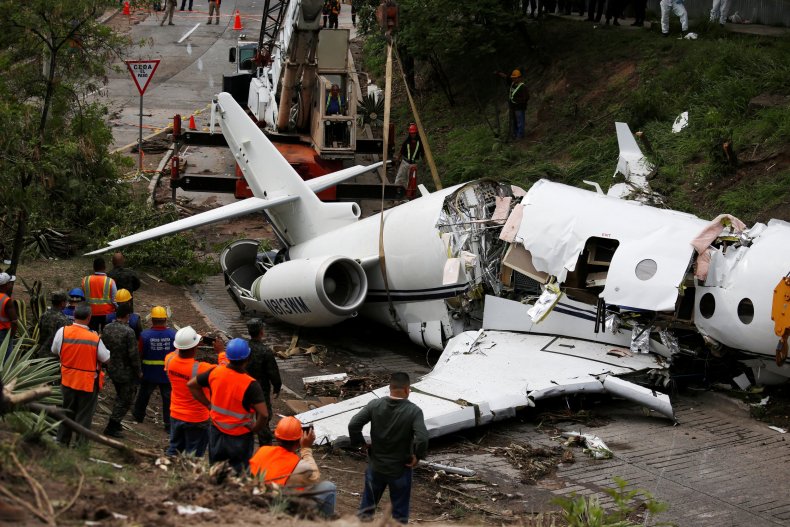 Video images show residents in the El Pedregal neighborhood of the city helping pull people out of the wreckage which they sprayed with fire extinguishers, with part of the plane lying across a street.
Local businessman Pedro Atala told AFP that he and his employees helped extinguish the flames and that he had helped five men and a woman. He said all were "practically unharmed" and that "miraculously" the accident hadn't been worse.
The Honduran Civil Aviation Agency said the white G200 Gulfstream jet, which was registered in Utah, had flown in from Texas.
The Honduran president Juan Orlando Hernandez said on Twitter that all those injured were in a stable condition.
The airport was temporarily shut down and around 50,000 people nearby lost power because the plane had hit power lines. The airport was back up and running around 3.15pm local time, four hours after the crash.
Surrounded by mountains and neighborhoods, Tegucigalpa's airport has a reputation as a difficult approach. In 2008, five people died when a plane of the former airline TACA crashed in nearly the same spot.
A new international airport is being built about about 50km (31 miles) away from the capital, the BBC reported.