Plane crash ends in miracle escape for passengers as Boeing misses runway, lands in the sea
An airliner missed the runway and crashed into the sea—but remained intact and afloat, with all passengers and crew safely rescued.
There were 36 passengers on the Air Niugini plane that was coming in to land at Chuuk Airport, on the island of Weno, in the South Pacific archipelago nation of Micronesia.
The Boeing 737-800 had flown from the island of Pohnpei but fell short of the runway and ended up in the lagoon surrounding Chuuk.
Jimmy Emilio, general manager of Chuuk Airport at Weno, told Reuters, "It was supposed to land, but instead of landing it was 150 yards short, and she went down.
"We don't really know what happened...people were rescued by boats, 36 passengers and 11 crew were all rescued; only the plane is sinking right now," he continued.
All passengers aboard were taken to hospital; no injuries had been reported. Video posted on social media showed speedboats racing toward the submerged aircraft.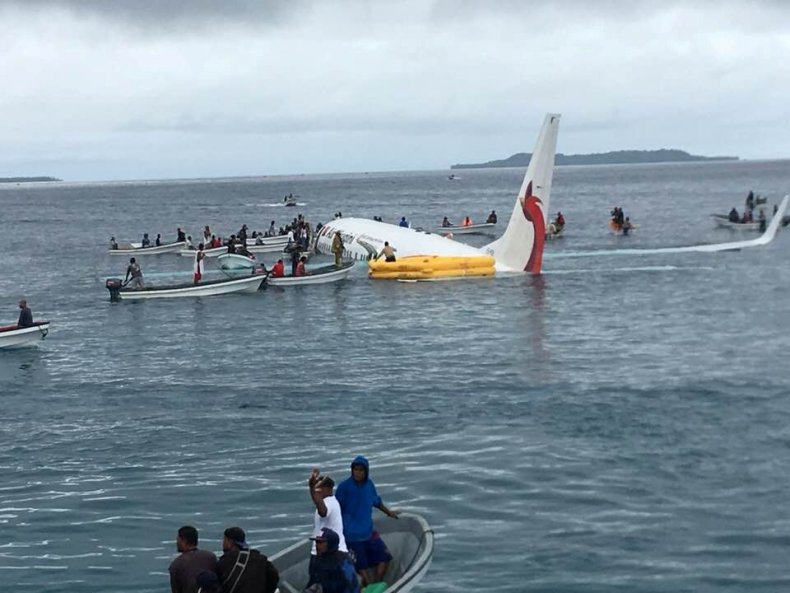 Bill Jaynes, one of the passengers, thought the plane had hit a retaining wall and bounced back.
"It's just surreal. I thought we landed hard until I looked over and saw a hole in the side of the plane and water was coming in. I thought, well, this is not like the way it's supposed to happen," Jaynes told the Pacific Daily News website.
"We came in low, we came in very low. Unfortunately, the flight attendants panicked and started yelling, and I was trying to be calm and help as best as I could," he continued.
Although the water in the aircraft was waist-deep, passengers could still get out.
"I was really impressed with the locals who immediately started coming out in boats. One would think that they might be afraid to approach a plane that's just crashed," said Jaynes.
Witness Matthew Colson, a missionary living in Chuuk who also runs a radio station, said it was raining at the time of the crash, and those who'd arrived to help had been at a market near the airport.
"They're people that come here to go to work or go to the store or bring fish to the market to sell, and they just jumped in their boats and started helping," Colson said.
Ethan Clapper posted on Twitter how difficult the landing at the airport is, having flown there in July. He wrote: "That's a 6,013-foot runway, which is on the shorter side for an airport with airline service. I flew into this airport in July, you can see how hard the braking is on landing."
Air Niugini is the national airline of Papua New Guinea and has operated since 1973. It has Boeing 767 and 737 jets for international routes, as well as Fokker F-100 aircraft, Q400 and Dash 8 aircraft, according to its website.
The airline said in a statement that the weather at the time of the incident was very poor, with heavy rain and reduced visibility.
"Air Niugini is now positioning assistance to Chuuk for our passengers and crew. We are also in touch with the embassies, passenger representatives, stakeholders and families of the crew," the statement read.
A similar incident occurred in 2013, when all 101 passengers aboard a Lion Air flight that overshot the runway at Denpasar in Indonesia landed in shallow water and were rescued, Reuters reported.