Plane Dumps Jet Fuel on an Elementary School Playground Near Los Angeles; At Least 44 Treated for Injuries
On Tuesday afternoon, 20 students and 11 adults from Park Avenue Elementary School in Cudahy, California, were among those treated at the scene by paramedics for skin irritation and possible breathing injuries from fume inhalation after an airliner making an emergency landing dumped jet fuel on the school's playground.
The students and adults—two classes in total—were outside at recess when the incident occurred, according to KNBC and the Los Angeles County Fire Department's Twitter.
According to the L.A. County Fire Department's Twitter account, 6 more patients were treated at Tweedy Elementary School in South Gate, California, 1 adult was treated at Graham Elementary School in Los Angeles, and 6 more were treated at San Gabriel Elementary, also in South Gate. Seventy firefighters tended to the injured at these various scenes, and hazardous materials trucks and ambulances arrived to assist as well.
"Schools immediately called paramedics, who are on the scene and are treating anyone who is complaining of skin irritation or breathing problems," said a statement from the Los Angeles Unified School District. The district reports that no one was hospitalized.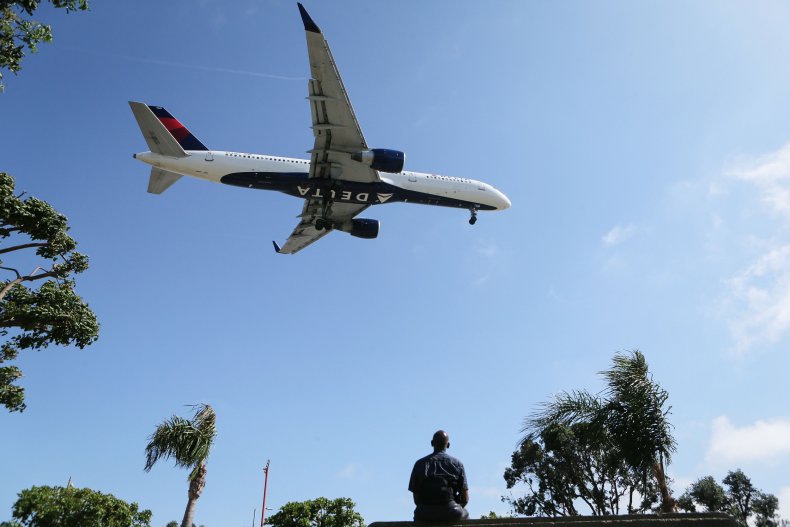 A Los Angeles County Sheriff's spokeswoman reported to Reuters that other students were evacuated safely from Park Avenue Elementary School.
Jordan High School in Florence-Firestone, California and 93rd Street Elementary School in Green Meadows, California also reported being impacted by the fuel discharge.
The twin engine Delta Air Lines jet in question, identified by a Delta spokesperson as Flight 89, was bound of Shanghai with when an issue with the plane's engine required the plane to return to the airport. "The aircraft landed safely after an emergency fuel release to reduce landing weight," Adrian Gee, a spokesperson for Delta Airlines, told The Los Angeles Times. No injuries were reported among the 149 passengers aboard the aircraft, according to a statement from Los Angeles International Airport (LAX) given to BuzzFeed News.
"The FAA is thoroughly investigating the circumstances behind this incident. There are special fuel-dumping procedures for aircraft operating into and out of any major U.S. airport. These procedures call for fuel to be dumped over designated unpopulated areas, typically at higher altitudes so the fuel atomizes and disperses before it reaches the ground," said Allen Kenitzer, Federal Aviation Administration (FAA) spokesman, to The New York Times.
Twitter user Sujey Hernandez captured footage of the plane allegedly dropping its fuel.
Local response to the incident from political figures has been firm. "I'm very upset," said Cudahy Mayor Elizabeth Alcantar to the Los Angeles Times in a phone interview. "This is an elementary school, these are small children."
"Sadly, our entire community has been adversely impacted by this incident, including dozens of children. I am calling for a full federal investigation into the matter, and expect full accountability from responsible parties," Cudahy City Council member Jack Guerrero told the Los Angeles Times.
"I expect responsible parties to be held accountable," he added.
Symptoms of jet fuel exposure include a burning sensation and a possible rash. The fuel may be cleansed away with degreasers, such as those found in dish soap.
Situated roughly 14 miles east of the Los Angeles International Airport (LAX), Park Avenue Elementary School is only approximately 33 minutes away from the airport by car.