Plane Evacuated, Searched After Teen Airdrops Photo of Airsoft Gun to Other Passengers
A plane at the San Francisco International Airport was cleared of its passengers and searched Thursday after some of the passengers said they received an unsolicited photo of an airsoft gun.
A teenager onboard the plane sent the photo to some of his fellow passengers who had Apple products with them through the AirDrop feature, an airport spokesperson told KNTV. The move prompted officials to ask passengers on board United Airlines Flight 2167 to get off the plane so they could all be rescreened and the plane could be thoroughly searched, the spokesperson added.
A United Airlines spokesperson told Newsweek the flight was delayed due to a "security issue involving a customer on board."
"Law enforcement officials were notified and our teams are working with them to review this matter," the airline spokesperson said. "As a precaution, all customers deplaned and were rescreened before the flight departed."
Christopher Beale, an independent radio host based in San Francisco, told SFGATE his mother was among the passengers asked to disembark. In a series of tweets Beale posted Thursday afternoon, he documented the incident as it was described to him by his mother.
"My Mom's flight out of SFO was held on the tarmac because someone was airdropping inappropriate pictures to several passengers," Beale wrote in his first tweet about the incident. "Why are people like this!?"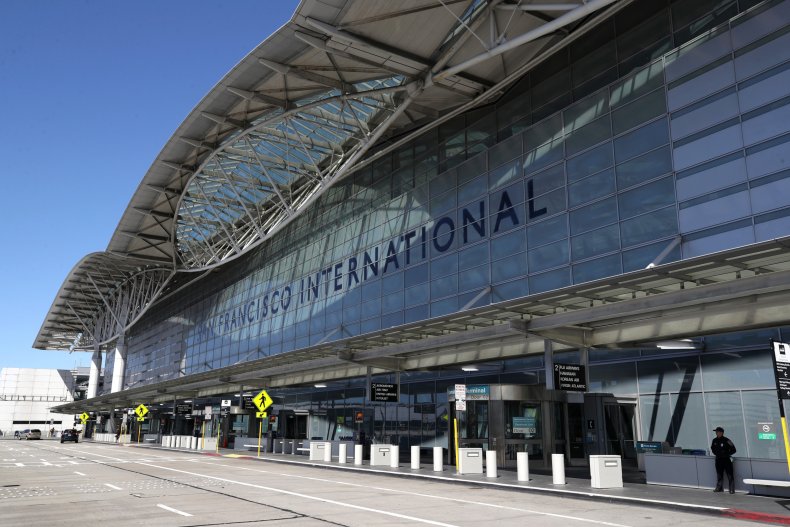 Beale later told SFGATE the concern was surrounding an image of an airsoft gun. The airport spokesperson told KNTV the photo was taken on a different day, and not at the San Francisco International Airport or at any other airport. It was later determined the teenager did not have the airsoft gun in his possession on the plane, the spokesperson added in his discussion with the station.
Beale posted on Twitter the passengers were rescreened as airport officials reviewed the plane to make sure there were no threats present onboard. All of the passengers, except for the teenager accused of sharing the photo with others on board, were then allowed to reboard the plane, Beale wrote.
Beale later shared a link to the SFGATE article and wrote, "My poor Mom had a crazy afternoon at SFO when her flight was held on the tarmac due to...well a prank."
A spokesperson for the Airport Commission in San Francisco confirmed the details Beale provided SFGATE, the outlet reported.
The airport's flight tracker showed the plane was scheduled to take off at 2 p.m. local time with its destination set as Orlando, Florida. The plane was delayed by almost three hours and did not take off until nearly 5 p.m., according to the tracker. It eventually landed in Orlando shortly after 1 a.m. local time.
Updated 7/23 at 2:57 p.m. ET: This article has been updated to include comments from a United Airlines spokesperson.