Plane Flies 'White Lives Matter' Banner Above Premier League Soccer Match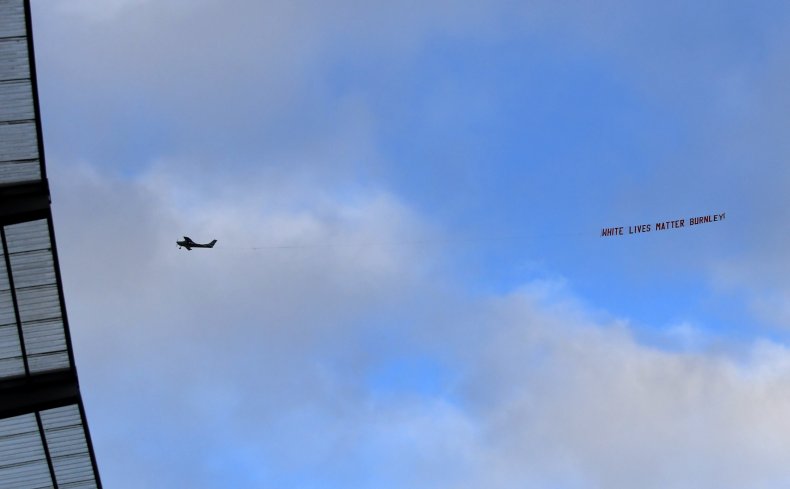 A banner bearing a message that some deemed as racist was flown over an English soccer game on Monday, prompting outrage and condemnation.
A plane carrying a banner reading "White Lives Matter Burnley" flew over an English Premier League match between Manchester City and Burnley Football Club. It was Burnley's first match in months, with the Premier League having resumed last week after being forced to take an extended pause because of the COVID-19 pandemic.
"This, in no way, represents what Burnley Football Club stands for and we will work fully with the authorities to identify those responsible and issue lifetime bans," the club said in a statement. "The club has a proud record of working with all genders, religions and faiths through its award-winning Community scheme, and stands against racism of any kind."
"We apologise unreservedly to the Premier League, to Manchester City and to all those helping to promote Black Lives Matter," they added.
In response to protests for racial justice taking place around world, the league launched a "Black Lives Matter" initiative upon returning to play. Names on the back of jerseys are replaced with the message "Black Lives Matter," while teams and officials "take a knee" in solidarity with the movement at the very beginning of games.
Monday's match saw the initiative observed by players and staff from both teams, along with match officials, all of whom kneeled just after the referee whistled for kickoff. Minutes later, a small plane flew over the stadium, with the banner trailing. Players could be seen shaking their heads in disapproval. The club quickly released their statement at halftime.
"I'm ashamed and embarrassed that a small number of our fans have decided to put that around the stadium," said Burnley team captain Ben Mee, in a statement issued after the game. "They have completely missed the point and there's a group of lads in there who are embarrassed to see that."
"I'm ashamed and upset it's associated with our club – my club – and it's not something we want to see at all in the game," he added. "We totally condemn it and are embarrassed by it."
Mee told Sky Sports that players had "heard some whispers" about the spectacle being planned by "a small number" of people, with the club unsuccessfully attempting stop it from happening before the game kicked off.
Although it is unclear who is responsible for the banner, club officials have insisted that they are "not welcome" at their home stadium Turf Moor. The incident is being investigated by police. Monday's game took place at Manchester City's Etihad stadium, with the home team winning, 5-0.
Newsweek reached out to Burnley Football Club for additional comment. This article will be updated with any response.