'A Plane-Hijacking Will Happen Soon': Threatening Messages AirDropped During Flight
Passengers on Delta Flight 921 from Atlanta to Seattle received a troubling AirDropped message last month. The message, according to Fox 5 Atlanta, read, "A plane-jacking will happen soon, 2 hours and 37 minutes it will start in the front on aisle 6."
Cornelius Bome't, a passenger on the plane with his 14-year-old son, told Fox 5 Atlanta that airline employees tried to calm everyone down and asked that the person responsible for sending the message step forward. Police boarded the plane to search the aircraft with K-9s.
"They had really big guns," Bome't told the news outlet. "They looked like they weren't playing around. They had helmets. It felt like a movie, it really didn't feel real."
Law enforcement officers checked bags and passengers were re-screened as they got off the plane.
Bome't said he believed someone on the plane AirDropped the message to the other passengers.
"I was sitting next to the lady who got it first," he explained to Fox 5 Atlanta. "Then a guy sitting next to my son got it. It caused a frenzy."
AirDrop is a tool in Apple products that allows users to wirelessly send documents, photos and videos to other Apple products. According to Apple Support, devices must be nearby and within Bluetooth and Wi-Fi range.
Although there was no credible threat found on the plane, the Transportation Security Administration (TSA) takes these incidents seriously.
In a statement to Newsweek, the TSA wrote:
"TSA takes any threat to the safety and security of passengers and transportation systems seriously. Our officers stand ready to support our local and federal law enforcement partners to assist with the response and subsequent investigation of incidents."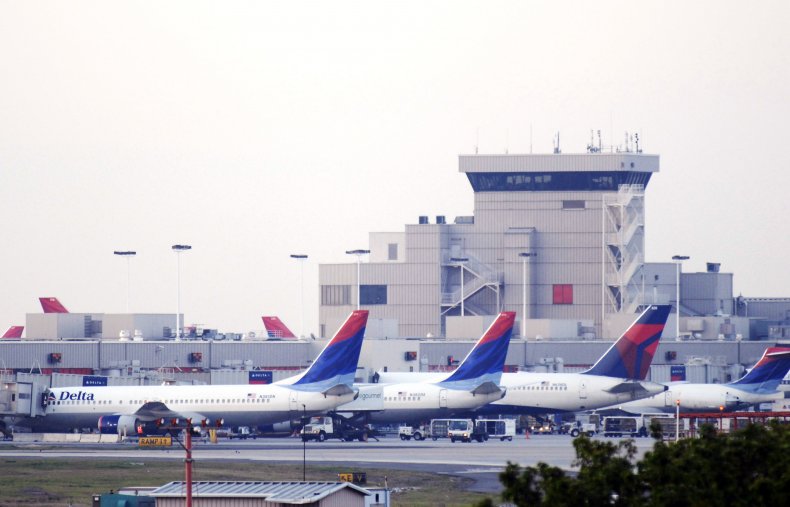 Mark Howell, a regional spokesperson for TSA, told Newsweek there have been about five threats in the past few years, one of which was also in Atlanta in 2019.
"These threats aren't a daily occurrence, but they've happened," Howell said.
Different types of law enforcement may come in to help investigate these types of threats, from the local police department to the FBI. Howell said there is nothing left pending for TSA and the case was turned over to law enforcement.
Ultimately, the flight was canceled, and passengers boarded a new flight several hours later.
Delta Air Lines apologized to the 186 passengers who were on board.
"While nothing is more important than the safety and security of our people and customers, we thank our customers for their patience and understanding," a statement from the airline said.
Officer Steve Avery of the Atlanta Police Department told Newsweek the case is still being actively investigated but there are no updates to release at this time.
With the panic and confusion that followed the message, Bome't said if the threat was a prank, it wasn't funny.
"Whoever that character was, he tore up some people," he told Fox 5 Atlanta. "That's not a joke with what's going on in the world today."
Updated 8/13/21, 10:08 a.m.: This story was updated with a statement from Delta Air Lines.