Plane Passenger Photo Shows Size of Smoke Plume After Ohio Train Derailment
A picture taken during a commercial flight on February 6 has revealed a black cloud over East Palestine, Ohio, moments after a "controlled release" of chemicals was ordered.
The organized explosion took place after a train derailed in the area while carrying hazardous materials on February 3. Authorities authorized the chemical release that happened at 4 p.m. on February 6 to keep the derailed cars which contained chemicals including vinyl chloride from exploding on their own.
Flying from Denver to Philadelphia on February 6, Jared McLuhan snapped a picture of an unusual cloud formation at 4:45 p.m., which he later learned was the aftermath of the "controlled release" of chemicals.
"I saw the dark spot for some time, thinking at first it was the shadow from a higher cloud," McLuhan told Newsweek. "As the plane flew closer, I knew it was no shadow, but instead the result of something significant burning."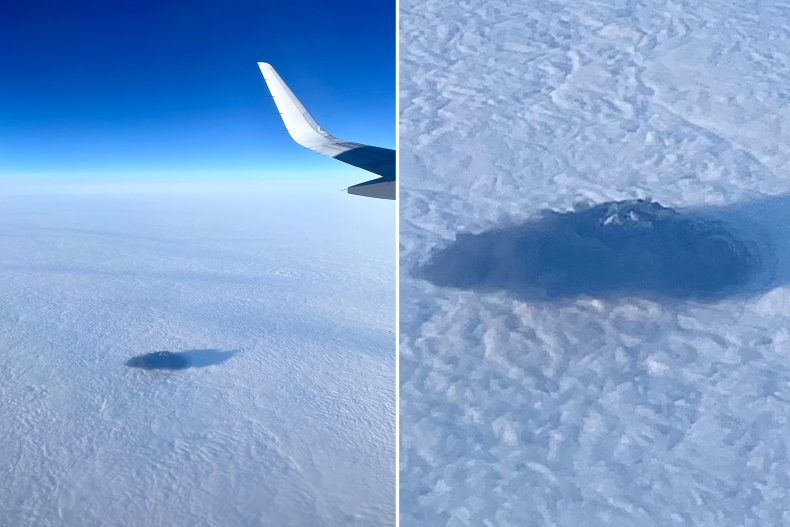 Posting the image to Twitter on February 7, it has now been viewed more than 228,000 times and shared across social media.
Over 5,000 people were evacuated from homes within a two-mile radius of the incident, while officials at the Environmental Protection Agency (EPA) published a full list of the toxic chemicals that had been released across the town, such as vinyl chloride—a colorless gas that can cause cancer and is used in the production of PVC plastics.
"While I had my phone on airplane mode, the GPS indicated the plane's approximate location," said McLuhan. "I dropped a pin for future reference. I know from working and traveling throughout western Pennsylvania, eastern Ohio and northern West Virginia that there are a multitude of heavy and toxic industries located in the region along the Ohio river."
When he landed on the tarmac at 5:35 p.m., McLuhan made a quick Google search and got an immediate reaction for what he saw while in the air.
Sharing what he agreed was a "wild sight," McLuhan posted the picture that shocked other Twitter users.
"Whoa! I live about 159 miles south of this. Prayers for everyone," said one commenter.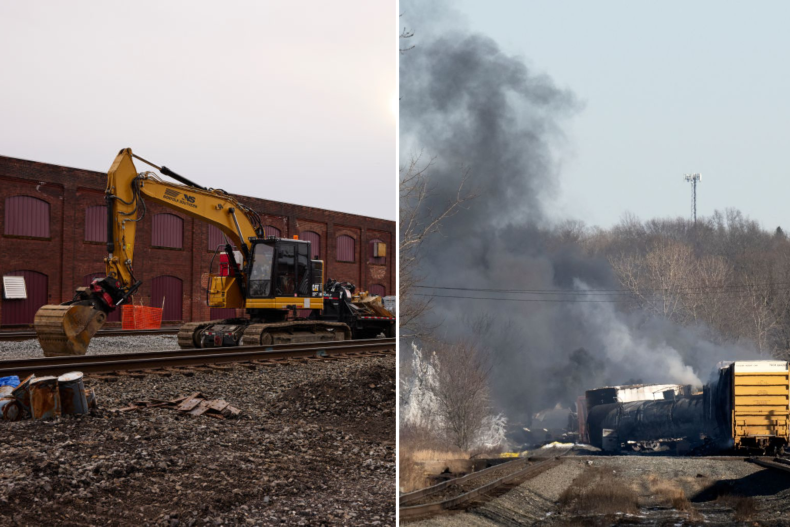 Another said that the picture was "incredible and awful."
"So sad," said another Twitter user. "Humans are their own biggest enemies."
The impact of the derailment has sent shockwaves throughout the community in East Palestine, with reports of illness in humans and animals and multiple reports of pet deaths in the surrounding areas.
The train company, Norfolk Southern, has donated $25,000 to the community and promised to issue $1,000 "inconvenience checks" to people who live within the evacuation zone.
A spokesperson for Norfolk Southern previously provided Newsweek with a statement outlining what measures the company is taking. It read: "These include direct support for residents through Norfolk Southern's Family Assistance Center, equipment for first responders, and continued environmental testing and monitoring, which is being done in coordination with the Ohio and U.S. Environmental Protection Agencies (EPA), and other environmental agencies."